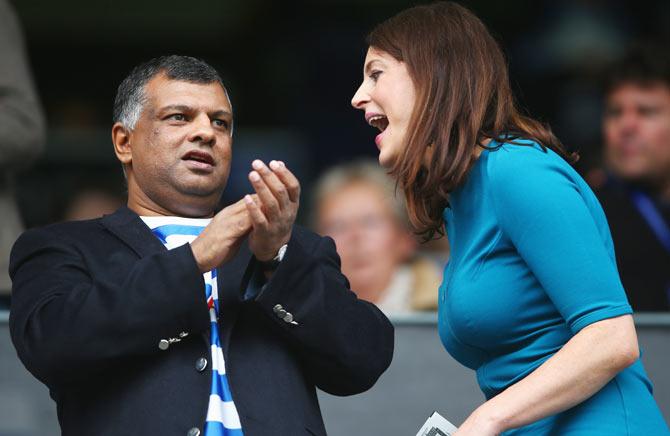 QPR Chairman Tony Fernandes and a friend during the Premier League match between Queens Park Rangers and Sunderland at Loftus Road on August 30. Photograph: Paul Gilham/Getty Images
Queens Park Rangers could be consigned to English soccer's minor leagues if they are relegated from the top flight and fail to pay a potentially huge fine for breaching the Football League's financial fair play rules.
Shaun Harvey, chief executive of the Football League (FL), which governs the second to fourth tiers of English soccer, said on Tuesday that it has the right to refuse readmission to their competitions to clubs who do not pay outstanding fines.
Under the FL's rules, QPR, who returned to the Premier League this season, would be fined about 54 million pounds ($87.02 million) if their losses during their promotion campaign matched their 2012-13 figure of 65.4 million.
"Theoretically that is the position," Harvey said at the Soccerex Global Convention.
"I would hope there would be a resolution long before that option even had to be considered. We are satisfied we still have the ability under our regulations to charge them for a breach of our rules whilst they were in membership."
QPR, who were won promotion straight back to the top flight, are set to release their financial results later this year.
Under the FL's rules, clubs were allowed losses of 8 million pounds in 2013-14, with fines on losses above 18 million imposed on a pound-for-pound basis.
"Most clubs (in the Premier League) will become a Football League club again," said Harvey.
"QPR will be hoping it does not happen for some considerable number of seasons. But the chances are they will need to return to the Football League fold at some point in the future.
"Certainly, three of the current 20 clubs that are in the Premier League will be in the Football League next season."
QPR chairman Tony Fernandes has previously vowed to fight any fine imposed by the Football League.
United see revenue, profit fall from Champions League absence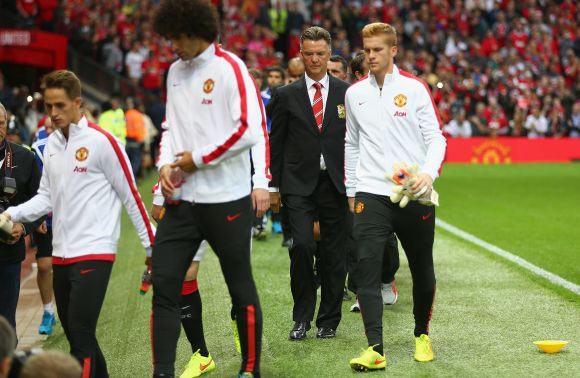 Louis Van Gaal walks out with Manchester United players during half-time. Photograph: Clive Brunskill/Getty Images
English football club Manchester United forecast on Wednesday that revenue and profit would fall in 2014-15, paying a price for missing out on European soccer this season.
United, 20 times English champions, reported revenue of 433 million pounds ($698 million) in the year to the end of June, and core profit of 130 million pounds.
The team finished only seventh in the Premier League last season, missing out on a place in the lucrative Champions League for this campaign.
As a consequence, United forecast revenue of 385-395 million pounds in the current year, and profit of between 90 and 95 million pounds.
S Korea shooter Jin wins world title, breaks record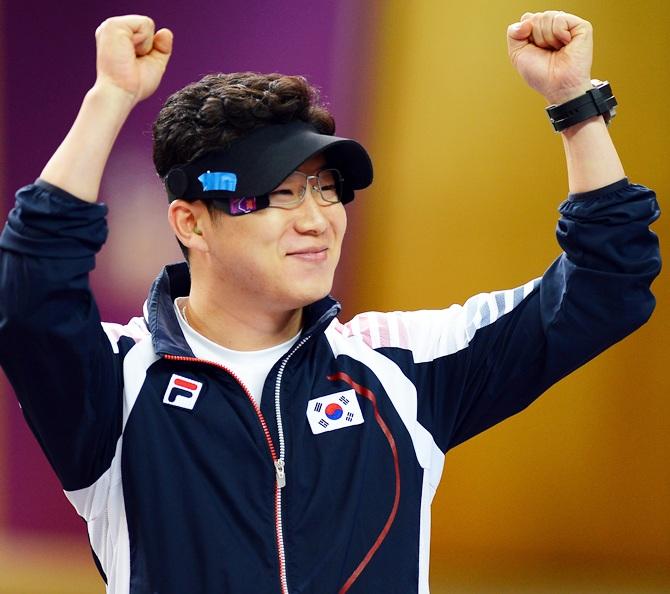 Jongoh Jin of Korea reacts after winning the gold medal. Photograph: Lars Baron/Getty Images
Triple Olympic champion Jin Jong-oh will be on a high heading into this month's Asian Games in Incheon after breaking a long-standing record and winning the 50 metres pistol event at the shooting world championships.
The South Korean scored a combined 583 points on the way to winning the title in Granada on Tuesday, breaking the world record set by Russian Alexander Melentiev at the 1980 Olympics by two points.
It was a first individual world title for Jin, who won 50m pistol gold at the 2008 and 2012 Olympics and also added the 10m title at the London Games.
"Every time I shot a match, ever since I started competing, I have been trying to reach that result. It feels awesome," Jin told the International Shooting Sport Federation's (ISSF)'s official website.
The 34-year-old won 50m team gold at the 2010 World Championships in Munich, and 10m and 50m team gold at the Asian Games in Guangzhou the same year.
"Winning the world championship title is a great achievement for me," added Jin, who scored 192.3 points in the final and hopes to win a fourth Olympic gold in 2016.
The shooting competition at the 17th Asian Games in Incheon, west of Seoul, starts on September 20.
Faldo wins Payne Stewart Award for impact on game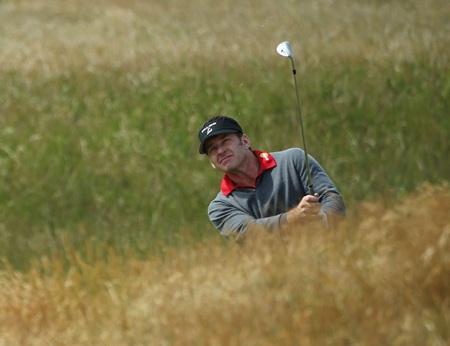 Nick Faldo in action. Photograph: Rob Carr/Getty Images
Former World No 1 Nick Faldo, a six-times major champion whose Faldo Series has given a huge boost to junior golf worldwide, was named the recipient of the 2014 Payne Stewart Award on Tuesday.
The honour is given annually to a player sharing Stewart's respect for the traditions of the game and his commitment to uphold golf's heritage of charitable support.
"On the golf course, Nick made his mark as one of the best players of a generation," Tour commissioner Tim Finchem told reporters at East Lake Golf Club on Tuesday ahead of this week's Tour Championship.
"But it's off the golf course that he's continued to make a huge impact since he put away his clubs. Nick has used golf as a platform to inspire people around the world, much like that of Payne Stewart."
Englishman Faldo, 57, was unable to travel to Atlanta for the presentation of the award on Tuesday evening due to the ill-health of his father back in England.
Faldo, who represented Europe at 11 Ryder Cups and went on to captain the team in 2008, won 30 times on the European Tour and triumphed nine times on the PGA Tour.
American Stewart, who died in a plane crash in 1999, won 11 times on the PGA Tour including three majors.
US, Lithuania storm into basketball World Cup semis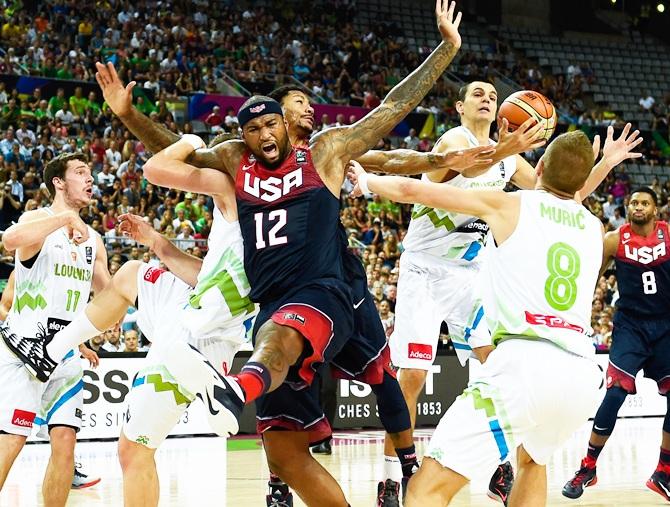 DeMarcus Cousins of the USA Basketball Men's National Team duels for the ball with Slovenia Basketball Men's National Team players. Photograph: David Ramos/Getty Images
Holders the United States ran riot in a 119-76 win over Slovenia while Lithuania beat Turkey 73-61 on Tuesday to set up a mouth-watering basketball World Cup semi-final.
Hosts Spain take on European champions France and Brazil clash with dark horses Serbia in the other two quarter-finals in Madrid on Wednesday.
The Slovenians held their own valiantly in the opening half against the Americans and were only 49-42 down at the interval as forward Domen Lorbek produced a superb performance.
The champions at times looked pedestrian in the first half as their captain James Harden missed his first seven shots, with fellow guard Klay Thompson and athletic centre Anthony Davis pulling the strings to keep them in the driving seat.
But the second period produced one-way traffic as the US hit top gear with six players finishing in double scoring digits. Thompson had a game-high 20 points while Harden and Kenneth Faried added 14 each.
Having arrived in Spain with a squad missing top NBA talent who turned down invitations to play, long-serving US coach Mike Krzyzewski was pleased with the effort.