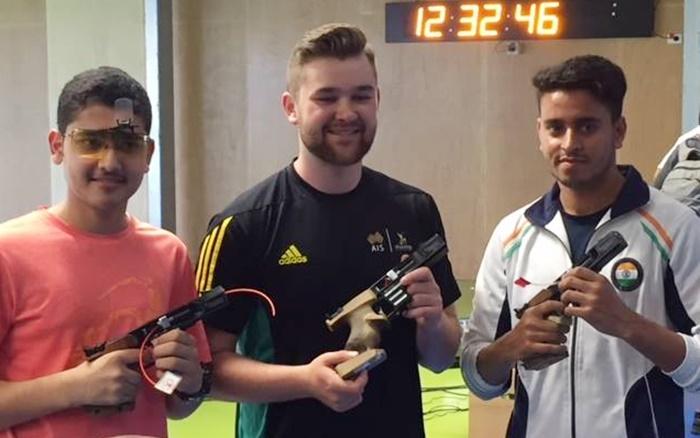 IMAGE: Anish Bhanwala, left, with Neera Kumar, right. Photograph: Courtesy Aus Shooting/Twitter
India's Anish Bhanwala won a silver in the men's 25m rapid fire pistol event, while Neeraj Kumar bagged a bronze on the sixth day of competitions in the Commonwealth Shooting Championships in Gold Coast, Australia on Sunday.
The two medals took India's tally from rifle and pistol events to 16, including four gold.
India has also won one gold and a silver in shotgun events.
India had three representatives in the six-man rapid fire pistol final, with Olympian Gurpreet Singh qualifying along with Anish and Neeraj.
Anish topped the qualification with a score of 577, while Neeraj was second with 575. Gurpreet qualified in fifth place with a score of 566.
Gurpreet was first to be eliminated in the final, but Anish and Neeraj hung on for the silver and bronze after Australian Sergei Evglevski made the gold medal beyond reach, pulling away from the field after the fourth five-shot series.
Vardhan, Balaji win Shenzhen Challenger title
Vishnu Vardhan and N Sriram Balaji won their third Challenger title of the 2017 season together when they downed Austin Krajicek and Jackson Withrow in the final of the Shenzhen event in China.
The giant-killing Indians upset the fourth seeded Americans 7-6(3), 7-6(3) in a tight summit clash of the $ 75,000 event.
They earned 90 ranking points each and split $ 4650 as prize money.
Before this event, Vardhan and Balaji had triumphed at Chengdu and Fergana as well.
Vardhan had also won a title with Toshihide Matsui in Astana.
Vardhan, who is ranked 134 in doubles, is likely to achieve his career-best ranking when the new list will be issued on Monday. His previous career-best rank was 123, achieved in August this year.
Satbir, Manorama win in Elite category at Cyclothon
Satbir Singh and T Manorama Devi emerged victories in the Elite Men's and Elite Women's events of the National cycling championship at the Jawaharlal Nehru Stadium in New Delhi.
Rounding out the elite men's podium were Arvind Panwar from RSPB and SSCB's Krishna Naikodi, while Manipur's Sonali Chanu and Kerala's Amrtiha Ragunathan finished with silver and bronze respectively in the women's elite race.
"I would like to congratulate all the medallists at the National Cycling Championship. The 2017 edition had a strong field of the best 180 elite cyclists in the country," said Onkar Singh, Secretary General, Cycling Federation of India.
The 2017 edition of the National Championship was hosted by Saksham Pedal Delhi – India's Premier Cyclothon and it saw over 4500 cyclists participate in an atmosphere of gaiety and revelry.
Lakshya, Rutvika score wins on Day 2 of National Badminton
Lakshya Sen overcame a fighting Maisnam Meiraba in a men's singles match while Rutvika Shivani had an easy outing against Mansi Singh in the women's singles event of the National Badminton Championship, in Nagpur.
Lakshya pipped Maisnam 21-13, 12-21, 21-13 in his fourth round while Rutvika Shivani beat Mansi 21-8, 21-11 in her match.
Also winning was the mixed doubles duo of Manu Attri and Maneesha K, who defeated Sumit Reddy and Arathi Sunil 17-21, 21-19, 21-11.
The Men's Single match between Lakshya Sen against Maisnam Meiraba proved to be a neck and neck first game. Both the players were giving a tough fight as they did not allow the other to get away with the game easily. Finally, it was Lakshya Sen who stamped his name.