A summary of sports events and sports persons, who made news on Tuesday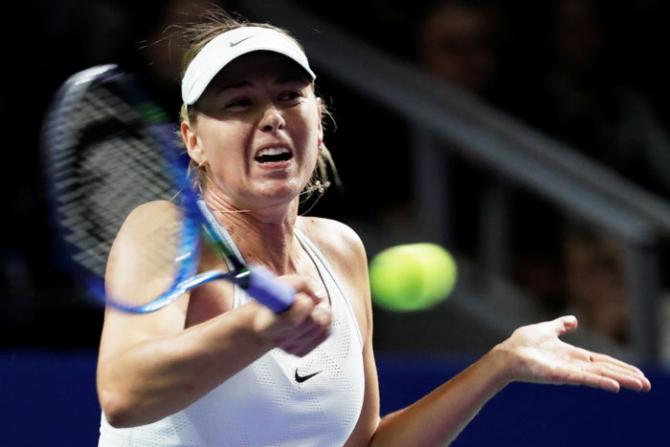 IMAGE: Russia's Maria Sharapova in action against Slovakia's Magdalena Rybarikova during the first round match of the Kremlin Cup in Moscow, Russia on Tuesday. Photograph: Tatyana Makeyeva/Reuters
Maria Sharapova lost 7-6 (3), 6-4 to Slovakia's Magdalena Rybarikova at the Kremlin Cup on Tuesday in her first match in Russia since returning from a doping ban this year.
The five-time grand slam champion looked tired and committed several unforced errors in the first-round match as she was cheered on by a large crowd cheered who chanted "Masha! Masha!" and loudly clapped her every winner.
Sharapova's first appearance at her home Women's Tennis Association event since 2007 came two days after she won her first WTA title in more than two years, the Tianjin Open.
Sharapova said that fatigue had not been a factor in her performance at the Kremlin Cup, crediting Rybarikova for a well-played match.
"I fought, I really tried to win this match but my opponent played well," Sharapova told a news conference after the match.
"I felt fine physically given that I have just played five matches at the Tianjin Open."
The former world number one, now 57th in the rankings after rising 29 places following her Tianjin victory, returned to the tour in April after serving a 15-month doping ban for testing positive for meldonium at the 2016 Australian Open.
She was unranked by the WTA upon her return but received wildcards to many tournaments for which a ranking is usually required to compete, a situation that prompted criticism from her rivals.
Canada's Eugenie Bouchard in April called Sharapova a "cheater" and criticised the WTA for sending the wrong message by welcoming her back.
In Russia, Sharapova has been portrayed as a victim of what officials have said is the unfair targeting of the country by international sports bodies that regulate anti-doping.
Russia's athletics federation, Paralympic Committee and anti-doping agency have been suspended over WADA-commissioned reports that found evidence of state-sponsored doping.
Shuttlers Gayatri, Lakshya advance at World Junior Championship
Indian shuttlers Gayatri Gopichand and Lakhsya Sen registered contrasting wins in the women's and men's singles of the World Junior Badminton Championship in Yogyakarta, Indonesia.
Gayatri overcame Brazil's Jaqueline Lima 15-21, 21-18, 21-11, while second seed Lakshya defeated Indonesia's Gatjra Piliang Fiqihila Cupu 21-15, 21-19.
In the women's singles, Aakarshi Kashyap, seeded 8th, dumped Czech Republic's Lucie Krpatova 21-13, 21-4, while Ashmita Chaliha beat France's Margot Lambert 21-13, 19-21, 21-13.
Men's singles player, Rahul Bharadwaj trounced Russia's Nikita Lemeshko 21-12, 21-9, while Kartikey Gulshan Kumar thrashed Sri Lanka's Ranthushka Sasindu 21-10, 21-17.
In the women's doubles, Malvika Bansod and Deeksha Choudhary beat Macau's I Kuan Ao and Xue Xin Gong 21-16, 21-7, while mixed doubles pair of Arintap Das Gupta and Srishti Jupudi defeated New Zealand's Edward Lau and Alyssa Tagle 21-13, 21-14.
Mixed doubles combo of Srikrishna Sai Kumar Podile and Rutaparna Panda also advanced after receiving a walkover in their match against Georgia's Luka Ninoshvili and Maria Khachaturyan gave a walk over.
Satwik-Ponnappa in main draw of Denmark Open, Kashyap out
The fast-rising mixed doubles pair of Satwiksairaj Rankireddy and Ashwini Ponnappa entered the main draw but Commonwealth Games champion P Kashyap bowed out at the Denmark Super Series Premier in Odense, Denmark on Tuesday.
On a day when two-time Olympic champion and five-time world champion Lin Dan pulled out of the men's singles competition, Satwik and Ponnappa managed to earn two crucial wins to join Pranaav Jerry Chopra and N Sikki Reddy in the main draw.
The Indian duo first beat Denmark's Kristoffer Knudsen and Isabella Nielsen 21-17, 21-13 and then notched up a 21-8, 21-13 win over the German combo of Jones Ralfy Jansen and Eva Janssens.
In the men's singles qualification, Kashyap overcame Denmark's Victor Svendsen 21-13, 21-16, but lost to Japan's Takuma Ueda 4-21, 19-21 in 36 minutes.
Subhankar Dey saw off Denmark's Kim Brun 21-12, 13-21, 21- 15 and then got the better of another Danish player, Rasmus Gemke, 21-17, 13-21, 21-19.
"I am disappointed that I conceded a few points in the last game. It has been happening to me. I was leading against Emil Holst at Dutch open last week. But I am happy to play in the main draw in my second Super Series," Subhankar said.