A summary of sports events and sportspersons, who made news on Tuesday.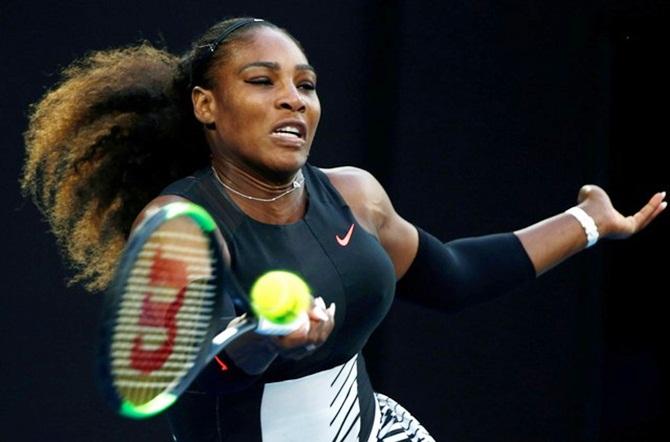 IMAGE: Serena Williams hasn't played a WTA tournament since she won the Australian Open title last year and skipped this year's opening Grand Slam. Photograph: Thomas Peter/Reuters
Former world number one Serena Williams will return to the tennis courts next month in the United States' Fed Cup first round tie against the Netherlands, the United States Tennis Association said on Tuesday.
Williams has not played a WTA tournament since she won the Australian Open title last year and skipped this year's opening Grand Slam given concerns about her fitness four months after giving birth to her first child.
She has played once since picking up her Open-era record 23rd grand slam in Melbourne last year, losing to Roland Garros champion Jelena Ostapenko in an exhibition match in Abu Dhabi last December.
The 36-year-old American will be joined by older sister Venus and world number nine CoCo Vandeweghe with a fourth player to be announced next week for the Feb. 10-11 tie on an indoor hard court in Asheville, North Carolina.
The US beat Belarus last year for a record-extending 18th Fed Cup title, their first in 17 years.
Zverev fine to cure plague of first-round pull-outs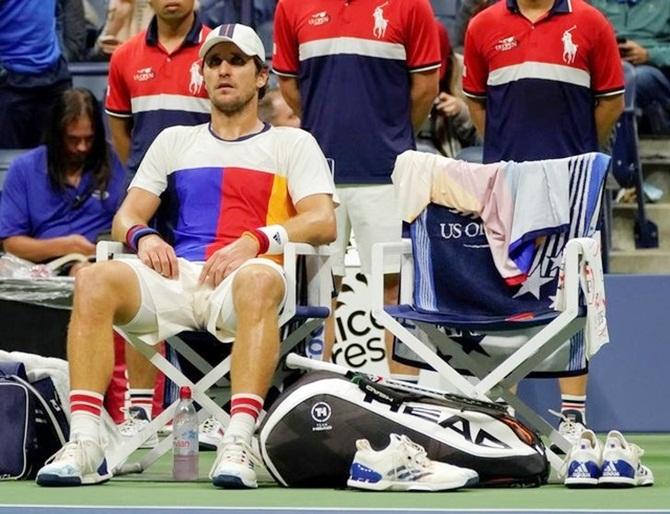 IMAGE: Germany's Mischa Zverev pulled out of the Australian Open after only 48 minutes of his opening match against South Korea's Chung Hyeon because of a viral illness. Photograph: Ray Stubblebine/Reuters
The plague of tennis players retiring hurt or ill in the first round of Grand Slam tournaments was largely absent at the Australian Open this year for a very good reason -- as Mischa Zverev has found out to his cost.
The German player, ranked 35th in the world, pulled out after only 48 minutes of his opening match against South Korea's Chung Hyeon because of a viral illness.
On Tuesday, he was handed a hefty fine by Australian Open organisers for a so-called 'unprofessional' first round performance.
The fine was originally posted as $45,000 but organisers later confirmed that it was not U.S. dollars but in the local currency, which works out at around $36,009.
With first round prize money of A$60,000 ($48,012), Zverev may well be out of pocket for his trip Down Under given the cost of airlines tickets, hotels and coaches.
It comes after tennis's Grand Slam Board introduced new measures to stop players turning up injured or ill, only to retire in the first round and yet still pick up a lucrative first-round loser's cheque.
"Any player who competes in the first round main draw singles and retires or performs below professional standards, may now be subject to a fine up to (the equivalent) first round prize money in 2018," the new rule states.
The problem of first-round retirements reared its head at Wimbledon last year when eight players retired from their opening matches, including in matches against Novak Djokovic and Roger Federer in back-to-back matches on Centre Court.
That left fans angry after paying for expensive tickets, only to be served up poor-quality entertainment.
Zverev was the only player to retire in the first round of the men's singles at Melbourne Park this year.
Four players pulled out before the tournament commenced, allowing lower-ranked players the chance to enter the draw.
The rule states that players unfit to compete in the first round, but who pull out before, collect half their prize money.
"What occurred in the first round has shown that the new rule works," tournament director Craig Tiley told local media.
"The real winner from this is the tennis fan who gets to see high-quality, competitive tennis."
Zverev may disagree but it is a fair bet to assume there will not be many first-round retirements at the French Open.
Sevilla put Atletico Madrid out of King's Cup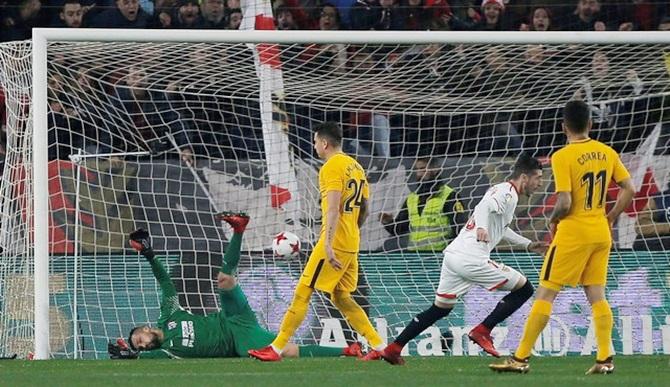 IMAGE: Sergio Escudero celebrates scoring Sevilla's opening goal against Atletico Madrid in the Spanish King's Cup quarter-final second leg. Photograph: Jon Nazca/Reuters
Atletico Madrid were dumped out of the King's Cup by Sevilla after a 3-1 defeat in their quarter-final, second leg on Tuesday saw them exit the competition 5-2 on aggregate.
Sevilla opened the scoring after 23 seconds with full back Sergio Escudero punishing lax marking before an Ever Banega penalty and Pablo Sarabia's late strike wrapped up the win.
Antoine Griezmann had got Atletico back into the contest with a stunning long-range right-foot strike after 13 minutes that exposed goalkeeper Sergio Rico's questionable positioning.
But the Frenchman twice fired over from close range before unmarked strike partner Kevin Gameiro missed with a header.
The Andalusian hosts added to Escudero's early strike after the break to regain the lead when Banega converted his spot kick after Saul Niguez was adjudged to have fouled Joaquin Correa.
Atletico forward Angel Correa then missed a gilt-edged chance to level again as Rico thwarted him in a one-on-one situation and was made to pay when Sarabia rounded off the scoring on the counter-attack 10 minutes from time.
The 2013 King's Cup winners Atletico, who trail Liga leaders Barcelona by 11 points, must now turn their attention to the Europa League where they are in the round of 32 after being knocked out of the Champions League at the first hurdle.