A summary of sports events and sports persons, who made news on Sunday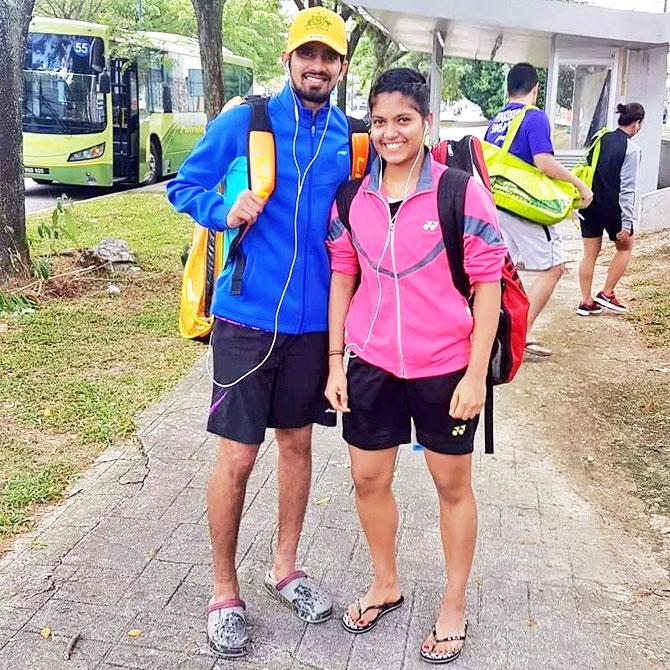 IMAGE: K Nandagopal and Mahima Aggarwal combined to win the mixed doubles event at the Kharkiv International badminton tournament in Ukraine on Sunday. Photograph: BAI Media/Twitter
India's men's doubles and mixed doubles pairs triumphed at the Kharkiv International badminton tournament after posting contrasting victories in their respective final matches on Sunday.
In the men's doubles, K Nandagopal and Rohan Kapoor posted an upset win over compatriots Francis Alwin and Kona Tarun 18-21, 24-22, 21-18 in a match that lasted 55 minutes.
In the mixed doubles final, K Nandagopal bagged his second title of the day by combining with Mahima Aggarwal.
The third seeded Nandagopal and Aggarwal stunned top seeded Indian duo of Saurabh Sharma and Anoushka Parikh 21-14, 21-15 in just 30 minutes to clinch the trophy.
However, another Indian in the fray -- Sri Krishna Priya Kudaravalli -- missed the women's singles title narrowly after losing her final match.
The third seeded Indian fought hard before going down 21-18, 16-21, 21-23 to local player Natalya Voytsekh, seeded seventh, after an hour-long battle.
Singh, Kuruvilla lose in final of North Squash Open
Indian players Abhay Singh and Sunanya Kuruvilla faltered in the finals of the North Coast Squash Open at Coffs Harbour, Australia, on Sunday.
Both players had entered their maiden final of a PSA event.
Singh went down to Dimitri Steinmann of Switzerland 5-11, 1-11, 5-11 in 29 minutes while Kuruvilla was beaten 7-11, 6-11, 3-11 in 24 minutes by Tamika Saxby of Australia.
Singh had upset top-seed Rhys Dowling of Australia in the semi-finals, winning from two games to down and Kuruvilla had beaten second-seed Lisa Camilleri of Australia in the semi-finals.
India finish 5th in Moscow Shotgun World Championships
India finished fifth in the medals tally with one gold and two silver medals at the Moscow Shotgun World Championship, which ended on Sunday.
On the concluding day, India had two teams in the mixed team skeet event but both returned empty handed.
While the pair of Angad Vir Singh Bajwa and Maheshwari Chauhan finished 17th in qualification round with a combined score of 92, Mairaj Ahmad Khan and Radhmmi Rathore ended 25th out of 41 teams with a score of 90.
USA and Italy won silver and bronze medals respectively as the Russian pair of Nikolay Teplyy and Nadezda Konovalova emerged victorious.
Only 16 of the 76 participating nations got amongst the medals and Italy topped the tally with nine gold medals for a total of 17 medals in all.
Both their Olympic skeet champions Gabrielle Rossetti and Diana Bacosi were also crowned world champions in the process.
USA was the other dominant force with five gold medals for a total of 12, making the two countries account for 29 of the 66 medals on offer.
Hosts Russia were third in the overall tally with two golds for a total of eight.
The ISSF bandwagon now moves for its final stop in New Delhi for the ISSF World Cup finals combined for rifle, pistol and shotgun, scheduled for end of October.
Sprinter Kiryu offers Japan 2020 hopes by dipping under 10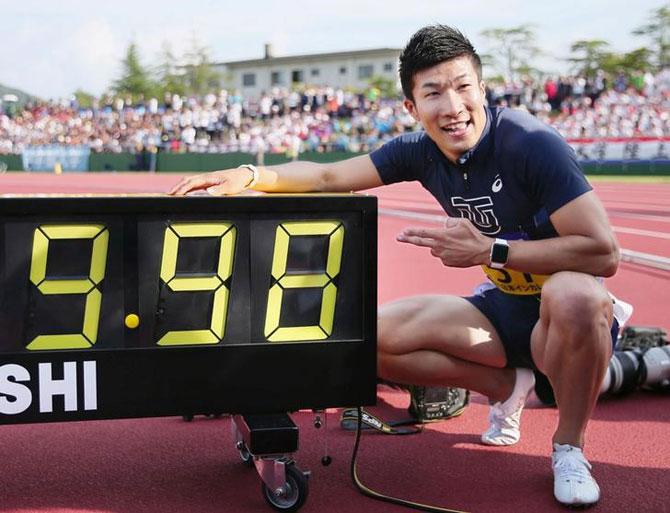 IMAGE: Yoshihide Kiryu who became the first Japanese to break the 10-second barrier, poses after winning the men's 100 meters final with a time of 9.98 seconds at an intercollegiate meet in Fukui, Fukui Prefecture, Japan, on Saturday. Photograph: Kyodo/via Reuters
Yoshihide Kiryu gave Japan's burgeoning sprint reputation another hefty boost when he became only the second Asian-born athlete to run under 10 seconds for the 100 metres on Saturday.
The 21-year-old, who won a 4x100m relay silver at the Rio Olympics and a bronze at the World Championships last month, ran 9.98 at an intercollegiate meet in Fukui to become the first Japanese to dip under the barrier.
"I'm thrilled to have done it in my last 100 race of the season," Kiryu told the Kyodo news agency. "I'd been stuck for four years and I managed to rewrite my own record at last.
"I'm on the starting block of the world now that I've run a nine. I'm so grateful to my coach and trainer. It still hasn't sunk in yet."
Kiryu ran a wind-assisted 9.87 as a teenager at the Texas relays in March 2015 but his previous best legal run was the 10.01 he ran as a schoolboy in 2013 and again last year.
Recently retired Jamaican Usain Bolt holds the world record for the blue riband sprint with the 9.58 seconds he ran at the Berlin World Championships in 2009.
Jepkosgei smashes 10 km road world record
Kenya's Joyciline Jepkosgei broke her own 10 km road world record in Prague on Saturday, becoming the first woman to run the distance under 30 minutes off the track.
The 23-year-old ran 29 minutes 43 seconds at the Birell Prague Grand Prix to eclipse her previous record of 30:04 set in the Czech capital in April.
"I'm so happy, I thank God for making me the winner today and... (breaking) the world record," Jepkosgei told Czech Television.
The current women's 10,000m world record is 29:17.45, a record which Ethiopia's Almaz Ayana set at the 2016 Rio Olympics.
Track and road racing records are kept separately by the IAAF, the world's governing body.
Jepkosgei has now broken five records this year, having set new marks for the 10km, 15km, 20km and half-marathon at the Sportisimo Prague Half Marathon on April 1.