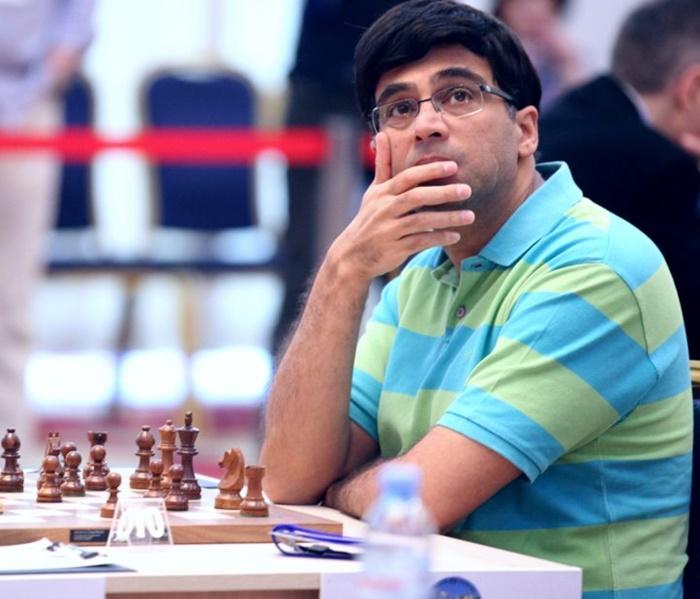 IMAGE: Viswanathan Anand. Photograph courtesy: FIDE
Five-time world champion Viswanathan Anand crashed out of the World Cup after playing out a draw in a must-win game against Anton Kovalyov of Canada in the second round in Tbilisi, Georgia.
Playing in this knockout event after a gap of 15 years, Anand had lost the first game against Kovalyov and had to win the second to level score and force a subsequent tiebreaker. However after 31 moves, Anand decided that he did not have much hopes of winning and offered a draw to sign his exit.
This might well be the end of Anand's aspirations for a World Championship match in 2018 unless he gets a wildcard in the next year's candidates' tournament.
As per rules, one wildcard is issued and if Anand gets that he will be back in the World Championship cycle. If not, the Indian will have to wait for the next cycle that will be for the 2020 World Championship.
Things had not been very smooth for Anand and it was another bad day in office. To win on demand as black is a very difficult task against quality opposition in today's chess and that was the primary reason for Anand's ouster.
The English opening by the Canadian gave white a little advantage and Anand's attempt at complications did not materialise as much as he might have liked.
Meanwhile, Grandmaster Vidit Gujrathi continued with his impressive run and defeated Le Quang Leim of Vietnam 1.5-0.5 to enter the second round. Gujrathi drew the second game fairly easily and his win as black in the first game came in handy.
Harikrishna loses to Sethuraman, exits FIDE World Cup
Indian grandmaster Pentala Harikrishna suffered a defeat at the hands of compatriot S P Sethuraman in the tie breaker games of the second round and exited the FIDE World Cup.
The 20th seeded Harikrishna, playing with black pieces in the first rapid game, started off neck to neck against his countryman and the tie breaker lived up to the billing.
Sethuraman was wary of his opponent's attacking prowess in the first game and defended well to keep Harikrishna at bay and the game ended in a draw after a massive 58 moves.
After that grueling encounter, Harikrishna wanted to wrap it up in the second rapid game. But, it was here that Harikrishna was put under pressure as he just had one pawn to Sethuraman's five in the endgame. From there on after, the 31 -year-old from Hyderabad tried all tricks up his sleeve but could not save the game and was ousted from the tournament.
This was Harikrishna's sixth performance at the FIDE World Cup but he feels there will be a seventh and will look to focus on his next tournaments.
Important and Indian results after round 2 game 2:
Aleksey Dreev (Rus) lost to Magnus Carlsen (Nor) 0-2; Wesley So (Usa) drew with Matthias Bluebaum (Ger) 1-1 goes to tiebreak; Lenic Luka (Slo) drew with Fabiano Caruana (Usa) 1-1 goes to tiebreak; Vladimir Kramnik (Rus) beat Anton Demchenko (Rus) 1.5-0.5; Hou Yifan (Chn) drew with Levon Aronian (Arm) 1-1 goes to tiebreak; Shakhriyar Mamedyarov (Aze) drew with Yuriy Kuzubov (Ukr) 1-1 goes to tiebreak; Bruzon Batista Lazaro (Cub) drew with Hikaru Nakamura (Usa) 1-1 goes to tiebreak; Maxime Vachier-Lagrave (Fra) beat Boris Grachev (Rus) 1.5-0.5; Jorge Cori (Per) drew with Alexander Grischuk (Rus) 1-1 goes to tiebreak; V Anand (Ind) lost to Anton Kovalyov (Can) 0.5-1.5; Karjakin Sergey (Rus) lost to Daniil Dubov (Rus) 0.5-1.5; Alexander Motylev (Rus) drew with Anish Giri (Ned) 1-1 goes to tiebreak; B Adhiban (Ind) drew with Ian Nepomniachtchi (Rus) 1-1 goes to tiebreak; P Harikrishna (Ind) drew with S P Sethuraman (Ind) 1-1 goes to tiebreak; Le Quang Liem (Vie) lost to Vidit Gujrathi (Ind) 0.5-1.5.
Joshna Chinappa outlasts top seed to make Hong Kong final
Indian squash star Joshna Chinappa on Friday shocked top seed Annie Au of Hong Kong to storm into the final at the $ 25,000 HKFC International.
The third seeded Indian, who had a tough quarterfinal match against the 8th seed Liu Tsz-Ling, was able to wear down her higher-ranked opponent.
The 71 minute clash ended 11-9, 10-12, 11-7, 8-11, 11-9 in Chinappa's favour and in the process the Indian had done a repeat performance of the same event last year by not only moving into the final but beating the same opponent.
On that occasion too the match had gone the full distance of five games.
She now awaits the winner of the semifinal between fourth seed Tesni Evans of Wales and second seed Nour El Tayeb of Egypt in the title clash on Saturday.
In Kuala Lumpur, Harinder Pal Sandhu won his fifth straight title and 10th overall after he defeated Mohd Syafiq Kamal of Malaysia 11-8, 10-12, 11-3, 9-11, 11-6.
India lifters win six medals
Seema led the way with two medals, including a gold in the junior section, as India enjoyed six podium finishes on the fifth day of the Commonwealth Weightlifting Championships.
Seema bagged a silver medal in the senior (75kg) category by lifting 202 kg (91 in snatch and 111 in clean and jerk), the total proving good enough to give her the top prize in the junior women's event.
Punam Yadav (69 kg) lifted 217 kg (97 and 120) to win the silver medal in her event.
In the senior men's 94 kg, Vikas Thakur won the bronze medal by lifting 340 kg (150 and 190), while Konjum Taba clinched the gold medal by lifting 317 kg (140 and 177) in the junior men's 94 kg event.
Anju Devi, in the youth girl 75kg event, won the silver medal by lifting 167 kg (73 and 94).
Arjun-Shlok in semifinals of Vietnam Open
Rising Indian doubles pair of Arjun MR and Ramchandran Shlok today advanced to the semi-finals of the Vietnam Open Grand Prix with a thrilling three-game win over Thailand combo of Tinn Isriyanet and Kittisak Namdash.
The fifth seeded Indian pair, who had lost to the Thai duo at the Thailand Open, won 21-13, 18-21, 21-13 in a match that lasted 45 minutes.
They will take on either Indonesian pair of Muhammad Fachrikar and Reza Dwi Cahyo Purnomo or third seeded Liao Min Chun and Su Cheng Heng of Chinese Taipei.