Summary of sports events and persons who made news on Monday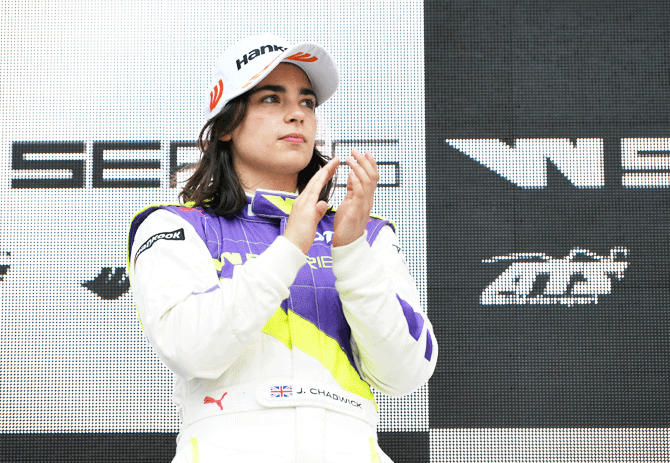 Jamie Chadwick, leader of the women's W Series, celebrated her 21st birthday on Monday with a new role as development driver for the Williams Formula One team.
Williams, the only Formula One team currently run by a woman, said in a statement that the Briton would be 'fully immersed' into the team with a busy simulator programme.
She will also attend three European races, starting at the British Grand Prix in July.
Chadwick won the inaugural W Series race at Germany's Hockenheim circuit this month and finished second in Zolder, Belgium, at the weekend. She started both rounds on pole position.
Canadian Nicholas Latifi is the official reserve driver for the former champions, who are struggling in last place in the standings.
"Promoting women in motorsport is extremely important and having a female role model as part of our Driver Academy will hopefully inspire young girls to take up racing at a young age," said deputy principal and acting team boss Clare Williams.
"We hope to show that motorsport is inclusive and exciting, be that as a driver or on the engineering side."
Chadwick last year became the first woman to win a British Formula Three race and in February won India's MRF Winter Series. In 2015 she was the first woman to win a British GT championship.
A spokesman for the six-round W Series, which uses identical Formula Three cars and aims to help women up the motorsport ladder with Formula One the ultimate goal, congratulated her.
"It's always been part of (W Series) strategy that our successful drivers would be able to leverage their successes with us to further their careers in a way they wouldn't otherwise be able to do," he said. "It's happening."
No woman has started a Formula One race since 1976, but Williams employed Susie Wolff as a development and test driver from 2012 to 2015, with the Scot taking part in some Friday practice sessions at grands prix.
Indian women's hockey team beat Republic Of Korea 2-1 in tour opener
Indian women's hockey team defeated hosts South Korea 2-1 in the first match of the three-match bilateral series to begin its short tour on a confident note in Jincheon Monday.
Young striker Lalremsiami (20th minute) and Navneet Kaur (40th) scored for India, while Shin Hyejeong (48th) found the net for Korea.
High on confidence after their impressive outings in Spain and Malaysia earlier this year, India made a strong start against the hosts.
After missing out on an opportunity to score from a penalty corner early in the first quarter, India scored a splendid field goal through Lalremsiami in the 20th minute.
The visitors' second goal came in the 40th minute when Navneet struck beautifully to extend the lead.
While the hosts won five penalty corners in the course of the match, and a penalty stroke in the last quarter, they managed to convert only one set piece in the 48th minute through Shin Hyejeong.
It was India's experienced goalkeeper Savita who made commendable saves to keep her team's lead intact.
"Considering this was our first match, I think the result was good but the performance can be better. We tried some new things in the match and it was interesting to see how we handled the change," India's chief coach Sjoerd Marijne said after the game.
"We must bring our technical skills to a higher level in order to play faster and that will be one of our priorities for the next match."
India will play its second match of the tour on Wednesday.
Alonso fails to qualify for Indy 500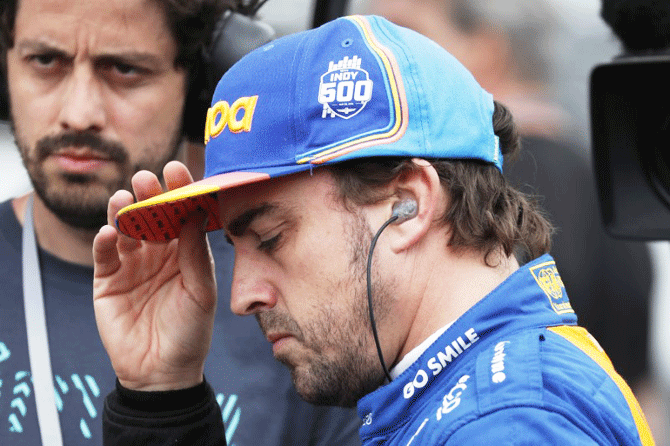 Former Formula One world champion Fernando Alonso narrowly failed to qualify for the Indianapolis 500 on Sunday as France's Simon Pagenaud took pole position for the May 26 race.
Kyle Kaiser beat out Alonso for the final spot in the 33-car field when he finished third, one spot ahead of the Spaniard, in a six-car shootout that determined the Indy 500's last row.
The 23-year-old Kaiser, the last driver to take the track, averaged 227.372 mph for his four laps, a mere 0.019 mph ahead of Alonso's 227.353 mph average in the McLaren-prepared Chevrolet.
"We never surrendered. We kept trying," Alonso, 37, told reporters after a tough week at the famed speedway.
The Spaniard crashed his Chevrolet in practice on Wednesday and missed nearly two full days of practice while a back-up car was prepared.
Then he tried five times on Saturday to qualify, puncturing a tyre on the first attempt.
Alonso had a completely new set up for Sunday's shootout but could not get the speed he needed to qualify.
"I think the car felt better today than what we had yesterday. (So I am) happy with things we tried," he told reporters before learning he had not qualified.
Pagenaud had a four-lap average speed of 229.992 mph to become the first Frenchman to take the pole since Rene Thomas in 1919.
"It's just amazing," Pagenaud, who last week won the IndyCar Grand Prix on the track's road course, told NBC Sports. "Obviously last week was amazing, but this is even more special."
He will be joined by Ed Carpenter (229.889) and Spencer Pigot (229.826) on the front row.
But the Cinderella story belonged to Kaiser, the 33rd qualifier.
"I don't think I can wrap my mind around what we just did," he said after bumping Alonso from the field.
"This is all the credit to the team. They've been working non-stop trying to get this car ready for us and they did everything that we needed to get into this field."
Koepka survives to win PGA after crowd sense a collapse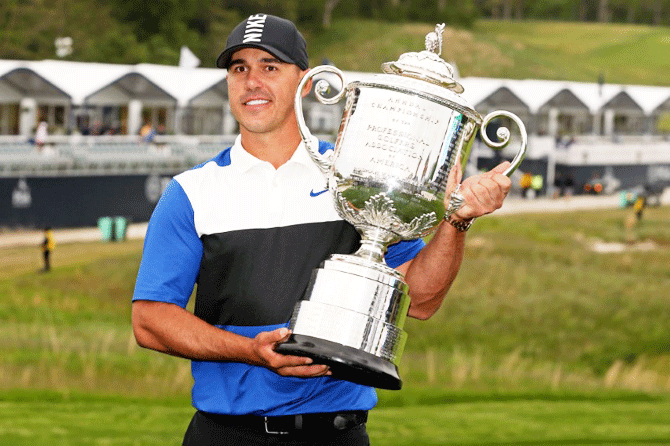 A coronation almost turned into a calamity but Brooks Koepka survived to win the PGA Championship for a second consecutive year on Sunday and establish himself as golf's new top dog.
The American, who had held a seven-stroke lead at the start of the final round, almost lost control of the title when he made four successive bogeys from the 11th hole before staving off Dustin Johnson for a two-stroke victory at Bethpage Black.
Koepka shot a four-over-par 74 to finish at eight-under 272 and captured his fourth major title in his last eight starts in grand slam events.
Johnson (69) was second on six-under, with Americans Jordan Spieth and Patrick Cantlay and Britain's Matt Wallace four strokes further back tied for third.
What had seemed for much of the tournament to be a coronation almost became a calamity on Sunday, to the delight of most of the raucous New York gallery, who were openly cheering against Koepka as he walked off the 14th green with a tenuous one-stroke lead.
He has played with a chip on his shoulder his entire career, and hearing chants in his face of "D.J., D.J." only served to fire him up as he walked down the steep hill and across Round Swamp Road to the 15th tee at Bethpage Black.
Johnson was playing the adjacent 16th hole when the chants went up after Koepka's mini-collapse.
"I wasn't nervous. I was just in shock at what was going on," Koepka said. "When they started chanting D.J. on 14, it actually kind of helped.
"That was probably the best thing that could have happened ... helped me refocus and hit a good one down 15."
Koepka's playing companion Harold Varner III, however, was annoyed by the crowd reaction.
"I thought it was pretty weird how they were telling Brooks to choke," Varner said.
"That's not my cup of tea. I was pulling for him after that. I have a few choice words for that. Just cheering for him to do bad, I just don't get that."
Johnson, however, subsequently bogeyed the 16th after misjudging his approach shot in the strong and gusty winds and the lead was back up to two strokes.
In becoming the first champion to lead wire-to-wire since Hal Sutton in 1983, Koepka successfully defended his title and also displaced Johnson as world number one.
Koepka, who also won back-to-back U.S. Open titles in 2017-18, admitted his run of bogeys had put him under pressure.
"Tell you what, the hour spent from number 11 to 14 was interesting," Koepka said. "I just got stuck in a bogey train. I just made mistakes at the wrong time.
"You've got to hit good drives and I put it in the rough. I challenge anyone to play this course in 15-to 20 miles-per-hour winds and see what they shoot."
"Today was definitely the most satisfying out of all of them for how stressful that round was, how stressful D.J. made it.
"I know for a fact, that was the most excited I've ever been in my life ... on 18."