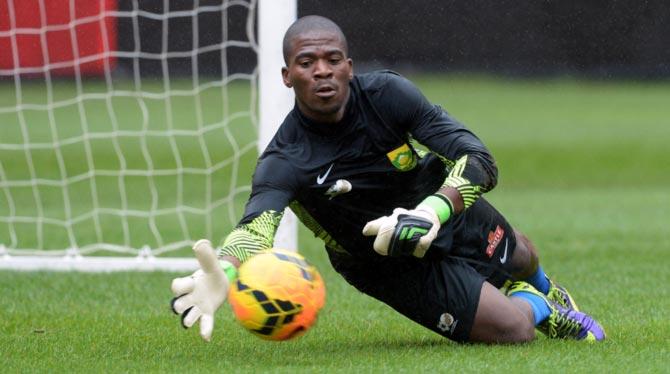 File picture: Senzo Meyiwa in action during the South African national soccer team training session in March. Photograph: Duif du Toit/Gallo Images/Getty Images
South Africa's national soccer goalkeeper and captain Senzo Meyiwa has been shot dead by burglars during a break-in, a killing that shocked the country and turned the spotlight once again on gun violence here.

At an emotional news conference on Monday, Meyiwa's colleagues paid tribute to the 27-year-old, who was hit by a single round in the chest on Sunday night as he confronted two intruders at the home of actress and singer Kelly Khumalo.

Meyiwa, who was shot in Vosloorus township southeast of Johannesburg, was dead on arrival at hospital, police said.

His death highlighted the problem of gun violence in South Africa only days after Paralympic sprinter Oscar Pistorius was jailed for five years for shooting dead his girlfriend Reeva Steenkamp last year.

This weekend's Johannesburg derby between Soweto giants Kaizer Chiefs and Orlando Pirates - the club Meyiwa joined as a 13-year-old and ended up leading - was postponed as a mark of respect.The derby is usually played in front of 90,000 fans.

"Don't think such a good man as Senzo can go and vanish. His spirit will live," said Shakes Mashaba, coach of the Bafana Bafana national side, tears streaming down his cheeks and his voice quavering with emotion. "He would always be the leader."

Even though South Africa's murder rate has been gradually dropping, it remains one of the world's most violent countries, with police recording more than 17,000 murders last year, or 31 per 100,000 people - seven times the rate in the United States.

ZUMA CONDEMNS SHOOTING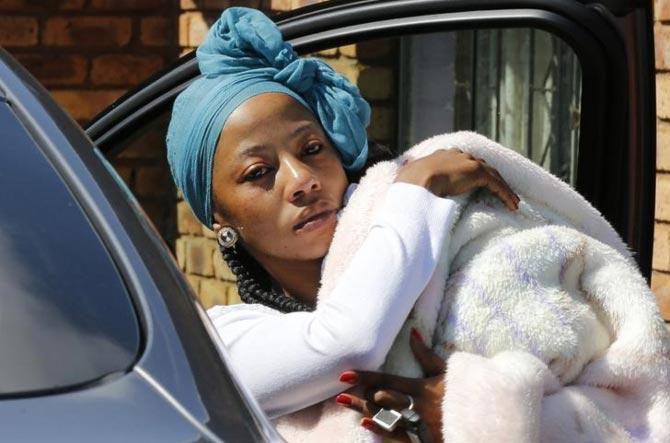 Kelly Khumalo, the girlfriend of Senzo Meyiwa. Photograph: Siphiwe Sibeko/Reuters
In the Pistorius trial, his lawyers cited in his defence his fears that an intruder was in the house. He was sentenced to five years in jail culpable homicide, but state prosecutors - who had sought a murder conviction - said on Monday they would appeal both the conviction and the sentence.

"We mourn the death of this young footballer and team leader whose life has been taken away at the prime of his career," President Jacob Zuma said in a statement.

"The law enforcement authorities must leave no stone unturned in finding his killers and bring them to justice. Words cannot express the nation's shock at this loss."

Meyiwa captained South Africa in their last four matches in the African Nations Cup qualifiers without conceding a goal and played on Saturday when Pirates - nicknamed the Bucanneers - advanced to the semi-finals of the South African League Cup.

Pirates chairman Irvin Khoza said the club, which was founded in 1937 by the children of migrant workers drawn to Johannesburg's gold mines, is devastated by the killing.

"We had a session in the morning with the players at which we were soul-searching," Khoza said. "A lot of sobbing and crying. It was uncontrollable."

Police said two men entered Khumalo's house on Sunday evening where Meyiwa was in a party of seven in the house. A third assailant waited outside the house and all three fled immediately after the shooting.

The lead investigator, Norman Taioe, said the robbers stole one cellphone and denied rumours of an organised murder.

"We do not have any evidence that this was a contract killing or a hit on Meyiwa," Taioe told reporters.

Earlier a state security official said Meyiwa was shot while trying to protect Khumalo but Taioe said there is no evidence to support this.

"Senzo was walking towards the door when this thing happened. He wasn't necessarily trying to protect somebody," Taioe said. "He was about to leave. Maybe the suspects thought he was attacking them.".

The killing has heightened the anger and indignation of South Africans fed up with often senseless violent crime.

Phiyega also announced a special task team to investigate the murder, along with a reward of 250,000 rand ($23,000) for information leading to the arrest of his killers.