India has never had so many highly-ranked shuttlers. Dhruv Munjal looks at the men and women making badminton history.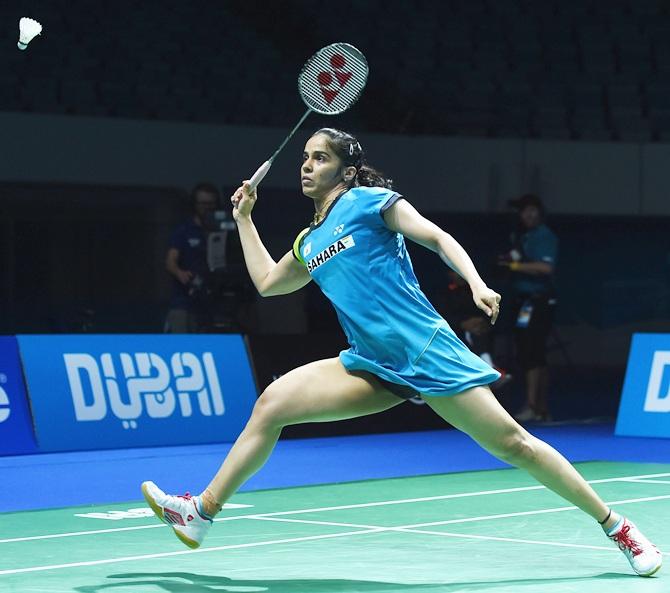 Saina Nehwal in action. Photograph: Christopher Lee/Getty Images
During a week in which fervid Indian cricket fans mourned the exit of the national cricket team from the World Cup, two remarkable, young Indian athletes -- far away from the anguish of what happened at the Sydney Cricket Ground -- left badminton watchers in the country ecstatic.
I reached where no other non-Chinese could reach, says Saina
At the Siri Fort Sports Complex in New Delhi, Saina Nehwal and Kidambi Srikanth clinched the women's and men's singles crowns, respectively, at the India Open Super Series.
Along with her title win, Nehwal also became the top women's badminton player in the world -- the first Indian woman to do so and only the second Indian player to reach the summit of world badminton after Prakash Padukone in 1980.
The upswing in India's badminton fortunes in the last couple of years has been exceptional. When Pulella Gopichand took over as the country's chief national coach almost a decade ago, there were no Indian players in the top world 100. India now has five players in the top 20 in the world across both the men's and women's categories -- Nehwal, Srikanth, Parupalli Kashyap, P V Sindhu and H S Prannoy.
A report published by UK-based sports consulting firm SMG Insight says the second sport Indians play regularly after cricket is badminton. The report also lists badminton at the fourth place among the most followed sport in India behind cricket, tennis and football.
India's biggest racquet stars may not be mobbed by millions of fans as cricketers are, but surely they aren't performing any the less.
Saina Nehwal
In the middle of 2014, the world ranking of Nehwal, plagued by injuries and poor form, slumped to number 9. As fatuous as it may sound, many felt that the 25-year-old's reign as India's top badminton player was nearing its end. P V Sindhu, who claimed a second consecutive medal at the World Championships in 2014, looked all set to become the country's top female shuttler.
Throughout last year, Nehwal failed to beat the top three players in the world, consistently imploding in crunch matches at major tournaments. Her decision to split with her long-time coach, Pullela Gopichand, and join forces with Vimal Kumar wasn't greeted warmly either.
Fast forward to April 2015. Nehwal has undergone a rapid transformation, playing with greater freedom and looking seemingly invincible. She reached the final of the All England, where she lost steam only after winning the first game convincingly. But there was no repeat of that last Sunday in Delhi, where Nehwal looked in control throughout in dispatching Thailand's Ratchanok Intanon in the Super Series final.
"I was struggling to beat the top players earlier. I've made minor changes to my game and that is helping me win the big matches," says Nehwal. "This win has come as a big relief."
In the last few months, Nehwal has added more variety to her game, notably mixing her strong baseline play with attacking net play, which too has improved considerably in the last one year.
Nehwal -- who already has an Olympic medal to her name: a bronze in London in 2012 -- will spearhead India's challenge at the Rio De Janeiro Games next year.
"Consistency will be key for Nehwal. Retaining the No 1 ranking is all about playing consistently and staying fit," says Gopichand.
P V Sindhu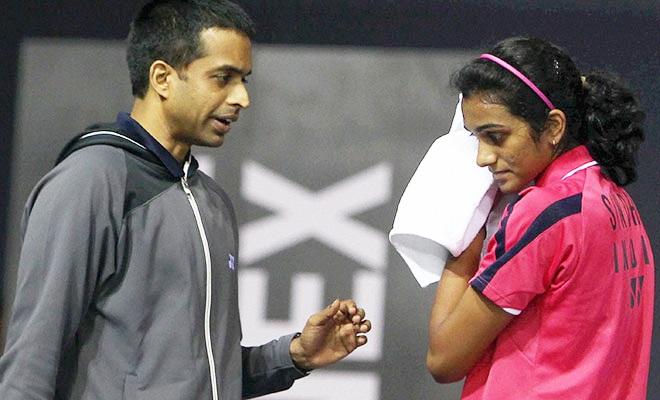 Pullela Gopichand with PV Sindhu. Photograph: PTI
At just 19, Sindhu boasts of two World Championship medals. Currently ranked ninth in the world, Sindhu's 2015 season has been marred by injury. After missing the All England and the India Open, Sindhu had to skip the Malaysia Open too owing to a niggling foot injury. For a major part of last year, she was snapping at the heels of Nehwal for the pride of being India's top-ranked player, slaying opponents with a brand of tenacious, high-tempo badminton.
While she does possess the game to upset the top guns, Sindhu's consistency has been a major letdown. When on song, Sindhu can dictate a game with ferocious shots combined with subtle change-ups. But she is erratic with her stroke play, ceding ground from comfortable winning positions.
However, Gopichand feels that this is not a worry.
"You do lose momentum in matches sometimes. But you have to keep improving all the time," advises Gopichand. "Recovery from injury will be key. Hopefully, she will come back stronger."
Kidambi Srikanth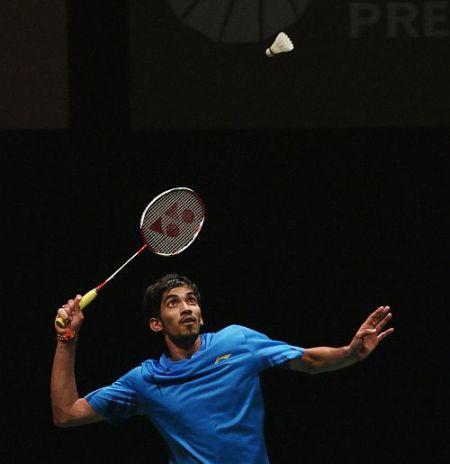 Gopichand calls Srikanth an outstanding all-round player who has the potential to challenge for the top spot in the men's game. Under the tutelage of Gopichand at his academy in Hyderabad, Srikanth's rise has been phenomenal.
Ranked just outside the top 20 till last year, Srikanth has made rapid strides in the last 12 months to reach the No 4 ranking — the catalyst being his giant-killing act that saw him beat 5-time world champion Lin Dan in the final of the China Super Series last year. This was followed by victory at the Swiss Open.
In spite of possessing all the shots, Gopichand feels that the 22-year-old from Guntur in Andhra Pradesh must work on one important aspect of his game.
"There are very few weaknesses in his game. But he must develop the mental side of his game to get through tough matches," says the former All England champion.
"Sometimes, talent alone can't win you matches. Having said that, he's young and will learn with time."
Parupalli Kashyap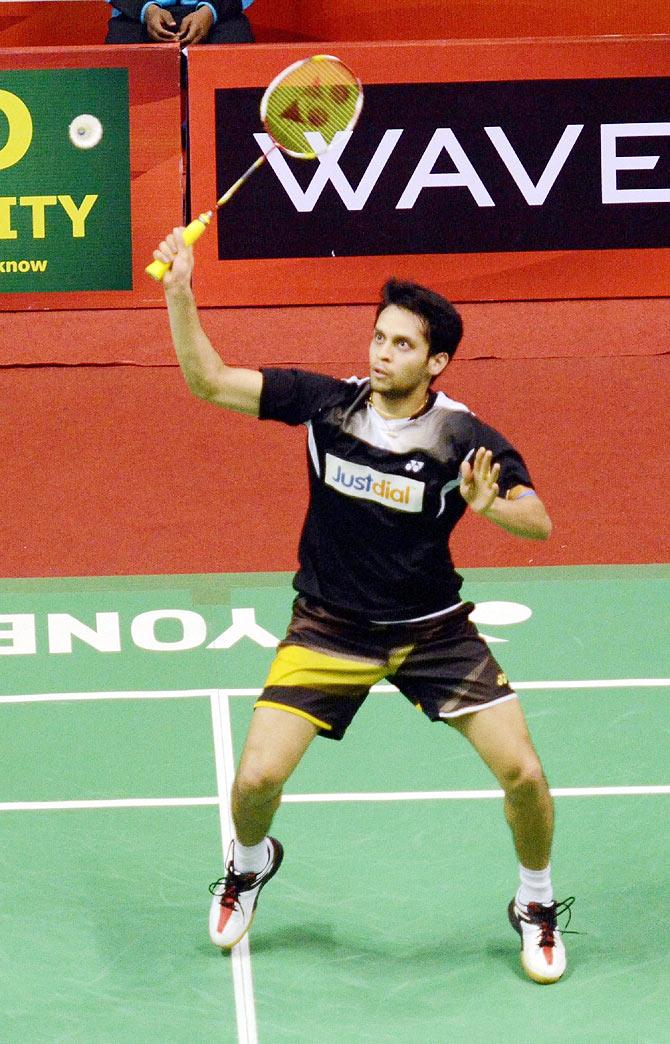 Indian shuttler Parupalli Kashyap in action. Photograph: PTI
For a long time, Kashyap was India's dominant male shuttler. Only a year ago, he was the toast of the nation having won a historic gold at the Commonwealth Games in Glasgow. But with the arrival of Kidambi Srikanth, that mantle no longer rests with him.
However, it would not be fair to say that Kashyap's star is waning. He won the Syed Modi Grand Prix Gold in Lucknow in January, where incidentally he defeated Srikanth in the final. But injury-affected Kashyap crashed out of the All England in the first round.
Kashyap still aspires to recapture the top spot in the Indian men's game and describes the rivalry between him and Srikanth as "healthy".
"It's good for the sport in India. In a way, it keeps both of us going," says Kashyap. "It's been tough battling injuries, but I still have it in me to win major tournaments."
The only Indian male player to reach the quarter-finals of the Olympic Games, Kashyap is currently ranked 13 in the world. In March 2013, he achieved a career high ranking of 6. Kashyap has shown sporadic flashes of brilliance in tournaments in the past, but has often lacked the temperament to finish off big matches.