'Sorry I couldn't come back with the gold medal'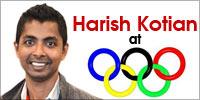 M C Mary Kom's dream run at the London Olympics ended on Wednesday after she lost in the quarter-finals to Great Britain's Nicola Adams.
But she was a proud woman at the end of it, having won a bronze medal in her first and, probably, last Olympics.
- London Olympics 2012 - Complete coverage
Though delighted with her effort, Mary apologised to her fans in India for not getting the gold medal.
"The whole of India was praying for me and wishing me to win the semi-final and come back with the gold medal. The entire country was wishing, but I am really sorry I couldn't come back with the gold medal; at least I have come with a medal and I am happy," she said at the ExCel Arena, after being defeated 11-6 by the local favourite, on Wednesday.
Photographs:
Hitesh Harisinghani/Rediff.com
I have a lot of respect for Mary: Adams
Adams was quick to acknowledge Mary's reputation in the sport.
"She has won the World Championships five times. That is a special thing to do and I have a lot of respect for her," she said.
Mary, 29, said one part of her dream was realised by competing in the Olympics and winning the bronze medal, but she would have been happier had she won the gold.
"I am satisfied. I tried my best to get a bigger medal but it didn't work out. I am happy with my achievement and I hope my country is also happy. I waited for a long time to compete in the Olympics and my dream is fulfilled.
"My dream is not fully fulfilled, but at least little bit fulfilled. I thank God for giving me this opportunity and also helping me win this medal," the boxer said.
Image:
The referee raises Nicola Adams's hand after the semi-final against Mary Kom
Photographs:
Patrick Semansky/ AP
'If 48 kg is included in the next Olympics, I will be the champion'
She expressed hope of her original weight category, the 48 kg, being included in the next Games at Rio in four years' time.
"If 48 kg is included in the next Olympics, I will be the champion I can say that proudly."
Among the spectators was also her mother, Akham Khom, who could not bear to see her daughter being repeatedly punched by Adams.
"My mother was watching the bout; she was in the arena, but I don't think she was watching. She was crying sometimes. In the last bout also, the day before, she was praying through the bout. My father was watching from home along with my family, friends," Mary said.
But Mary has a bigger problem on hand when she reaches home in Manipur. Her twin sons both want a piece of the bronze medal and the boxer is wondering how to make both happy.
"I might have to buy another medal from the market," she said before breaking into laughter and signing off.
Photographs:
Patrick Semansky/AP