Tarnished? Olympic brand mints money like never before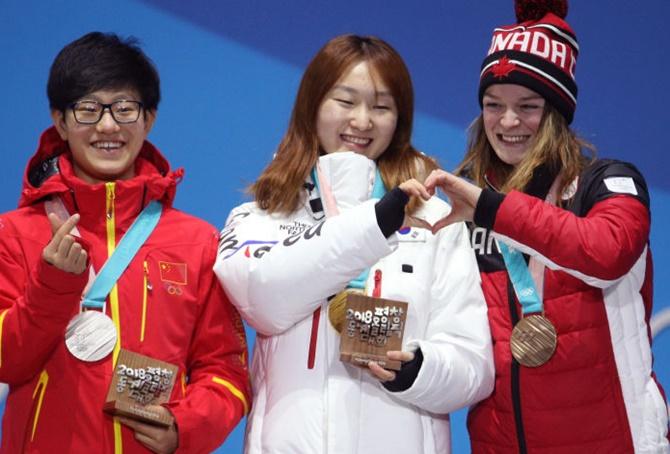 IMAGE: From left, silver medalist Jinyu Li of China, gold medalist Minjeong Choi of Korea and bronze medalist Kim Boutin of Canada celebrate during the victory ceremony after the Short Track Speed Skating. Photograph: Chris Graythen/Getty Images.
A long-running Russian doping scandal. Corruption scams. Major cities say 'no' to staging the Olympics Games.
If the International Olympic Committee (IOC) were a publicly traded company, its stock might be struggling to stay afloat in a sea of damaging headlines.
Instead, it has never been in better financial health, thanks increasingly to enduring and growing support from Asia -- from the region's sponsors, governments, cities and sports fans.
The IOC's revenue from broadcast rights, its main income source, is setting records, touching $2.87 billion at the Rio summer Games in 2016, up 12 per cent from London 2012, and is set to reach new heights at the Tokyo Games in 2020.
Its top sponsor programme, which made up a fifth of its revenues in 2013-16, topped $1 billion for the first time between Russia's 2014 Sochi winter Games and Rio 2016, two of the most challenging events for the Olympics brand.
Sochi, which cost around $50 billion, was a symbol of Olympics over-spending and is also now synonymous with alleged systematic Russian doping. Rio was hit by a ticket-scalping and corruption investigations involving senior Olympic officials.
But in interviews at the Pyeongchang winter Games, executives betting on the Olympic brand say they do not lose sleep over the scandals. Unlike misbehaving athletes who can lose sponsors overnight, the brand is 'resilient', some say.
Sponsors say their customers simply don't care that much.
"I haven't seen any evidence that the brand has taken negative hits," said Louis Vega, vice president of Olympic and sports solutions for Dow, an IOC top sponsor.
Sponsors' comments and the IOC's swelling coffers contrast with some experts who doubt that the value of the Olympics brand can withstand the barrage of bad publicity and a drop in interest among Western cities in staging the Games.
Andrew Zimbalist, economist at Smith College in Massachusetts and a former adviser to a 'No Olympics' campaign in Boston, says sponsors understand this but won't admit it.
"The fact that the current Olympic sponsors assert that the brand is strong indicates little," he said. "Why would a company that has invested tens of millions of dollars in building its association with the Olympics do anything to diminish the IOC's image? Doing so would just devalue its investment."
The willingness of host cities to spend heavily to put on a huge spectacle continues to underpin the IOC's business model, even under its new "sustainable" Games policy, Agenda 2020.
But fewer cities want to take the risk. Paris, awarded the 2024 Games after Agenda 2020 came into effect, has budgeted 6.8 billion euros ($8.4 billion). It emerged the winner only after four rival bidders quit: Boston, Rome, Hamburg and Budapest.
In Asia, by contrast, cities are still stepping forward, to the relief of the IOC and sponsors. By the Beijing winter Games in 2022, three straight Olympics will have been held in Asia, and Japan's Sapporo is a contender for the 2026 winter Games.
"Asia is opening itself up to the world more and more andthere is a logic that sport as part of society is also following this trend," IOC president Thomas Bach told Reuters.
Though the IOC's most valuable broadcast rights are still for the United States, held by NBC, and for Europe, held by Discovery Communications, US TV audiences dipped at the Rio Games after a long, steady climb, NBC Sports data shows.
However NBC, a unit of Comcast Corp, says the US ratings reflect a shift from TV to online consumption, which is an emerging source of ad income. NBC says it made $250 million in profits from Rio, double its earnings from London.
In Japan, opening-ceremony ratings for broadcaster NHK show a pickup in viewers between the summer Games of Athens 2004 and Rio 2016. In the Kanto area, which includes Tokyo, a quarter of households watched the Rio ceremony, up from 17 percent in 2004.
The Tokyo 2020 Games has already accumulated almost three times as much domestic sponsorship as London 2012 or Rio, with a current total of about $3 billion.
"The sponsor demand to partner with the Tokyo 2020 Games inparticular has been unprecedented and off the charts," said Michael Lynch, global head of consulting at Nielsen Sports &Entertainment, which works with Olympic sponsors.
China is the biggest Asian market for Olympic viewers, but Chinese rights holder CCTV did not reply to requests for data.
Asian companies are also gradually replacing US names on the IOC's top sponsorship programme, which now includes Chinese Internet giant Alibaba, Japanese tyre maker Bridgestone and Japanese carmaker Toyota Corp.
Five of the IOC's 13 top sponsors are from Asia, including longer-standing partners Samsung and Panasonic. The top programme began with two Asian firms in 1985, a few years after the IOC went close to going broke.
"The Asia play is very important to us. Korea and China are two very big emerging markets and our home country is in Japan, so the Asia swing is very good for Bridgestone," Bridgestone's vice president for sports and events marketing in the Americas, Phil Pacsi, told Reuters.
The Games' growing ties to Asia present complications for the IOC, however, especially in the US market.
The United States has not hosted a Games since Salt Lake City in 2002 and NBC, whose parent spent more than $12 billion to hold US rights from 2014-2032, faces a long wait before the next U.S. Games are held in Los Angeles in 2028.
The US Olympic Committee lost several domestic sponsors ahead of the Pyeongchang Games, the first in the run of three straight Asia-hosted Games.
For now, the IOC, which says it uses 90 percent of its income to fund sports globally, is in strong financial shape and counting increasingly on Asia to keep it that way.
"It is still a very valuable property for us regardless of the political situation going on around them," said Iain Jamieson, South Korea manager for Visa, a top IOC sponsor.
Belarus president blasts freestyle skiing judges after Kushnir eliminated
Belarussian President Alexander Lukashenko has complained to the president of the International Olympic Committee over defending freestyle skiing champion Anton Kushnir's failure to qualify for the men's aerials final, saying the judging was unfair.
Kushnir, competing in his fourth Olympics, was hoping to defend his title and continue Belarus's dominance of the sport, but on Saturday night the Sochi gold medalist fell just short of the score needed to qualify.
Lukashenko, who is an avid sports fan and head of the east European country's national Olympics committee, said he had lodged a formal complaint with the International Olympic Committee (IOC) over the judges' decision.
"They simply threw the main competitor out of the final," Lukashenko told journalists.
"I had to raise the alarm with the foreign ministry ... to send a government telegram to (IOC President Thomas) Bach. I told him everything I think," he said.
A former collective farm manager, Lukashenko has run Belarus along Soviet-style command lines since 1994.