Sports Foundation Olympic Gold Quest marked their entry into the Winter Olympics by signing up Luge athlete Shiva Keshavan on Wednesday.
Shiva, who hails from Himachal Pradesh, is a veteran in Luge and has participated in four Olympic Games so far. Shiva is India's only known and accomplished face at the Winter Olympic Games, and has been so for 14 years now, when he first qualified for the Nagano Olympic Games in 1998 at the age of 16.
He still holds the world record for being the youngest ever Luge athlete at the Olympic Games.
"OGQ is very excited to support Shiva Keshavan. He has been a torch bearer for winter Olympic sports in India for over a decade. And he is still just 30 years old. He undoubtedly has the potential to win a medal for India at the Winter Olympics in 2014," said Viren Rasquinha, CEO of OGQ.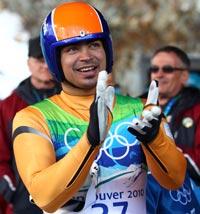 "But for that to happen, it's high time that he gets very focused support for his coaching, equipment which is crucial in Luge, medical support and international exposure for competition and training. If we bring it all together, a medal is definitely possible," he added.
Shiva was delighted to get support from OGQ and said: "The support from OGQ means so much to me. Luge is a very demanding sport physically for which world class medical support is needed. Besides, there is a lot of technical support in terms of coaching and equipment as well that OGQ can help fund."
"This will give a big boost to my preparations for the Winter Olympics in Sochi. An Olympic medal is my dream. That can really change the face of Winter sports in India," he said.
Keshavan won the first-ever Gold medal for India in any international winter sport event, at the Asia Cup in Nagano, Japan in December 2011 and won the Olympic quota for the 2014 Sochi Games.
He did this while setting the new Asian speed record at 134.3 kmph.
Photograph: Richard Heathcote/Getty Images