Indian luge pilot Shiva Keshavan on Friday made a positive start to his title defence at the Asian Championship in Nagano as he qualified for the finals of the event.
Keshavan came very close to breaking the Asian record after Japan's Hidenari Kanayama set the benchmark time in the first heat with a lightning speed, taking just 50.213 seconds to cover the 1300 meter long track.
The final time for the second run was tied between Shiva and Hidenari -- both clocking exactly 50.492 seconds.
Last year's champion Keshavan then took the lead in the third run with a time of 50.661 seconds with a top speed of 127.7 kmph.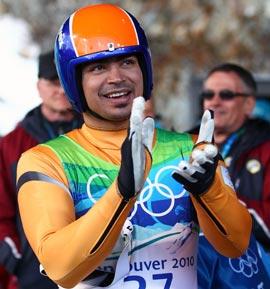 "It has been a tough year as I have been waiting for more than six months for the government funding to come through. I am glad to be representing India here at the Asian Championship and will concentrate on doing my best," Keshavan said.
The athletes, who finished within seven per cent of the best time, will be eligible to compete in the Asian Championship finals scheduled for December 23.
Keshavan, who had suffered two partial ligament tears in his shoulder in July this year, seems to be getting back to his form at the right time.
He has been undergoing training with his coach and former French Olympian Yann Fricheteau.
Earlier this season, Shiva was training to participate in the World Cup circuit as part of his mandatory Olympic Qualifiers for the Sochi Olympic Games in Russia in 2014.
Photograph: Richard Heathcote/Getty Images