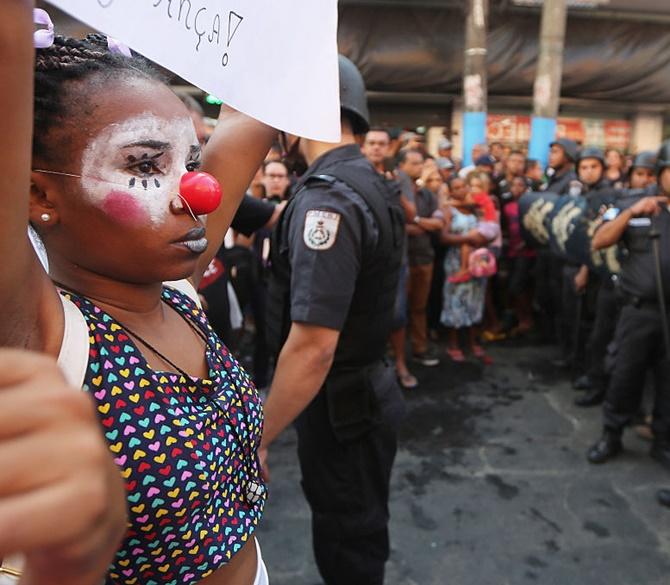 IMAGE: A protester stands holding a sign calling for improved public services as Military Police guard the Olympic torch route ahead of the Rio 2016 Olympic Games. Photograph: Mario Tama/Getty Images.
A sharp increase in police killings has cast "a shadow of death" over Rio de Janeiro as it prepares to host the Olympic Games, Amnesty International said on Tuesday.
The rights group said the number of people killed by police in the crime-plagued Brazilian city had more than doubled between April and June 2016 from a year ago.
Police in the city killed 49 people in June 2016, 40 in May and 35 in April, Amnesty said, citing state security figures.
Since 2009, when Rio won the bid to host the Olympic Games, police have killed more than 2,600 people in the city, it said.
"Just when we thought the levels of police brutality could not get any more shocking, they do," said Atila Roque, director at Amnesty International Brazil.
"A shadow of death has set over Rio de Janeiro and it seems the authorities only care about how pretty the Olympic Park looks," she said in a statement.
Recent attacks claimed by extremist groups in Europe have added to security concerns over the Olympics in Rio, a sprawling city where drug traffickers and armed gangs often control slums and spark heavily armed police raids.
Organizers have responded to concerns by increasing the number of soldiers and police patrolling the event to nearly 90,000.
But Amnesty said poor training and excessive use of lethal force by police were part of a misguided approach to public security in Brazil.
The military police could not immediately be reached for comment.
"The authorities are not looking into preventive measures to tackle and to curb the executions by the police," Renata Neder, a human rights adviser for Amnesty, told a news conference.
"There are specific cases of people being killed in operations for the Games," she said.