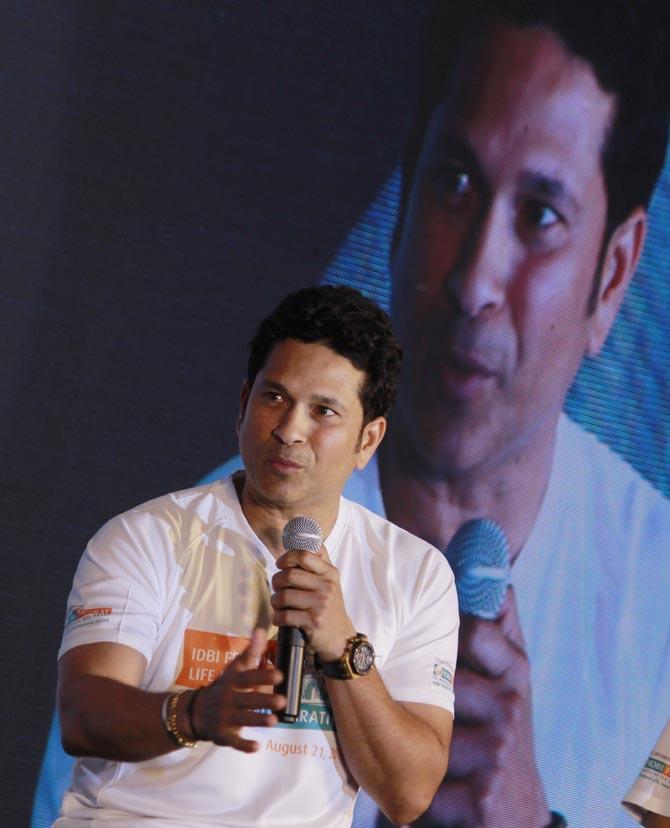 IMAGE:
IMAGE: Sachin Tendulkar.
Photograph: Hitesh Harisinghani/Rediff.com
In what comes as a delayed reaction following the backlash received over Salman Khan's appointment as Goodwill Ambassador for India for Rio Olympics, the Indian Olympic Association (IOA) has now turned to cricket legend Sachin Tendulkar to be the Indian contingent's ambassador.
According to ANI, the Indian Olympic Association (IOA) has written a letter to Tendulkar to be a Goodwill Ambassador for India for Rio Olympics 2016.
The Master batsman is yet to reply to the request.
- Salman as India's Rio Olympics ambassador: Right or wrong?
The IOA has also approached Oscar-winning music composer A R Rahman to take up the same role.
"We are in communication with Sachin Tendulkar and A R Rahman to become brand ambassadors of the Indian Olympic contingent. We are yet to get their reply," said Indian Olympic Association (IOA) vice president Tarlochan Singh.
"We will rope in more people. Salman Khan will also remain," he added.
Salman Khan's appointment as India's Goodwill Ambassador at the upcoming Rio Games was criticised by several Indian athletes, including wrestler Yogeshwar Dutt and Track & Field legend Milkha Singh.
"Everybody has the right to promote movies in India, but Olympics is not a place to promote films." Yogeshwar tweeted in Hindi.
"Can anyone tell me what the role of goodwill ambassador is? Why are you fooling the public?" he added.
Milkha, who won gold in 1958 and 1962 Asian Games, said the fact that no Indian sportsperson had been picked up as ambassador saddened him.
One among a few on the other side of the debate was former India cricket captain Sourav Ganguly.
"I'm happy and fine with him (Salman) being the ambassador, as he brings visibility and glamour quotient to anything.
"You cannot deny that Salman is popular and he would bring visibility to the Rio Olympics. He is an entertainer. I think it's fine to have him appointed as the ambassador. I think they can have other ambassadors as well; it's nowhere written that they can only have one ambassador," Ganguly said at an event on Thursday.
Now, with the IOA bringing in Tendulkar into the fray, here's hoping we have seen the last of the unprecedented drama that has unfolded over the last five days.