Former India captain Viren Rasquinha is all set to make a comeback to competitive hockey with the inaugural edition of World Series Hockey to be held across the country from December 17 to January 22 next year.
Rasquinha's return to the sport comes close on the heels of Dhanraj Pillay's decision to make a comeback at the age of 41.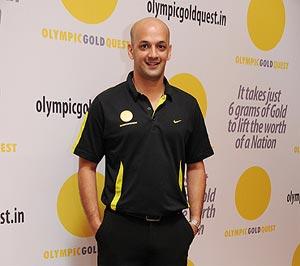 Rasquinha, who surprised one-and-all with his sudden decision to quit the game at a young age of 27 three years ago, is currently the chief operating officer of Olympic Gold Quest.
"With the participation of the best hockey stars from India and the World, this prestigious League promises a brighter outlook to the sport in India," Rasquinha said.
"For the first time, a viable commercial ecosystem is being built around hockey that will benefit the players and all the stakeholders. Every players well being needs to be the core of any sports administration setup and I am glad to be a part of WSH," the midfielder said.
The WSH will involve 176 leading players from India and abroad.
The tournament, which will feature a total of 61 matches, will be a multi-city franchise-based league with players being allocated to the teams based on the internationally accepted and practised 'draft' system.
The inaugural edition of the league will comprise eight teams out of Mumbai, Delhi, Chennai, Hyderabad, Bangalore, Chandigarh, Pune, Bhopal, Punjab, Ranchi and Rourkela.
Some of the Indian stars who will be seen in action in the WSH, include Dhanraj Pillay, Rajpal Singh, Sandeep Singh, Adrian D'Souza, Sardara Singh, Prabhjot Singh, Arjun Halappa, Diwakar Ram, Bharat Chetri, Dhananjay Mahadik, Shivendra Singh, Mandeep Antil, S V Sunil, Roshan Minz, William Xalxo, Prabodh Tirkey and Yuvraj Walmiki.