- 'A second league gives us more options, it will bring in more players and more fans.'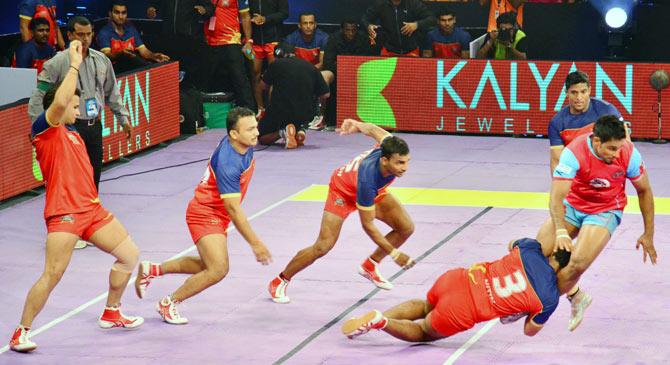 IMAGE: Players from UMumba and Jaipur Pink Panthers in action during the Pro Kabaddi League match in 2014.
Three successful seasons of the Pro Kabaddi League have convinced its organisers that the tournament has curved its place in India's sporting landscape and time is ripe to go biannual.

The success of cricket's Indian Premier League spawned similar city-based competitions in several sports in the country and kabaddi, a mixture of team tag and wrestling, jumped on the bandwagon in 2014.

Bankrolled by Rupert Murdoch's Star TV and Mashal Sports, which counts India's Mahindra group chairman Anand Mahindra among its promoters, the league has since transformed the indigenous sport into a high-octane televised spectacle.

Stadiums across eight cities have often been packed and the second season witnessed a 20 percent rise in viewership, and the third edition which concluded last month saw a further 35 percent increase.

It was encouraging enough for the organisers to announce a second competition this year from June 25 to July 31 and the franchises do not mind either.

"How do you build a sport if it's going to be in the viewer's mind for only six weeks a year?" Ronnie Screwvala, the Mumbai franchise owner, said.

"The viewers need to see it more often," he added, pointing out that most leagues across the world run for over five months.

"That's when you get the momentum and the sport picks up. Six weeks every six months is the right way for kabaddi."

VIABLE CAREER
IMAGE: Amitabh Bachchan cheers for the Jaipur Pink Panthers. Photograph: PTI
The organisers believe doubling the competition would directly benefit the players, making kabaddi a viable career option, and they seem to have a point.

At last week's auction, Mohit Chillar, a right-corner defender and a clerk by profession at the Indian Railways, went for 5.3 million rupees (about $78,542) to the Bengaluru franchise.

In comparison, Rakesh Kumar had got the highest bid of 1.28 million rupees when the previous auction was held before the inaugural season in 2014.

The league's growth has prompted Telegu Titans raider Rahul Chaudhuri to give up his job with Air India, quite a feat for a sport which is popular in villages but maintains a low-profile in cricket-mad India.

"A second league gives us more options, it will bring in more players and more fans," Chaudhuri told Reuters.

For someone who played the game in relative obscurity, Chaudhuri said he now has to often agree to requests for selfies with fans at airports.

"Now I just hope the sport gets into the Olympics while I am still playing and I get to win a gold medal for India."