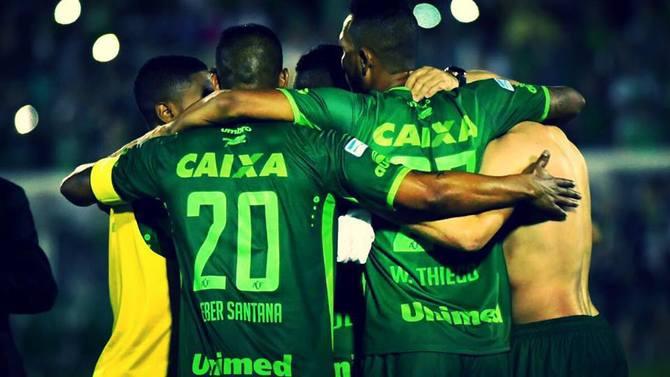 IMAGE: Picture of Chapecoense players for representative purpose. Photograph: Facebook.
Brazilian soccer team Chapecoense, heading for the biggest game in their history, were on board a plane that crashed into Colombian jungle, killing 76 people, police said on Tuesday.
A Reuters photographer at the scene said dozens of bodies were laid out and covered with sheets around the wreckage as some 30 rescuers, police and military personnel searched the crash site of the plane that had 81 people aboard.
He said the BAe 146 charter aircraft had split in two with only the nose and wings recognizable and the tail end completely destroyed in the crash on Monday night.
Chapecoense, from Brazil's top league, had been flying to face Atletico Nacional of Medellin on Wednesday in the first leg of the Copa Sudamericana final, South America's equivalent of the Europa League.
It was the first time the small club from Chapeco had reached the final of a major South American club competition.
Players Alan Luciano Ruschel, Marcos Danilo Padilha and Jakson Ragnar Follmann were listed as survivors in a statement from Colombia's disaster management agency.
Tributes poured in from the global soccer family.
The club said in a statement it would not be making any official comments until it had more information from Colombian authorities.
"Six people were rescued alive, but unfortunately one died. The rest of the occupants unfortunately died. The tragic toll is 76 victims," Jose Gerardo Acevedo, regional police commander, told journalists.
The plane crashed in a mountainous rural area outside of the city of Medellin and heavy rain at one point halted rescue operations.
Flight tracking service Flightradar24 said on Twitter the last tracking signal from flight 2933 had been received when it was at 15,500 feet, about 30 km from its destination, which sits at an altitude of 7,000 feet.
The BAe 146 was produced by a company that is now part of the UK's BAE Systems
The charter flight was carrying 72 passengers and nine crew, when it crashed around 10:15 p.m. on Monday. Officials told local media that the bodies of the victims would be removed at first light.
Brazilian news organizations said 21 journalists had been on board to cover the match.
Chapecoense qualified for the biggest game in their history after overcoming Argentine club San Lorenzo in the semi-final on away goals following a 1-1 draw in Buenos Aires and a 0-0 draw at home.
They were very much the underdogs for the match against a club going for a rare double after winning the Copa Libertadores in July.
Chapecoense were the 21st biggest club in Brazil in terms of revenue, bringing in 46 million reais (10.82 million pound) in 2015, according to an annual rich list compiled by Brazilian bank Itau BBA.
The club has built its success on a frugal spending policy that eschewed big money signings and instead concentrated on blending young talent and experienced journeymen.
Their best-known player was Cleber Santana, a midfielder whose best years were spent in Spain with Atletico Madrid and Mallorca. Coach Caio Junior was also experienced, having managed at some of Brazil's biggest clubs, Botafogo, Flamengo and Palmeiras among them.
Meanwhile, the South American football federation suspended all games and other activities early on Tuesday after the plane crash.
The team was among 72 passengers and nine crew on board the charter aircraft when it came down around on Monday evening in north-central Colombia. It was not immediately clear how many people survived.
The federation, CONMEBOL, said its president, Alejandro Dominguez, was on his way to Medellin, near the crash site.
"All federation activities are suspended until further notice," it added in a statement on its website.
Chapecoense had been due to face Atletico Nacional of Medellin in the first leg of Wednesday's Sudamericana final.