It's so hot in Melbourne Park, it will give Jennifer Lopez a complex.
Temperatures soared on Day 4 of the Australian Open as the heat melted players and fans alike at Melbourne Park on Thursday.
With temperatures peaking at 39.9 degrees Celsius and reports of 69 degrees being measured on the court surface, out came the ice packs and bottles of water.
Players tried to the keep rallies shorter and finish games faster under the sapping heat. Frenchman Gael Monfils looked particularly un at ease during his match against six-time champion Novak Djokovic.
Muguruza, who was knocked out earlier in the day by Taiwan's Hsieh Su-Wei, also couldn't cope with the weather.
Fans flocking melting park also bore the brunt of the heat.
Here are images from a hot, hot day from Melbourne Park...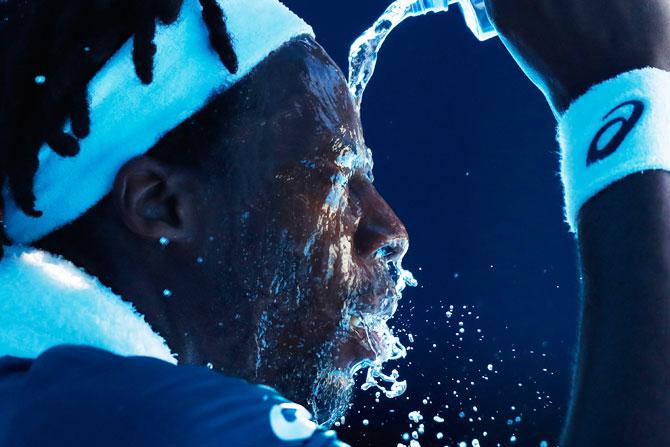 IMAGE: Gael Monfils cools down between games in his second round match against Novak Djokovic on Thursday. Photograph: Michael Dodge/Getty Images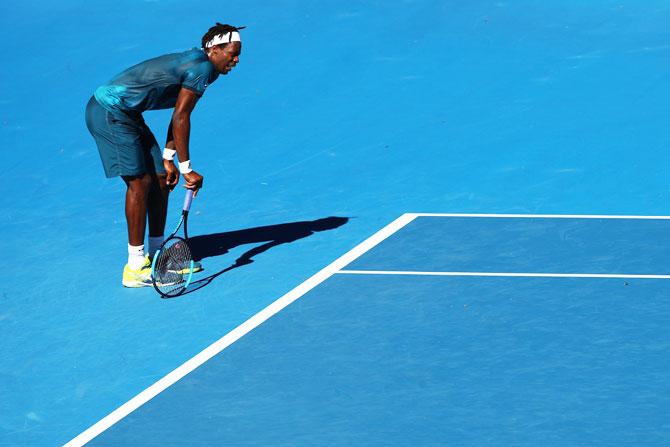 IMAGE: France's Gael Monfils struggles in the heat during the 2nd set. Photograph: Cameron Spencer/Getty Images
IMAGE: A spectator cools down in front of a misting fan at Melbourne Park. Photograph: Michael Dodge/Getty Images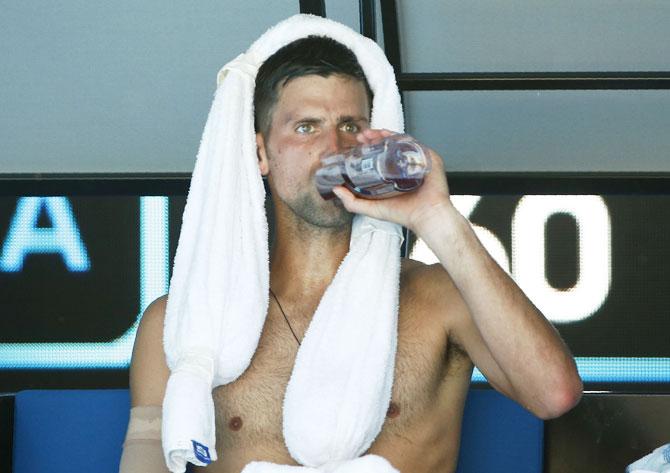 IMAGE: Novak Djokovic has a drink during a break in his match against France's Gael Monfils. Photograph: Thomas Peter/Reuters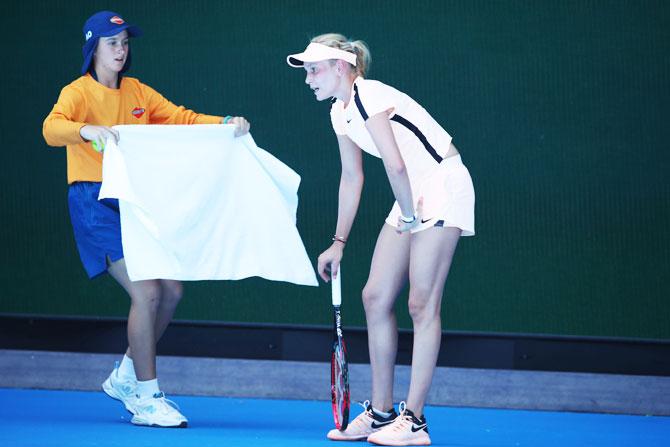 IMAGE: Croatia's Donna Vekic receives a towel from a ball kid during her second round match against Angelique Kerber. Photograph: Mark Kolbe/Getty Images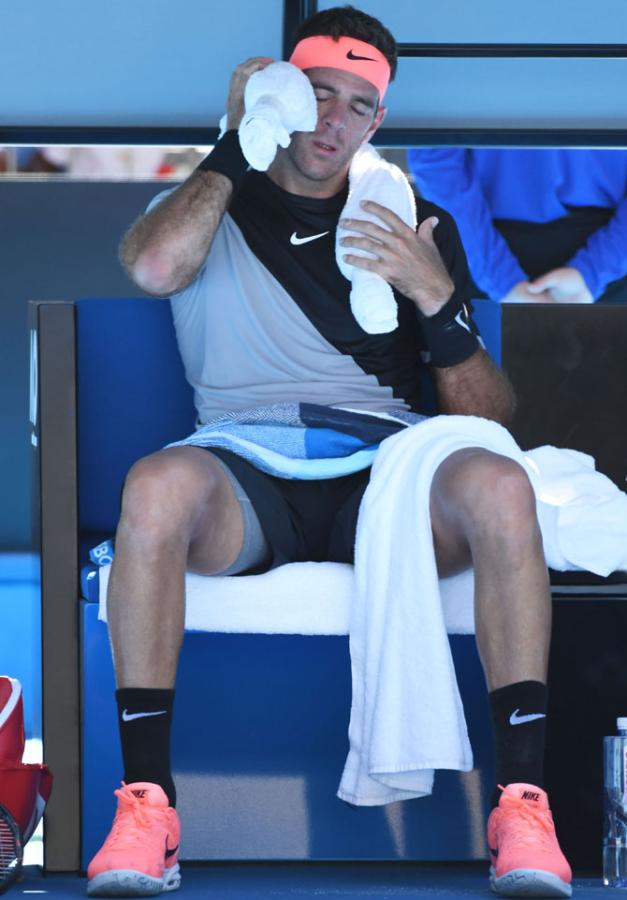 IMAGE: Argentina's Juan Martin Del Potro cools off between games in his second round match against Russia's Karen Khachanov. Photograph: Quinn Rooney/Getty Images
IMAGE: Beating the heat can be a fun activity as these fans at Melbourne Park show us. Photograph: Michael Dodge/Getty Images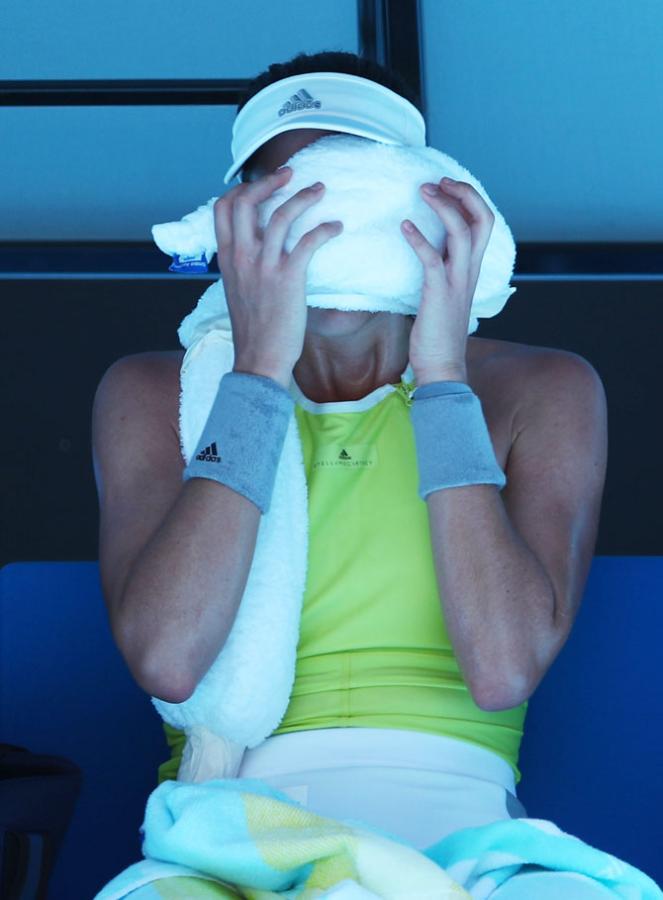 IMAGE: Spain's Garbine Muguruza places an ice-pack to get some respite from the heat during her loss against Taiwanese doubles specialist Hsieh Su-wei. Photograph: Clive Brunskill/Getty Images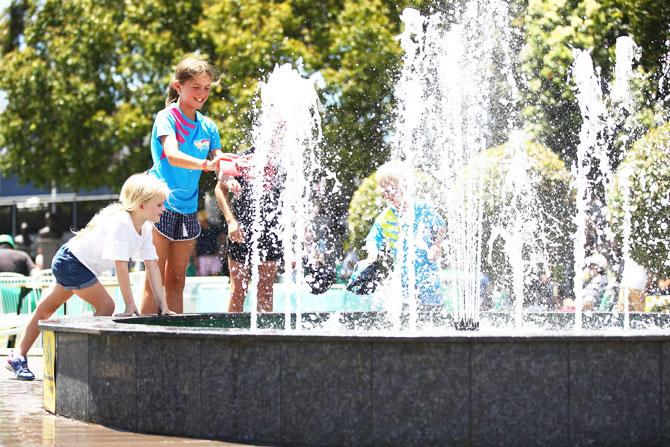 IMAGE: Young fans play in the fountain in Garden Square at Melbourne Park. Photograph: Cameron Spencer/Getty Images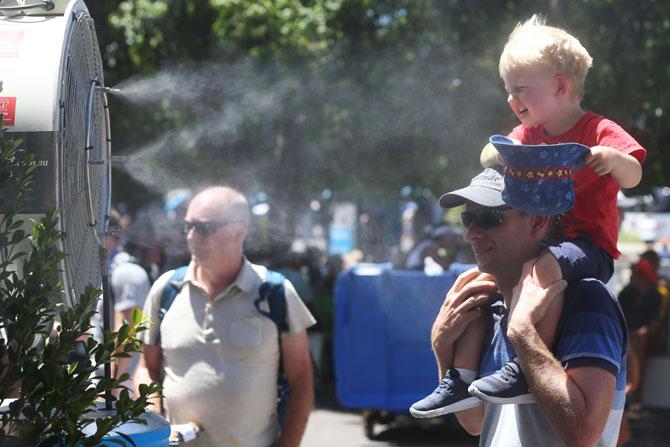 IMAGE: A father and his kid stand before the misting fan to find relief from the heat. Photograph: Michael Dodge/Getty Images