It was survival of both man and machine in the Gulf Monsoon Scooter Rally as riders negotiated slushy, gravel-laden, winding terrain along the backwoods of Navi Mumbai.
Nashik's Shamim Khan emerged best of the 40 riders who braved the challenge.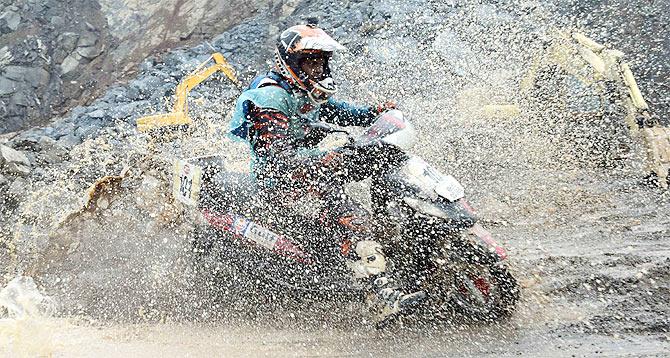 Nashik's Shamim Khan, astride a Mahindra Rodeo, negotiates slushy terrain during the Gulf Monsoon Scooter Rally in Navi Mumbai on Sunday. Photograph: Sahil Salvi
The prize-money is hardly worth it, yet they risk life and limb to enjoy their passion.
It's the annual Gulf Monsoon Scooter Rally, sponsored by Gulf Oil Lubricants and organised by Sportscraft, we are talking about.
Come the rains and two-wheeler racing fanatics line-up for the popular off-beat challenge. The latest edition was on Sunday, August 8. There were entries from Mumbai, Nashik, Pune, Thane, Bangalore, Bhopal, and Jodhpur. Like previous years, this time too Sportscraft chose the backwoods of Navi Mumbai to give riders a chance to test their driving and racing skills in a safe environment.
The time trial rally has riders timed to a hundredth of a second from one time control to another. Among the 40 who took the start were a host of top class riders, including defending champion R Natraj of TVS Racing and former champions, but it was Nashik's Shamim Khan who emerged triumphant.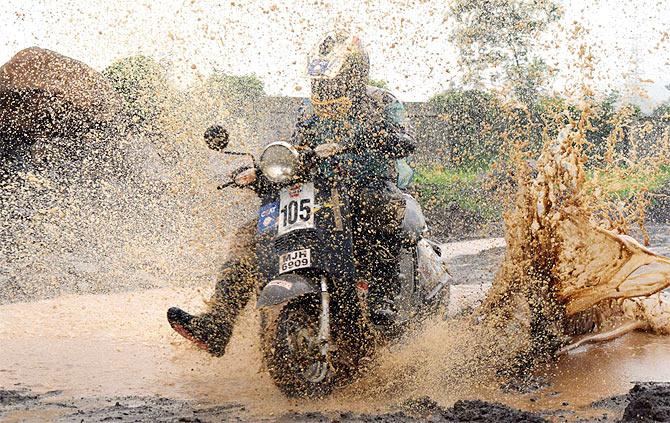 Team Ceat's Pinkesh Thakkar manouvers through the tricky track. Photograph: Sahil Salvi
Having finished second to Natraj last year, the Team Mahindra rider, who was champion in 2003, 2004 and 2010, gauged the terrain and conditions perfectly and rode his Mahindra Rodeo judiciously to win the gruelling 35-km race in a timing of 31 minutes and 59 seconds in penalties.
Bangalore's Natraj was forced to pull out immediately at the first Time Control itself due to mechanical failure of his scooter.
Pune's Pinkesh Thakkar of Team Ceat, astride a Kinetic Honda, was second in 33 minutes and 45 seconds, while Bhopal's Syed Asif Ali of TVS Racing, astride a TVS Wego, finished third in 33:54 seconds.
Khan, having gone through the exercise for several years now, was, without doubt, a cut above the rest of the field. The 2.26 seconds that separated him and second-paced rider Thakkar says everything about his domination. He took a nasty fall in the second of the three legs the participants had to cover, but despite wasting precious seconds came out triumphant.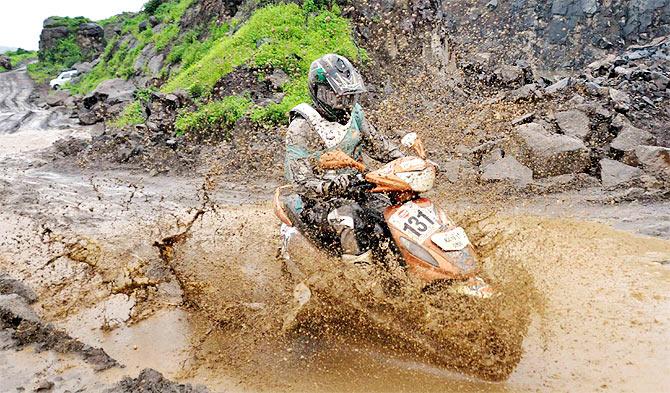 Jodhpur's Abhishek Diwaker, astride the Mahindra Rodeo, is covered in slush as he rides through the challenging hilly terrain. Photograph: Sahil Salvi

For all his effort, besides the bruises he suffered from the fall, he took home Rs 13,000 (yes, you read it right) in prize-money. Of that Rs 10,000/- was for placing first overall, and Rs 3000/- for first place in the Upto 160cc - 4-stroke category.
"This was the toughest of all the monsoon races I have competed in. It did not rain so heavily during the race, but, as a result, the surface at the finish was sandy and loose. It was difficult to launch that final burst on the home straight at the time controls," said Khan, while nursing his bruised hand and shoulder, after the rally.
"I knew it would be tough, but since I did well previously I was confident of a good showing," he added.
After the rally was flagged off by from Hotel K Star in Belapur CBD by Nilesh Garg, Channel Sales Head Gulf Oil Lubricants, it was survival of both man and machine. Heavy rain over the last few days made riding on the gravel-laden, winding course difficult.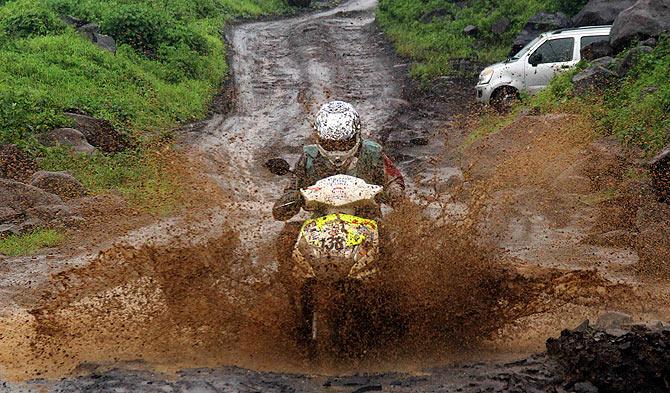 Venkatesh Shetty, astride his Honda Deo, negotiates the challenging track. He was named best Mumbai rider. Photographer: Sahil Salvi
Riders had to exercise extreme control while negotiating the steep inclines, hairpin bends and water-logged stretches they encountered to stay in the saddle. Some of them took a tumble or two and some even damaged their scooters.
The two women riders who braved the challenge admirably deserve special mention. Nidhi Shukla of Team Ceat, riding a Suzuki Access, completed the course in 46 minutes, 14 seconds, while Vishakha Falsunge, astride a Honda Activa, was home in 1 hour, 11.28 seconds penalty points. For being the best female rider, Ms Shukla was awarded a special prize.
Thane's Vikram Bhoparai, astride a LML Vespa 115, finished second in Group C of the Class S2 - 111CC UPTO 160CC - 2 stroke category. Photograph: Sahil Salvi
While all the participants performed admirably, only 36 of the starters completed the rally.
Special mention must be made about the first-timers who went through the motions with equal élan. Among them, Bhopal's Mohammed Ali Khan, astride a Suzuki Swish, was adjudged the best and awarded the late Firdosh Vajifdar trophy for his spirited riding which saw him place overall fourth in a timing of 34 minutes, 32 seconds.
A rider is drenched in slush as he tries to negotiate a water-logged stretch. Photogrraph: Sahil Salvi
While Shamim Khan won the overall title and topped in the 160 cc 4-stroke class, Thakkar won the 81cc to 110cc class 2-stroke class.
Former champion Manjeet Singh Bassan, astride a LML Vespa, of Team Ceat won the 111cc to 160cc class, finishing in 35.37 seconds.
The rally came in for all-round applause from the participants. Appreciating the course that was laid out for them, they thanked Gulf Oil, who have been promoting two-wheeler events through their dirt track events for years now, for giving them an opportunity to test their riding skills.
There were a few who lamented the lack of heavy rain during the event, saying had it poured the course would have been more challenging and it would be a thrill to ride with the rain in the face.