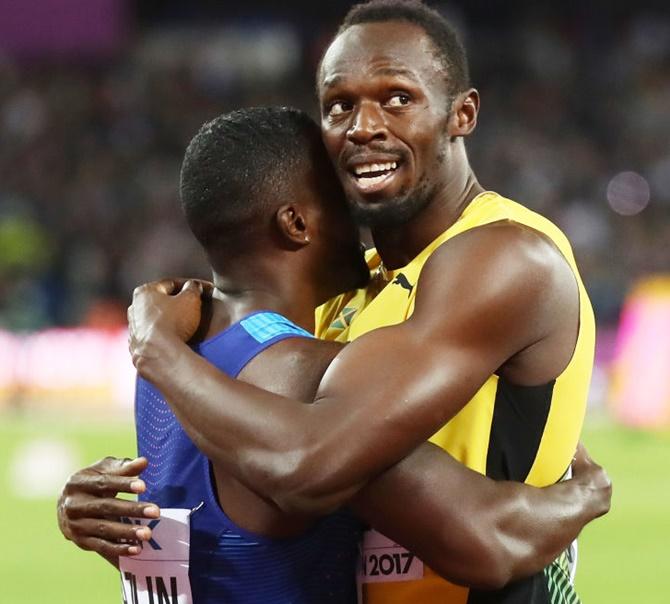 IMAGE: Usain Bolt of Jamaica hugs Justin Gatlin of the United States following Gatlin's win in the men's 100 metres final. Photograph: Michael Steele/Getty Images
The boos hailed down from every part of the London Stadium. As he knelt down in tears on the track, 56,000 voices jeered him unmercifully. In the outside world, within minutes, his Wikipedia profile had become Justin "the Cheat" Gatlin.
In the history of sport, you were forced to ponder, had there ever been a champion more universally unloved than Gatlin, the twice doping offender who by winning world 100 metres gold on Saturday had ruined one of sport's great fairytale farewells.
It was supposed to be all about Usain Bolt. The idea of the world's greatest athlete not winning his final individual race was like Olivier fluffing his lines in his final Hamlet or Nureyev taking a tumble in his farewell performance of SwanLake. Unthinkable.
Yet what was really unimaginable, the sport's doomsday scenario almost, was that as the sport's spotless "saviour" was bowing out with his first defeat in any 100m final for four years, it would be the much-maligned Gatlin who would cash in.
Only two years ago, at the Beijing World Championships when Bolt outpaced Gatlin for the same title, it was hailed almost as good prevailing over evil.
"He saved his title, he saved his reputation, he may have even saved his sport," screamed Steve Cram, the former 1,500 metres world record holder in the BBC commentary box.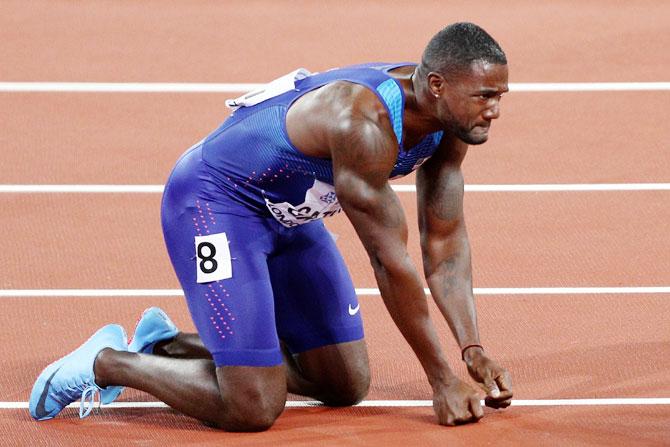 IMAGE: Justin Gatlin of the United States celebrates following his win in the Men's 100 metres final in 9.92 seconds at the 16th IAAF World Athletics Championships at The London Stadium in London on Saturday. Photograph: Paul Gilham/Getty Images
So what had changed two years on?
In a world where drugs offenders are hardly thin on the ground, the 35-year-old American is still the bete noire of the anti-doping lobby, the man who has never shown any remorse and has thus received special opprobrium.
Yet hasn't it reached almost farcical proportions? On Friday night in the first round, the stadium MC had noted amid all the cat-calling that the pantomime season was Christmas not in August. No matter; Gatlin was already cast in stone as their villain.
Yohan Blake, who has also served a drugs ban, was cheered to the rafters when he was introduced for the final but Gatlin just remained stony-faced through all the jeering. He has long become used to it. "I tuned it out," he said.
"I did what I had to do. The people who love me are here cheering for me and my fellow countrymen are cheering at home."
Of course, not all Americans will have been but even Bolt recognised after Gatlin had won in 9.92 seconds, just three-hundredths of a second ahead of him in the bronze medal position, that this reception did not feel fair.
Indeed, in this rarest of defeats, we may have seen the real greatness of Bolt revealed in a way we had never witnessed before.
Yes, the world has loved his once-in-a-century gift and his unmatched showmanship in all his triumphs. They have shown him as a great winner. Yet here he showed the world how to lose. With grace and honour. And, yes, forgiveness too.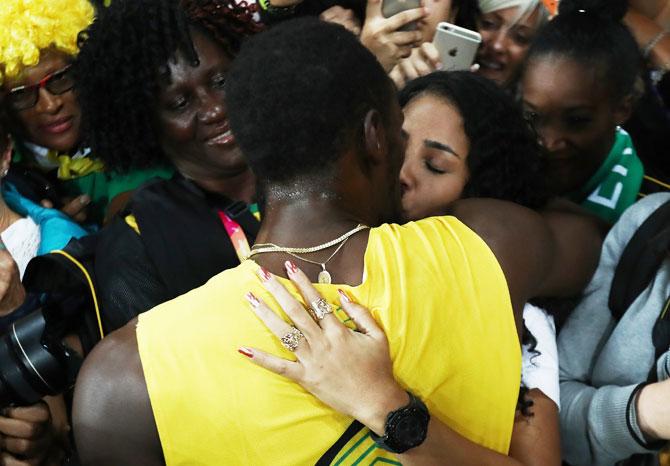 IMAGE: Usain Bolt celebrates during a lap of honour following his third-place finish in the mens 100m final at the 16th IAAF World Athletics Championships at The London Stadium in London on Saturday. Photograph: Alexander Hassenstein/Getty Images for IAAF
Early in their career, Gatlin had once tried to psyche out Bolt when racing in an adjacent lane by spitting in it. So right from the start, Bolt could have been forgiven for really having it in for the American.
Yet even when anti-Gatlin feeling was most rife in the sport a couple of years ago, Bolt never sought to rub it in his foe's face. Who was the first man congratulate Gatlin on Saturday? Of course, it was the Jamaican who went over to hug him with a genuine embrace.
"The first thing he did was congratulate me and say that I didn't deserve the boos," Gatlin revealed.
"He is an inspiration."
Who could argue with his judgement? Even as he contemplated such an anti-climactic end to his individual career, Bolt was big enough to pay a tribute to Gatlin which swam against the tide of ill-feeling.
"He (Gatlin) is a great competitor. You have to be at your best against him," Bolt said.
"I really appreciate competing against him and he is a good person."