'I'm absolutely excited about Pep joining our team'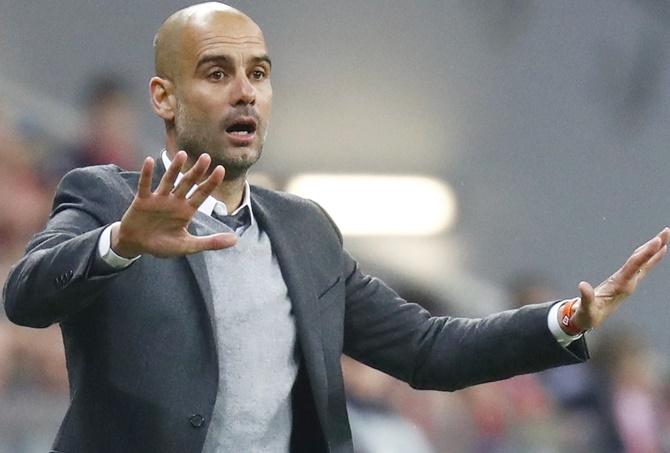 IMAGE:Manchester City's new manager Josep Guardiola. Photograph: Kai Pfaffenbach/Reuters.
Pep Guardiola is a 'proven winner' who will take Manchester City to a 'whole new level', the Premier League club's chairman Khaldoon Al Mubarak has said.
Guardiola, who left German champions Bayern Munich to take the reins at City, begins his three-year spell as manager at the Etihad stadium in July.
The Spaniard is one of the most decorated coaches in the game following his trophy-laden spells at Bayern and Barcelona, with whom he won the Champions League twice.
"I'm absolutely excited about Pep joining our team," Emirati Al Mubarak said in an interview posted on City's website.
"He's a winner ... his record at Bayern Munich, his record at Barcelona, I think speaks for itself.
"We are getting a proven winner ... someone who I think will be an incredible asset to Manchester City. And I have no doubt that he will transform our team to a whole new level."
Guardiola replaces Manuel Pellegrini, who guided the club to one Premier League title and two (Capital One) League Cups in his three years in charge.
Mubarak expressed disappointment at the Chilean's final season, despite the club finishing fourth in the league, reaching the Champions League semi-finals for the first time and winning the League Cup.
"There are a lot of achievements that have been made in those three years that I think we all have to recognise (and) we should thank (Pellegrini and his staff) and be grateful for these achievements," Al Mubarak added.
"At the same time, I think we also can't hide the disappointment, particularly this year.
"I think all of us came with high expectations for this season, and I think, at the end of the day, I cannot hide the disappointment of myself, obviously (club owner) Sheikh Mansour, I know the fans of the club, and I'm sure the entire team."
Al Mubarak became chairman when Manchester City was bought by Sheikh Mansour bin Zayed Al Nahyan's Abu Dhabi United Group in 2008.