- 'It is a great honour and I want to thank the Ministry for giving me the award. I am very happy with the way the last year has gone, I have been performing well. I reached World No. 1 last year and now I am World No. 2.'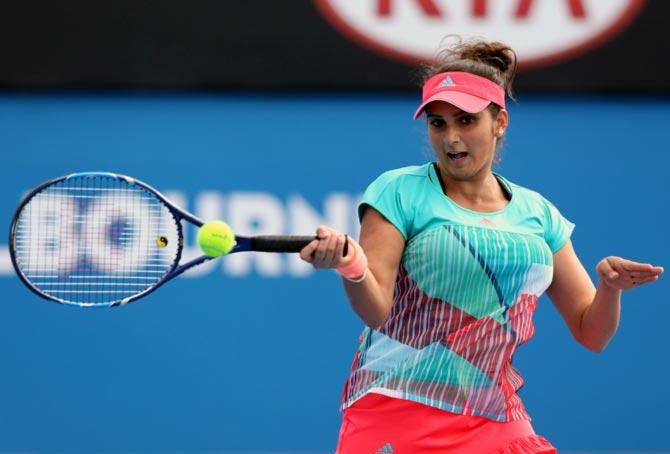 IMAGE: Sania Mirza in action during the 2016 Australian Open. Photograph: Michael Dodge/Getty Images
Women dominated this year's Padma awards for sports with tennis star Sania Mirza and ace shuttler Saina Nehwal getting the nod for the Padma Bhushan, while archer Deepika Kumari was chosen for the Padma Shri in New Delhi, on Monday.

All three were in sublime touch last year and brought the country laurels in their respective sports.

Sania enjoyed the most sensational run, clinching nine titles -- including two Grand Slams last year with Swiss great Martina Hingis. The exceptional performance propelled her to the top of the WTA doubles rankings.

The 29-year-old is currently competing in the Australian Open in Melbourne, where she has reached the women's doubles quarter-finals with Hingis.
For Sania, the honour adds to the illustrious awards she has already picked up.
The Hyderabadi has previously won the Padma Shri, besides being a Khel Ratna and Arjuna awardee.
"It's a truly humbling experience to be honoured with the Padma Bhushan award and will serve to inspire me to earn more laurels for my country," Sania said from Melbourne.
Saina has also been in spectacular touch, winning silver medals at the All England and World Badminton Championship last year besides clinching the India Open Super Series and Syed Modi Grand Prix Gold.
Deepika, on the other hand, won a silver at the Archery World Cup Final besides bronze medals at the World Cup Stage II and the Asian Team Championships.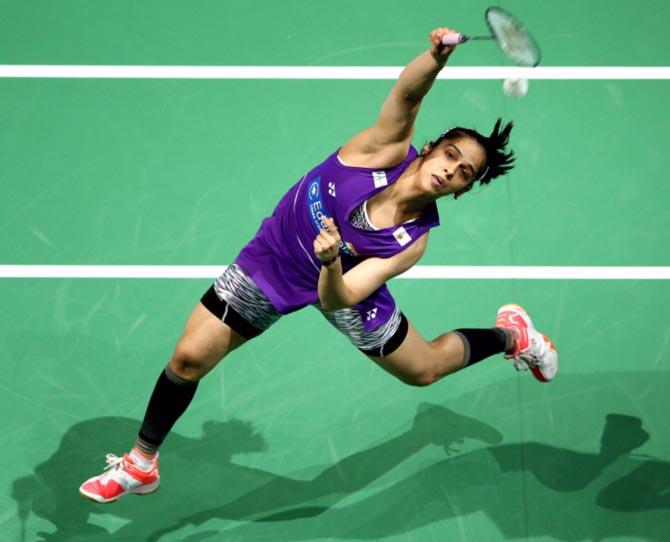 IMAGE: Saina Nehwal in action during the BWF Dubai World Superseries 2015 Finals. Photograph: Warren Little/Getty Images for Falcon
Saina said the honour has left her surprised. Interestingly, the 25-year-old had expressed her displeasure at being ignored for the award last year.

"It is a great honour and I want to thank the Ministry for giving me the award. I am very happy with the way the last year has gone, I have been performing well. I reached World No. 1 last year and now I am World No. 2. I am sure this award will give me more motivation to do well further this year," Saina said.

"It came as a complete surprise to me. I had no clue. I did not expect at all. There was no news of it at all. When I think that I am just 25 and I have received this award, it makes me feel great. But it is still a long way to go."

Saina was left disappointed after the Sports Ministry decided to reject her application for the award in January last year, citing norms.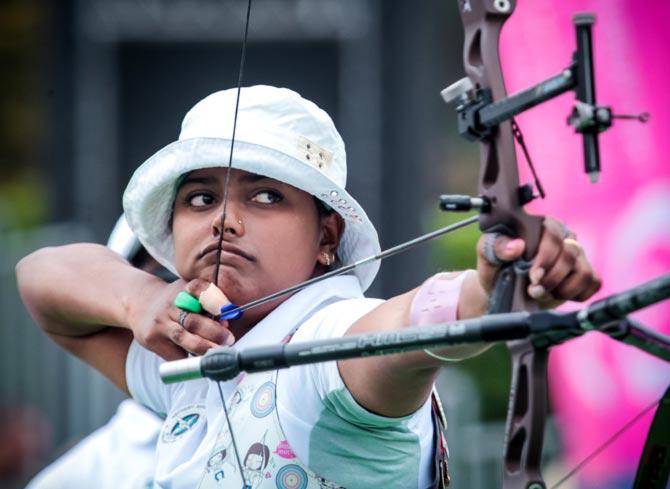 IMAGE: Deepika Kumari shoots in the recurve mixed team gold final at the Archery World Cup on August 16, 2015. Photograph: Dean Alberga/World Archery Federation via Getty Images
The ministry had picked two-time Olympic-medallist wrestler Sushil Kumar for the honour last year.

Saina was bestowed the Khel Ratna and Padma Shri in 2010 and also received the Arjuna Award in 2009.

The 21-year-old Deepika, meanwhile, had also won the team silver along with Laxmirani Majhi and Rimil Buriuly in the World Championships.
Deepika, who will be competing in the South Asian Games next month, has previously won the Arjuna award and said the announcement has come as a shock to her.
"I am kind of shocked. I can't believe this, it's yet to sink in. It was only four-five days ago, I was telling my friend I dream to be a Padma awardee and want to work hard for this," she said.
"And a day later, late at night, I got a call from the federation that my name was nominated. I thought it's just a nomination and I didn't take it seriously. But this morning I got a confirmation and I'm jumping with joy. There has been a flood of calls. I took blessings from my coach and parents.
"This award is dedicated to my parents and coaches -- Dharmendra Tiwari and Poornima Mahato and all those who supported me during early years. When I got Arjuna from the President (Pranab Mukherjee) in 2012, my dad accompanied me. This time my dad told me that I must take my mother to the ceremony. I told them 'I'll take both of you this time'. This is the biggest honour for me."
Deepika said the award will motivate her to clinch an Olympic medal this year in Rio de Janeiro.
"It's a big motivation to do well in the Olympics and now the expectations will be more. I want to stay focussed and don't want to be distracted. The biggest challenge for me (in Rio) would be to overcome the mental blockade that's proving costly for me so far," she said.
"I'm concentrating on mental toughness with yoga and meditation. Also psychologists are helping me out."