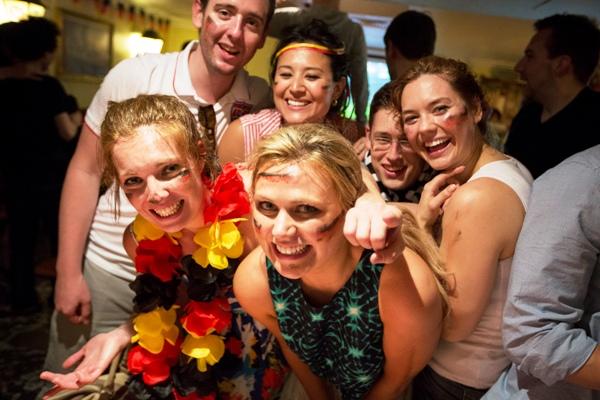 IMAGE: Football fans supporting the German national team celebrate as they watch Germany win the FIFA World Cup. Photograph: Oli Scarff/Getty Images
More than one billion television viewers watched last year's World Cup soccer final between Germany and Argentina in Brazil although audience figures for the tournament were slightly down because of adverse kickoff times, according to a FIFA report.
The report, produced by Kantar Media, said 695 million people watched at least 20 minutes of the final at home, a 12 percent rise on 2010, with out-of-home viewers taking the figure past one billion.
The global in-home audience for the whole tournament, based on at least 20 minutes of viewing, was 2.1 billion in 207 countries -- down four percent on 2010 owing to matches kicking off in the middle of the night in Asia.
Some 280 million watched matches online or on mobile devices.
Audience reach was highest in China, where 252.3 million viewers tuned in during the tournament, 18.1 percent of the total population, while Germany set an all-time domestic viewing record when an average of 34.5 million people watched the country beat Argentina in the final.
The growth in interest in soccer in the United States was reflected in an average of 18.2 million people watching the U.S. versus Portugal, making it the most-watched soccer match ever on U.S. television.
In all, broadcasters showed some 98,087 hours of match footage from Brazil, up 36 percent from 2010.