Russia's Yuriy Borzakovskiy snatched the Olympic men's 800 metres gold medal on Saturday, timing a late surge to the line to perfection.
The 23-year-old Russian, who w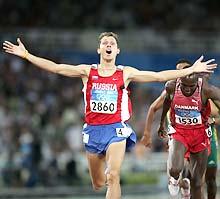 on silver at last year's world championships, powered past Denmark's Wilson Kipketer and Mbulaeni Mulaudzi of South Africa in the final few strides to win in one minute 44.45 seconds.
Mulaudzi out-dipped Kipketer to win silver in 1:44.61 to add to the world indoor gold he won in March.
Kipketer, the three-times former world champion and world record holder, had to be content with bronze in 1:44.65.
"I am very happy winning this medal. I dedicate it to my wife and my child," Borzakovskiy told reporters.
World champion Djabir Said Guerni of Algeria and Kenyan Wilfred Bungei, the fastest man in the world this year, took up the early pace but the opening lap of 51.84 was not as fast as had been expected.
Kipketer stamped his authority on the field 200 metres out and coming off the final bend looked set at last to win the Olympic title that has eluded him.
The 31-year-old former Kenyan, world champion in 1995, 1997 and 1999, seemed to have run the kick out of the rest but he had reckoned without Borzakovskiy, the twice former European champion.
Eyes bulging, the Russian surged outside Kipketer and powered into the lead with only a few metres to spare in a beautifully timed finish.
Such was Kipketer's shock that he forgot about Mulaudzi on his inside and the South African, third in last year's world championships, leaned forward to sneak silver.
Guerni faded badly to finish seventh.
Kipketer, who moved to Denmark in 1990, was visibly disappointed and hinted he might retire at the end of the season.
"I was too slow in the first 400m. I could have risked it for the gold medal because I was in good condition for a better position," he said.
"I will first finish this season and then make a decision about my future."
Mulaudzi said: "I am just happy with the silver although for a moment I thought I was going for gold but then came the Russian boy. I know I am a fast finisher and I could nail Bungei and Kipketer.
"I did, but suddenly there was the Russian."