The return of African Nations Cup heroes John Obi Mikel and Victor Moses will add an extra dimension to Chelsea's squad for the last three months of the season, interim manager Rafael Benitez said.
The Nigerian pair, who helped their country beat Burkina Faso 1-0 in last weekend's Nations Cup final in Johannesburg, could be recalled by the European champions for Sunday's FA Cup fourth-round replay at home to third tier Brentford.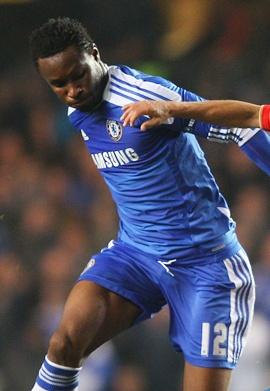 "It's important to have happy and confident players around... and they have brought that confidence and belief back with them," Benitez said.
"Both of them progressed as individuals through the tournament. Obi has more experience and you could expect good (midfield) performances from him but Victor is just coming through and I could see he has grown and improved.
"To be so influential is a great achievement for Victor," added Benitez of the winger Chelsea signed from fellow Premier League side Wigan Athletic at the start of the season.
The Londoners also welcome striker Demba Ba and utility player David Luiz back to the squad after they missed Thursday's 1-0 Europa League win at Sparta Prague.
Chelsea were much the better team in the Czech Republic and the scoreline should have been more emphatic, said Benitez.
"We have been practising finishing today," added the Spaniard. "We had three or four counter attacks where we could have done better so we have to watch and practise and hopefully we will improve."
Brentford came close to causing an upset in the original tie at GriffinPark and Chelsea needed a late goal from Fernando Torres to escape with a 2-2 draw. The winners will travel to second tier Middlesbrough in the quarter-finals.
Photograph: Warren Little/Getty Images