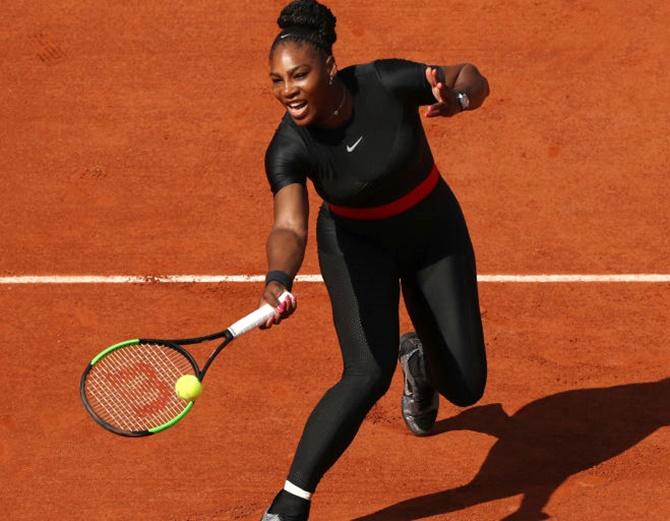 Even the Parisian stormclouds cleared for Serena Williams on Tuesday, as the new mother's baby steps back to Grand Slam tennis became a stride into the second round of the French Open.
Krystina Pliskova, who shared the Wimbledon winners' stage with Serena back in 2010 -- the Czech was junior champion as Serena won the real thing that year, played her part across the net on centre court, but there was only one star.
Dressed in a skintight, all-in-one black bodysuit, broken up by a vivid scarlet belt, Serena captivated the French crowd from the start of the contest to its 7-6(4), 6-4 conclusion.
"Two years has been a really long time," she told the crowd in French, referring to her last match on clay.
"I am just so happy to have won a match here... thank you all."
The last time the American had appeared in a Grand Slam tournament was at the Australian Open in 2017, when she won it while pregnant with daughter Alexis Olympia.
This time there was a little rust to shake off -- she only gave birth in September -- and she didn't quite move as when at her best. But all the same Serena was too strong, too good, simply too Serena for her world 70-ranked opponent.
It was a match-up that, in some respects, made a mockery of statistics. The American started the match ranked 9,999th in the race to the annual season-ender. Pliskova sits 52nd.
But in the data that counts, Serena is a giant of the tennis court. Her haul of 23 Grand Slam singles crowns beats Steffi Graf's total by one, and is just one shy of Margaret Court's record 24.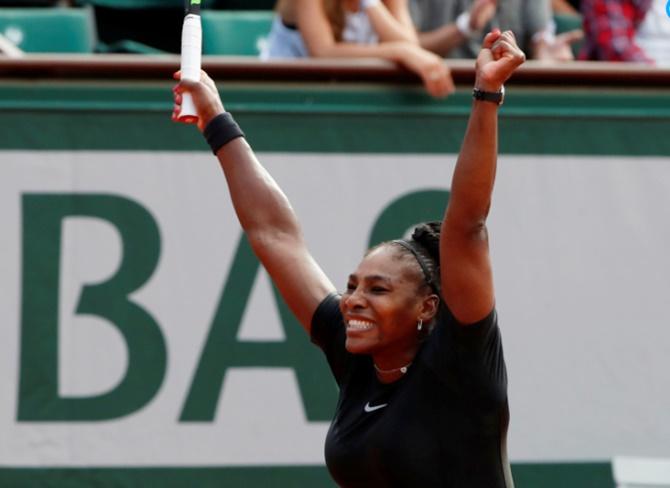 Coming into this tournament her career prize money stood at more than $84 million. That she is currently ranked 451 in the WTA rankings is an irrelevance - more pertinent is that she finished 2017 ranked 22, having played only two events all year.
In every category, Serena's achievements dwarf her opponent's, bar one -- Pliskova holds the WTA record for aces in a single match: 31 at the 2016 Australian Open.
She cracked 15 past Serena on Court Philippe Chatrier, but even then saw 13 fly past her as the American gave as good as she got.
"I don't know how many aces there were," Serena smiled courtside after the match. "But I think money goes to charity, so donate!"
"I think we raised some real money," she laughed before making her way to the exit, stopping for selfies and to sign autographs for an appreciative French crowd.
Next up for the three-time champion is Australian 17th seed Ashleigh Barty.
It won't be an encounter Barty will relish. She could be considered the most unlucky of seeds in a Grand Slam, for there can never have been a more dangerous floater in the draw.
French Open organisers stick rigidly to the WTA rankings, so would not seed Serena. That is already beginning to look like a mistake Wimbledon -- which allows itself some 'wriggle-room' -- would be wise to avoid repeating.