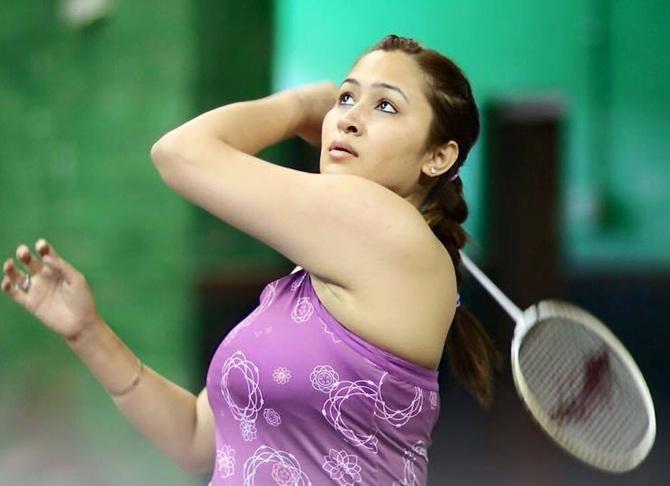 IMAGE: Jwala Gutta is new women's doubles coach . Photograph: Facebook
Not too pleased with the state of doubles' players in Indian badminton, recently-appointed women's doubles coach Jwala Gutta said she would use her new role to bring the focus on them.
"I would like to see the betterment of the game. I always spoke for doubles. The new administration (in BAI) is keen on taking me on board. I am happy and pleased. The new president Himanta sir (BAI president Himanta Biswa Sarma) is open-minded (to the views of all). That makes a lot of difference," she said.
Jwala, a bronze-medallist from the 2011 World Championship, has been named a coach for women's doubles by the Badminton Association of India (BAI).
"Singles (in badminton) is doing extremely well. Doubles is nowhere. I want to promote doubles, educate people and media about doubles," she said.
Doubles does not have adequate support, promotion and sponsorship and budding shuttlers are more keen to take up singles, Jwala, who is a multiple-time national doubles champion, said.
She said she would like to see at least five strong pairs emerge in the country.
Jwala said she is banking on the guidance of her mentor and Dronacharya recipient S M Arif, who has been named an Advisor by BAI.
Jwala, who has not yet announced retirement from the game, said she would soon take a call on the matter.
"I am still contemplating. I will decide soon," she said.
The 33-year-old shuttler, however, said she does not have any injury concerns.