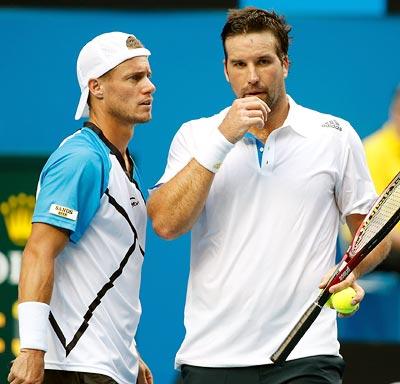 Two-times Grand Slam champion Pat Rafter's return to the big-time after retiring 13 years ago lasted just 73 minutes when he and his former Davis Cup team mate Lleyton Hewitt lost in straight sets in the Australian Open doubles on Wednesday.

Australia's Davis Cup captain Rafter had enjoyed smiting foes in the senior's tour since his retirement, but admitted to huge nerves when he agreed to team up with former world number one Hewitt at Melbourne Park.

An imposing presence during his halcyon days, the barrel-chested Queenslander appeared to have lost little of his touch in the 6-4, 7-5 loss to doubles specialists Eric Butorac and Raven Klaasen at Hisense Arena, despite lamenting his shaky return of serve at the age of 41.

"I was pretty nervous, I was copping it in the locker room, we were having a lot of fun - at my expense," Rafter quipped in a courtside
interview after playing out the twilight match on a steamy day at Melbourne Park.
"A lot of my mates were saying 'Don't cramp.'
"(Ivan) Lendl's a menace, he's an absolute pest, he was giving it to me," Rafter said of the eight-time grand slam winner, now coaching Briton Andy Murray.
"I served better than I thought I would," the double US Open champion told reporters later.
"I volleyed okay. Gee, I wish I returned a bit better than that. And my second shot was just - forget it, it was horrible. It was actually laughable. At a certain stage, I was just laughing."
Despite the defeat, Rafter appeared to be having far more fun than in his previous doubles match with Hewitt in the A-grade, when the pair lost a Davis Cup clash in the 2001 final which effectively handed the trophy to France.
Image:
Pat Rafter (right) speaks to Lleyton Hewitt during their first round men's doubles match.
Photograph: Scott Barbour/Getty Images