NBA Commissioner David Stern is not in a giving mood these days despite having an office that overlooks the holiday-season revelry of glittery Fifth Avenue.
Stern figures he has given enough over the years. His league lost some $370 million a year ago and is looking at another financial disaster in 2010.
"The system has produced an extraordinary financial pool for our players where the average compensation exceeds $5 million," Stern said in a recent interview. "There needs to be a re-set in our system.
"We think there's room within that system that the owners can be put in a position where every team can have an opportunity to compete and be profitable."
In a wide-ranging interview, the commissioner spoke of a time when he expects there to be multiple NBA franchises in Europe, and the chances that LeBron James could lead the Miami Heat to the title.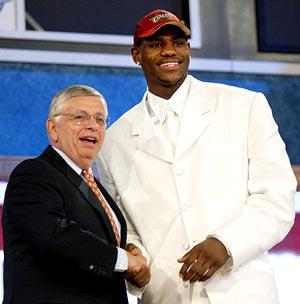 Stern's office is a jump shot away from the Rockefeller Center Christmas tree, sits in the shadow of majestic St. Patrick's Cathedral and is in the heart of midtown Manhattan's bustling shopping district.
The 68-year-old, long-time commissioner is focusing all his attention on hammering out a new labour deal with the players and preventing the league's first lockout since the 1998-99 season.
The players receive 57 percent of the NBA's revenues but Stern said the costs of generating that money had increased dramatically.
"This split is directed toward the gross," said Stern. "And in the interim, as the percentage has crept up in successive deals, to 57 percent, concessions were made to the players.
"But the cost of producing the pie has been going up as well. But the players don't share in that cost. They only share in what the cost generates. Everything has gone up."
EUROPEAN FRANCHISES
Stern cited security, airline fuel and game presentations as a few of the areas where costs had risen dramatically. He said players' expectations needs to change.
"We need to come up with a sustainable business model that will cause owners and prospective owners to be willing to make the large investments to grow our game on a global basis that will be very good for the fans, the players and the owners," he said, waving his hands for emphasis.
"We're very much inspired by that goal."
Stern said he sees the NBA spreading to Europe in the next decade although he would not be guiding the ship.
"If you ask me if I will be commissioner in 10 years, the answer is no," he said. "But if you ask me if I think there'll be franchises in Europe in 10 years, the answer is yes.
"We have to analyse the market to see who wants us and if there's an appetite for a 41-game home schedule at the prices that would be necessary to compete.
"But when the league expands to Europe, I'm sure it will be done with multiple franchises. That will make the travel even easier."
Stern said he had no expectation about the Heat's success this season "other than they would be a winning team".
James and fellow free agent All-Star Chris Bosh joined Dwayne Wade in Miami during the off-season to form a team many believed would challenge for a title right away.
COLLECTIVE BARGAINING
After a slow start, the Heat have begun piling up wins and now have one of the best records in the Eastern Conference.
Stern cited former title teams of the Lakers and the Celtics as examples of what star-laden teams could accomplish.
"Three All-Stars can do a lot," said Stern. "The three I have in mind are James Worthy, Magic Johnson and Kareem Abdul-Jabbar. And Larry Bird, Robert Parish and Kevin McHale.
"When All-Stars play together for a while, they can do wonderful things."
Stern said the 64-year-old NBA is "perfectly positioned" to grow, citing the game's burgeoning popularity around the globe but said there needs to be movement on the collective bargaining agreement that ends in June.
Union chief Billy Hunter said recently he is 99 percent sure the players would be locked out next year.
"I've been around too long not to believe firmly and correctly that there's going to be a deal," said Stern. "There always is. How much pain we inflict on ourselves ultimately affects how the deal looks as well.
"I'm hoping for no pain. But that's for us and the players to work out."