Rafa Nadal has set up his own company to manage athletes and organise events with his long-term agent Carlos Costa, the world number five announced on Saturday.
"Together with his manager, Carlos Costa, Rafa Nadal began a new adventure on January 1 in the world of representing athletes of various sports like tennis, golf and football as well as organising events," Nadal's spokesman said in a brief emailed statement.
Spaniard Nadal, who is making his return from a seven-month injury layoff at this week's clay event in Vina del Mar, Chile, was previously represented by U.S.-based firm IMG, for whom Costa also worked.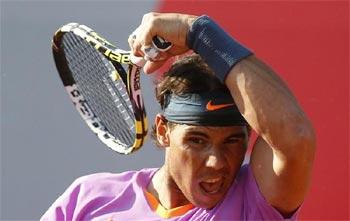 He earned $25 million in endorsements last year from companies including Kia Motors and Nike, according to Forbes, putting him equal 16th on the magazine's list of the world's highest-paid athletes.
IMG spokesman Jim Gallagher confirmed Nadal's contract with the company had expired at the end of 2012.
"We are very happy for Rafa and we wish him the best of luck," Gallagher said by telephone from New Jersey.
"We hope to do a lot more business with him in the future," he added.
Nadal is the second high-profile tennis player to leave IMG in recent months.
Roger Federer, the world number two, and his agent Tony Godsick both severed ties with the firm last year.
Photograph: Eliseo Fernandez/Reuters