Indian hockey team, which won the bronze medal at the Sultan Azlan cup hockey tournament in Malaysia on Sunday, returned home on Monday night to a warm reception at the Chhatrapati Shivaji International airport.
Coach Michael Nobbs, who faces a litmus test with the team at the July-August London Olympic Games, was cautious in his reaction about the team's mixed performance in Malaysia where they failed to defend their crown.
"We need to play more matches against tougher teams," said Nobbs on his arrival at the airport.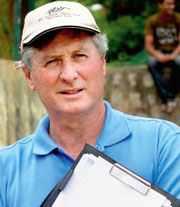 India's best performance in Ipoh came in the bronze medal play-off when they defeated their higher ranked rivals Britain 3-1, after having been beaten by the latter earlier in the league stage of the tournament.
Some of the other teams in the fray were eventual champions New Zealand, South Korea, Argentina, Pakistan and hosts Malaysia. Absent were top outfits like Australia, Germany and The Netherlands.
The team is to have a two-day selection camp in Pune on June 6 and 7 at the Balewadi Complex and there are some issues Nobbs and the selectors have to address in Pune ahead of finalising the 16-strong team for the London Games, it was learnt.
Among those are whether the team needs a second goal-keeper –- with Bharat Chhetri and P S Sreejesh in the running -- and whether to include young striker Yuvraj Walmiki in the squad as he has reportedly not fully recovered from his hamstring injury sustained during the Olympic qualifiers in New Delhi in February.
Walmiki had gone to Malaysia as a late replacement for another injured player Gurvinder Singh Chandi.
"I think we are a little short on match practice against really tough teams. I would like to play against Germany, Holland and Australia more. If you want to be a best team at some point of time, you need to play against the best teams. You only learn by losing occasionally," said the former Australian player.
He conceded it was going to be a tough task to finalise the team for the Games.
"It's going to be really tough. It would be one of the toughest things in my life. Everyone wants to be in the team for London Olympics but we can choose only 16," Nobbs said
"Next few weeks at the camp will be crucial. We really need to work on our attack. Even against Argentina, we reached the circle so many times but we just blew the opportunity.
"We got to get better. When you play top teams, you have to learn a little bit of change in style. If you don't hit the ball then you are not going to win," he said.
He termed the reception at the airport from the fans as a bit "crazy".
"It's crazy but we received the same appreciation after beating arch rivals Pakistan via tie-breaker in Asian Champions Trophy and winning a berth in Olympics during qualifiers," he pointed out.