World marathon record holder Paula Radcliffe finally accepted defeat in her battle to be fit to race at the London Olympics, withdrawing from the Games on Sunday because of injury.
The Briton, who has never won an Olympic medal and has been dogged by bad luck at her four previous Games, had struggled with a foot problem and was withdrawn after a fitness test.
The 38-year-old will be replaced by reserve runner Freya Murray, pending approval by the Games organisers.
"From the day when it was announced that London had won the bid, taking part and performing well in the London Olympic Games has been a major goal in my life," Radcliffe said in a statement.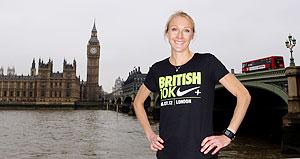 "The goal of a fifth Olympics in my home country, what better? The chance to make amends to myself for bitter disappointments at the previous two Olympics.
"Through a lot of tough times it has kept me fighting, motivated and focused. That is why it hurts so much to finally admit to myself that it isn't going to happen."
Fifth in the 5,000 metres on her Olympic debut in Atlanta in 1996, Radcliffe narrowly missed out on a medal again when she finished fourth in the 10,000 metres at Sydney four years later.
She was forced to drop out of the 2004 Athens marathon through illness and injury and failed to finish the 10,000m. Four years ago in Beijing, she finished 23rd after her preparations were hampered by injury.
Earlier on Sunday, she tweeted her disapproval of a British media story saying she had pulled out, saying it was her "heartbreaking news to break".
"I think it is important that we don't look at Paula's career in Olympic cycles," said Britain's head athletics coach Charles van Commenee.
"She is undoubtedly one of the greatest female distance runners of all times and still holds the marathon world record."