India hockey captain Bharat Chetri on Tuesday said he is confident of a semi-final berth at the London Olympics to be held between July 27 and August 12.
"I think we have a very balanced side. If we can produce 70-80 per cent of our abilities on field, then I am confident we'll be in the semi-finals," Chetri said in Kolkata.
- SPECIAL: Hockey gives them a high
"Germany and Holland are a little strong, but I won't say they can beat us. They are strong, but we have also planned on how to play them. We've played some matches as well. So, we will see."
The eight-time Olympic winners have been clubbed along with reigning champions Germany, Korea, New Zealand, Belgium and Netherlands in Pool B as two teams from each pool make the last four.
Chetri said their preparation has been thorough this time around and they are committed to erase the disappointment of missing a berth in the Beijing Olympics 2008.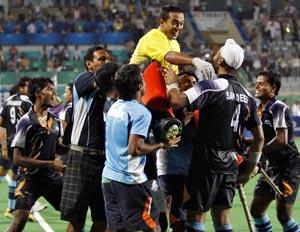 "This time we have done well in qualifiers as well in the Azlan Shah Cup and the Champions Trophy. Olympics is the most important assignment in front of us.
"We are learning and moving forward and do well as a team. We learnt a great deal in these tournaments. We are working on the mistakes we made."
Heaping praise on physical trainer David John, the Indian captain said the team's fitness has improved immensely.
"We are among the fittest teams now and ready to give a good fight to our foreign opponents. Earlier the fitness level used to be around 40 per cent. Now, it's 90 per cent."
Chetri said that under Australian coach Michael Nobbs, the team is playing a more attacking game.
"He has changed our defensive style of play and we are playing more attacking games and creating more chances. We are practising hard after watching the video footage of our opponents. We have strategies which I can't discuss here," he said.
"This is the best available 16. We have not left out anyone. We've full faith on the abilities on our players. If you see our recent matches we are conceding less in penalty corners," he said.
He also praised the Indian drag-flick specialists Sandeep Singh and V R Raghunath and said they were among the best.
"Sandeep converts 90 per cent of what he gets. He has Raghunath with him. So I am hopeful that we'll get 100 per cent conversions at the Olympics."
Asked about Pakistan penalty corner specialist Sohail Abbas, Chetri said, "He is no more the same. At the moment, he cannot match Sandeep and Raghunath."
The goalkeeper also said captaincy is not an added responsibility for him.
"I have been a goalkeeper for 14-15 years and it's always my job to guide the players. I don't think it is as an added pressure now. I know my job well."
When reminded that he is the first goalkeeper from Bengal to be in the Olympics in 32 years since Bir Bahadur Chetri in Moscow 1980, the Indian goalkeeper said that the side had returned with a gold medal for a record eighth time in 1980. It was incidentally the last occasion when the country had won an event.
"I didn't talk to him but I'm conscious of the rich tradition of the game in the state. It's after 32 years that a Bengal player will be participating in the Olympics and that too as a captain.
"It is an honour and I would like to help my team perform well and like my predecessors win the gold for my country. It's a pride that we have had quite a few Olympians from Bengal. He came back with a gold. I want to do that too."
Asked about his idol, the Darjeeling-born Chetri who studied at the St George School in Kalimpong before moving to Patna where he began playing hockey as a 12-year-old, replied with a chuckle, "Bharat Chetri."
On a more serious note, he said that his favourite goalkeeper was Ashish Ballal, the 1992 Barcelona Olympian.
"I've learnt a lot from him (Ballal)."
India open their campaign against the Dutch in the men's field hockey competition of the London Games on July 30.
Photograph: Danish Ishmail/Reuters