Indians came up with their best show ever at the Asian age group swimming championship as they added a gold, four silver and two bronze, besides two gold in diving and a bronze in water polo, at the end of the fourth day, on Thursday, to take their tally to 34 in the event at Jakarta.
Compared to the previous performances of the Indian team in this event, this is the best ever.
Led by ace swimmer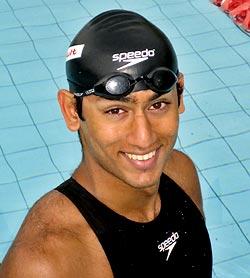 , who has so far contributed five of the eight gold medals and three silver in India's impressive tally, Indian boys relay team -- in 4x200 freestyle relay -- won the gold with a timing of 07.36:31.
Other members of the team were Gagan A P, Rehan Poncha and Aaron D'Souza.
The 20-year-old Khade also bagged a silver medal, on Thursday, in 50m freestyle, clocking 0:23.12.
Others to win the silver medal were Gagan A P in 1500m boys freestyle event with a timing of 15.59.33, Richa Mishra in 1500m freestyle for girls with 17:43.36 and Aaron D'Souza in 200m butterfly, recording a time of 2:02.76.
Surabhi Tipre settled for a bronze in 1500m freestyle after timings 17:57.55, while Talasha Prabhu bagged another bronze for India in 50m freestyle, clocking 0:27.54.
Meanwhile, India managed to win two gold in diving event and a bronze in water polo in the girl's category.