Held finds broad shoulder to cry on in Phelps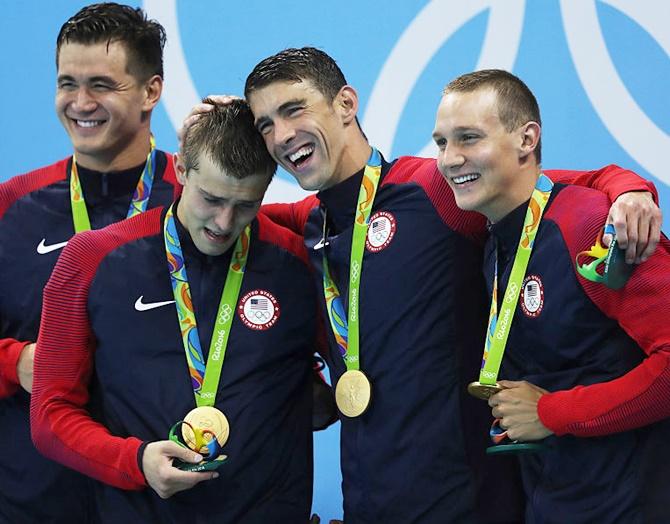 IMAGE: Gold medalists Nathan Adrian, Ryan Held, Michael Phelps and Caeleb Dressell of the United States pose on the podium during Day 2 of the Rio 2016 Olympic Games. Photograph: Ian MacNicol/Getty Images.
When American Ryan Held needed a supportive shoulder to lean on after claiming an emotional first Olympic medal on Sunday, he found just what was needed in the man who has collected more than any other athlete in the history of sport.
The towering figure of Michael Phelps, now the proud owner of 19 golds and four other medals, stood alongside the 21-year-old debutant on the Rio podium as part of the quartet that won the 4x100 metres freestyle relay.
"It was just the thought of me making my first international team, it really being my first international swim besides this morning, and to win a gold medal," the North Carolina State University swimmer said of his tears that were broadcast around the world.
"I've heard the national anthem thousands of times before but there was something different about this one that I just couldn't hold back the emotions manifested in the tears," he added.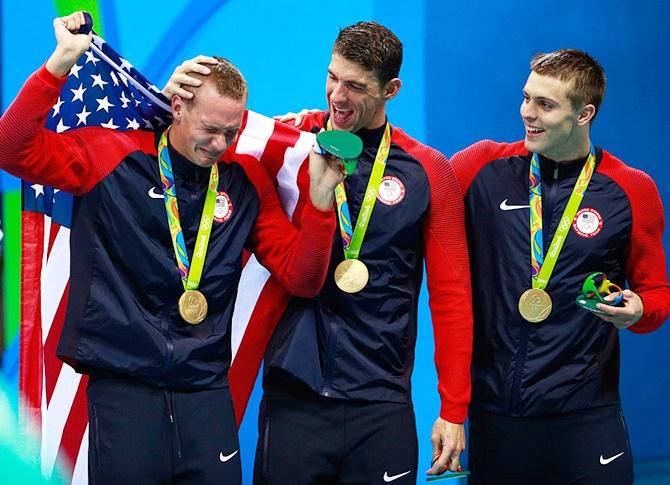 IMAGE: Gold medalists Caeleb Dressell and Michael Phelps of the United States embrace during the medal ceremony. Photograph: Adam Pretty/Getty Images.
Phelps, the most medalled Olympic athlete, winning gold for the fourth Games in a row, could appreciate exactly what that felt like, even if it was 12 years since he first topped the podium.
"I told them 'it's OK to cry'. It's good to see some emotion as one of the old dudes," the 31-year-old Phelps told reporters, his own eyes glistening under the spotlights as he stood for the anthem.
Held said his illustrious team mate, described by French rival Fabien Gilot as an "extra-terrestrial", just had some simple words of advice for the podium novices.
"He just said 'enjoy it, man'. This is a once in a lifetime experience. Just take in the moment, take in the crowd. And he just gave a pat on the back and (said) 'Good job, buddy'."
Held swam the third leg, with Phelps handing over to him after giving the team an advantage over defending champions France at the earlier turn, and he said the only thought in his mind was not to lose any ground.
Team co-captain Nathan Adrian, the 2012 100m freestyle champion, then swam the final and fastest leg with the confidence of a veteran.
"Nathan Adrian, he's a great leader," Held said. "I gain confidence being around him by the way he holds himself and feel I stand a little bit taller with him too. I feel a little bit stronger, faster, smarter with him around.
"He really just taught me to stay calm. This the Olympics, the lights, cameras, everything. But this is just a 100 free and I've done it thousands of times before."