'I think the IAAF has been far, far more proactive than it has been protective'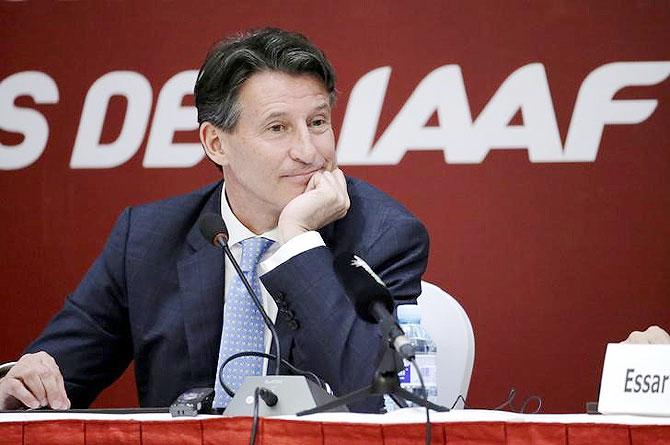 IMAGE: President of International Association of Athletics Federations Sebastian Coe. Photograph: Jason Lee/Reuters
The IAAF ruling body of athletics is proactive in tackling doping and not protective of drug cheats, according to president Sebastian Coe.
The sport has been rocked by allegations of corruption and bribery, with fans and sponsors deserting track and field, but the Briton said the International Association of Athletics Federations (IAAF) was at the forefront of catching drug cheats.
"I think the IAAF has been far, far more proactive than it has been protective. If you don't go fishing you don't catch fish and there are many sports that have taken that attitude. The IAAF hasn't actually," Coe said in a BBC interview to be broadcast on Saturday.
Athletics, the showpiece of the Olympic Games, was stunned last year when Russia was suspended from the sport after a World Anti-Doping Agency (WADA) investigation showed a state-sponsored doping programme.
An independent WADA commission also said "corruption was embedded" at the IAAF under former president Lamine Diack who ran a clique that covered up organised doping and blackmailed athletes while senior officials looked the other way.
Senegal's Diack is under formal investigation in France on suspicion of corruption and money-laundering linked to concealing positive drug tests.
"A few people infiltrated a system and caused us irreparable damage. There's no point in even pretending otherwise," Coe said in an excerpt of the interview released on the BBC's website.
"But actually if you look at all the key advances that have been made in sport around anti-doping, they've more than often been driven by my sport. The athlete biological passport, the out-of-competition random testing.
"We've paid a very high price for what has been revealed in the last few years but actually our systems have shown to be pretty robust."
In 1989, the IAAF and the other Olympic federations signed a joint declaration against doping with a random out-of competition programme being initiated the same year.
The sport's governing body also introduced biological passports for athletes, that help in the detection of abnormal fluctuations in red blood cell counts, as part of its drug testing regime in 2009.
Coe said the IAAF had to get back the trust of the athletes to attract people into the sport.
"There's a twin challenge here as well," he explained.
"If we don't get the trust of the athletes back, we haven't got the families, we haven't got the parents that are feeling comfortable that this is a sport that they are going to devote time and energy and affection to, and then we might as well all go home."
Russian walk coach Viktor Chegin banned for life
Viktor Chegin, former head coach of the Russian race-walking centre in Saransk, has been banned for life for breaking anti-doping rules.
"In accordance with documents received by the Russian Anti-Doping Agency (RUSADA), the Russian Olympic Committee looked at material which covered anti-doping rules broken by Viktor Chegin," the national athletics federation said in a statement on Friday.
"Looking at ... the seriousness of the consequences, in particular the involvement of young sportsmen in taking banned substances and the widescale breaking of anti-doping rules, the Russian Olympic Committee has confirmed Viktor Chegin will receive a life ban."
Saransk is the capital of the Republic of Mordovia.
RUSADA announced in January 2015 that Olympic walk champions Olga Kaniskina, Valery Borchin, Sergei Kirdyapkin plus 2011 world championship gold medallist Sergei Bakulin and 2011 world runner-up Vladimir Kanaykin had been banned in doping cases.
All of those athletes were trained by Chegin. Earlier this week the Court of Arbitration for Sport stripped them of the medals they won between 2009-13 including Olympic and world championship titles.
Russia is currently banned from international competition following a report by the World Anti-Doping Agency that exposed systematic state-sponsored doping and related corruption.