It was 'Sandeep Mania' at its peak with a near-capacity crowd cheering ace drag-flicker Sandeep Singh as he did a 'high-five' to fulfill India's London Dreams at the Dhyan Chand National Stadium, New Delhi on Sunday.
-Olympic hockey qualifier: Pereira leads Canada to bronze medal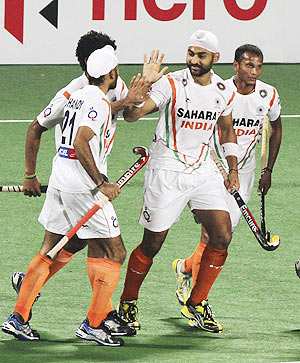 Once known as the 'enfant terrible' of Indian hockey, Sandeep scripted the finest hour of his chequered international career as Michael Nobbs' men thrashed France 8-1 in the final of the qualification tournament.
If you thought that the chants of 'Singh is King' only reverberates around the stadium when Yuvraj Singh hits a six or Harbhajan Singh takes a 'five-for' one should have heard the noise that Sandeep created each time he found the France net.
First goal was Sadda Haq, second goal was Mauja hi Mauja and it went on.
Sandeep had stated that "something special" was there for the final and when the song Lakshya ko haar hal mein paana hain was played, it sounded more apt than ever before.
The Indian flag was out of the closet and was being fluttered continuously in support of the team. The fans screamed their lungs out every time the 'man in blue' run in with the ball into the rival camp.
A bunch of boys with the tri-colour painted in their chest cheered for every move the Indians made and fluttered the national flag.
The crowd gave a standing ovation every time the players scored a goal and there was plenty of it in the match with India and France pumping three and one goals respectively in the first half itself.
Athens Olympics silver medallist Rajyavardhan Singh Rathore, who failed to find a place in the Indian shooting team for London Olympics, also turned up to watch the Men in Blue play.