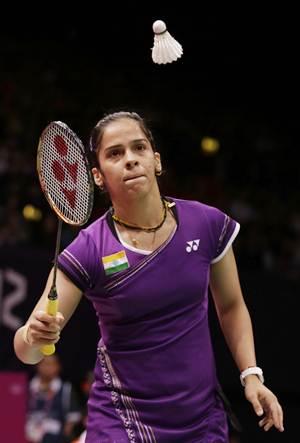 London Olympics bronze medallist Saina Nehwal bowed out of the $250,000 India Open Super Series after a straight games defeat to world No 2 Yihan Wang in the quarter-finals of the women's singles at the Siri Fort complex in Delhi on Friday.
The world No 8 Indian lost 16-21, 14-21 in 39 minutes and suffered her eighth reverse against the Chinese.
It was also curtains for Parupalli Kashyap. He was easily beaten by Lee Chong Wei of Malaysia 21-15, 21-13 in the men's singles quarter-finals.
Joining Chog Wei in the last four were fourth seeds Jan O Jorgensen of Denmark, who beat Takuma Udea of Japan 21-11, 21-13; second seed Chen Long of China, who beat Hans-Kristian Vittinghus of Denmark 21-17, 21-15 and seventh seed Pengyu Du of China, who got the better of Viktor Axelsen of Denmark 21-11, 22-24, 21-19.
In the women's singles, Yihan was joined by No 1 Li Xuerui of China, who beat fifth seed Yeon Ju Bae of Korea 21-7, 21-15; Xin (F) Liu of china, who beat Aprilla Yuswandari of Indonesia 21-15, 21-8 and second seed China's Shixian Wang, who accounted for sixth seed Ji Hyun Sung of Korea 21-13, 17-21, 21-17.
Saina put early pressure on Yihan and was successful to a certain extent, but faltered with her strokes, unable to finish off points. She was inaccurate and often sent the shuttle into the net.
In the opening game, she tried to engage her opponent by keeping the shuttle in the rear court and succeeded in scoring a few points, but the Chinese quickly gauged her strategy and was quick to fall back and retrieve everything thrown at her to establish a 11-9 lead at the break.
After the breather, Yihan continued her dominance and ran away with the game after earning four game points.
The story was the same in the second game, as Yihan raced to a 11-4 lead with the help of late drops and backhand returns.
Saina reeled off four straight points after the breather by engaging Yihan in rallies, but the Chinese maintained the lead before extending it to 18-9.
A few unforced errors did not help the Indian's cause and Yihan made it 19-9 with cross-court flick and soon enjoyed 10 match-points at 20-10.
Saina did well to save four but the lead was too much and Yihan closed the door with a smash.
"I need to improve my fitness and net play. A few errors at crucial time cost me the match. I need to work on those mistakes before the Commonwealth Games and Asian Games," said Saina.
Image: Saina Nehwal
Photograph: Toru Hanai/Reuters