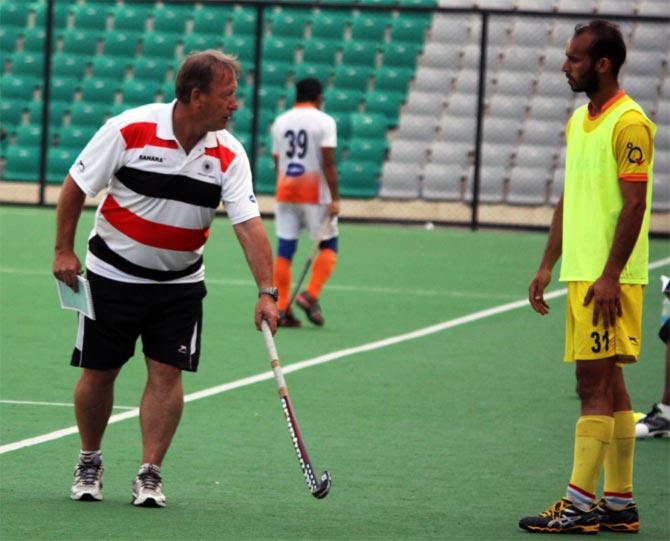 Terry Walsh during training with the Indian men's hockey team.
After the euphoria over winning the gold medal at the Asian Games, Indian hockey suffered a major jolt on Tuesday with the resignation of the team's chief coach, Terry Walsh.
The Australian, who guided India to the men's hockey gold at the Incheon Asian Games, cited 'sporting bureaucracy' for his decision to quit.
The 60-year-old, who represented Australia in two Olympics, was appointed India's chief coach last year, and under his guidance the team beat Pakistan in the Asian Games gold medal match and qualified for the 2016 Olympics in Rio de Janeiro.
India last won a hockey gold at the Asian Games at Bangkok in 1998.
Sports Minister Sarbanada Sonowal said Walsh's resignation is a "serious issue".
"After learning about the development, I have passed on the instructions to SAI Director General and Secretary Sports to explain the cause of the resignation within 24 hours," Sonowal said.
Asked if he was aware that Walsh had reportedly some tax issues with the SAI, he replied in the negative.
"It was not in my knowledge. Let them submit a report, only then we will see what can be done," he said.
Walsh's contract officially expires on November 19, just before the Champions Trophy, which will be staged in Bhubaneshwar, from December 6 to 14.
"I hereby tender my resignation as the Chief Coach, Indian Men's Hockey Team, effective as per the details of my contract or as agreed to by all concerned parties," said Walsh, in a letter sent to SAI Director General Jiji Thomson, on October 19.
"I am finding considerable difficulty adjusting to the decision making style of the sporting bureaucracy in India which I believe, in the long term, is not in the best interests of Indian Hockey or it's players," said Walsh, under whom India also won a silver at the Glasgow Commonwealth Games.
It is, however, learnt that Walsh and other support staff had some issues with the government over TDS (Tax Deduction at Source) on their salaries.
Interestingly, Walsh also said that he would not like to continue with the top job on account of constant travelling with the team.
"In addition to my difficulties with not being able to professionally operate within these bureaucratic confines, I am not willing to continue with the constant time away from my family in Australia. My current commitment places too much stress on my personal life.
"Over the recent twelve month period I have become particularly attached to the playing group. In future years I would enjoy the prospect of retaining some involvement with the team and Indian Hockey," said the former Olympian, who was part of Australia's silver winning team in 1976 Olympics.
Walsh thanked the Sports Authority of India for giving him an opportunity to work as head coach of the team.
"May I thank you for the honour and opportunity to have worked with an Indian National Program for the last twelve months. I wish the Sports Authority of India every success as it builds into and beyond the 2016 Olympic Games," he said.
In an e-mail circulated to the media, Hockey India president Narinder Batra said that Walsh had issues with the SAI over his contract.
"Besides other issues he (Walsh) has issues with his contract with SAI, which now after his resignation expires on 19.11.2014," Batra said.
"We suggest if SAI can have a re-look at his contract before 19.11.2014 so that he may continue till Olympics 2016. We suggest for a meeting between SAI and Mr Walsh," he said.