India has won 13 of its last 15 matches, and is unbeaten in the last eight.
Such purple patches -- despite the relatively middling opposition they mostly confront -- are rare for Indian football, says Dhruv Munjal.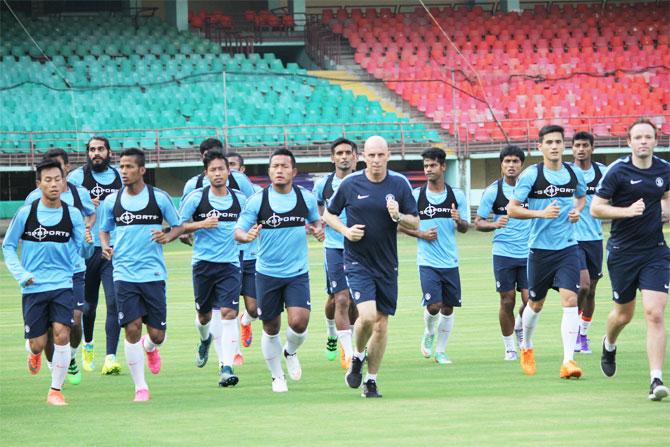 IMAGE: The Indian football team at a training session with Coach Stephen Constantine, centre.
Photograph: AIFF Media
Over the past few weeks, Danny Batth, captain of the English side Wolverhampton Wanderers, has expressed a profound desire to play for India.
In Batth's case, whose father is Indian, the alacrity to swap his British passport for a blue jersey is easy to fathom.
His chances of playing for the England senior team are dreadfully bleak, illusory at best. And if he ever needed any more incentive to represent the Indian national team, then here's one: Only 83 places now separate his adopted homeland and the country of his father's birth in the world rankings.
A little over two years ago, that gap was appalling -- more than 150 places.
A month after Sunil Chhetri put on his Diego Maradona boots and glided past three dismayed Kyrgyzstan defenders in an unusual show of occult football nimbleness, before lashing the ball past the 'keeper in an AFC Cup qualifier in Bengaluru, the national side finds itself ranked 96 in the world, its best showing in more than 20 years.
India's highest ranking remains 94, achieved in February 1996. Bhaichung Bhutia was just a year old in international football back then.
The Indian side has been in the middle of a hot streak of sorts in recent months.
The team has won 13 of its last 15 matches, and is unbeaten in the last eight.
Such purple patches -- despite the relatively middling opposition they mostly confront -- are rare for Indian football.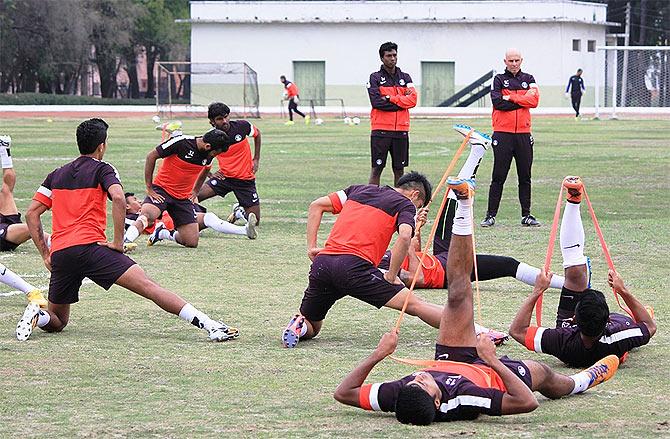 IMAGE: India Coach Stephen Constantine, right, presides over a training session. Photograph: AIFF Media
More than performances, however, some off-field astuteness and number crunching have gone into helping India break the century barrier in the FIFA rankings.
Last year, India persuaded Puerto Rico, a team now ranked 56 rankings below them, for a friendly, thumping a makeshift side hurriedly assembled by the North Americans 4-1.
More crucially, India didn't play a single game for the rest of the year, sagaciously keeping their average points per game statistic intact, a key yardstick that FIFA uses while collating the rankings.
The steady improvement is now being used as a catapult for a greater purpose: The 2019 Asian Cup.
This continual rise in rankings helped India draw Myanmar, Macau and Kyrgyzstan -- all worse off than them in the world rankings -- in qualifying.
And now, they are two from two in their group. The master plan seems to be bearing fruit.
The fact that this momentous jump has an element of chicanery to it, and must only be taken with a pinch of salt, isn't lost on anyone -- perhaps no one more than national coach Stephen Constantine.
"When I took over, getting the team under 100 was a major target. I'm glad we've reached there. But at the same time, this doesn't mean we've achieved a lot. It's a long road ahead," stresses the Englishman.
Despite the plausible scepticism, Constantine has made reasonable progress.
He has kick-started a scouting system that is spotting young players, many of whom are now playing for the national team.
"We've seen some gritty performances from the team. So there is fight. Most important, there is competition among the players. And, the fitness levels are much better than before," says football commentator and analyst Novy Kapadia.
Ever since he took over for the second time, from Dutchman Wim Koevermans in 2015, Constantine has called up more than 20 new players, including Anas Edathodika and C K Vineeth, who earlier this month won the AIFF player of the year and fans' player of the year, respectively.
Kerala Blasters central defender Sandesh Jhingan has also flourished under Constantine, becoming a robust mainstay in an otherwise historically problematic position for the Indian team.
"The coach has a balanced set of players that is extremely committed. Also, the scientific inputs that Constantine has been getting during training have helped," adds Kapadia.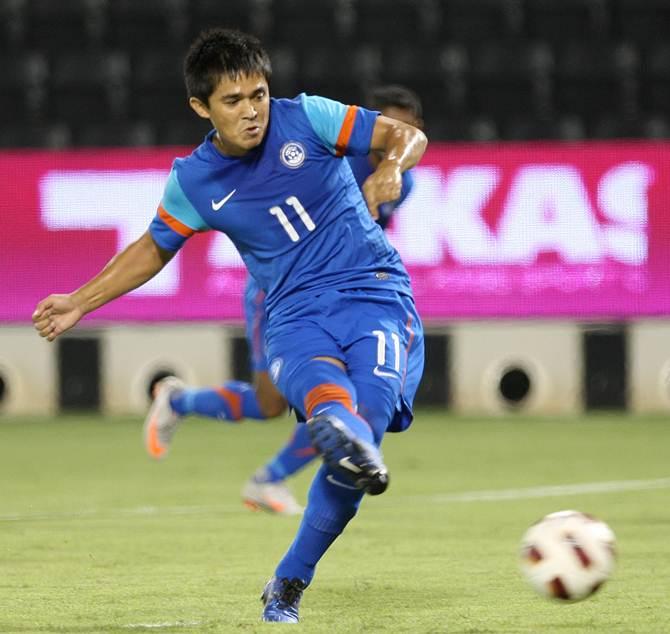 IMAGE: Sunil Chhetri is a striker who can change a game single-handedly. Photograph: AIFF Media
Some others are not as impressed.
Eric Benny, former manager of the national team and whose management firm has partnered with French club FC Metz for the development of young players in the past, says the better ranking will come as a boost for enthusiasts of the sport, but it is difficult to say if the team has actually made rapid strides.
"This is a positive development for us as a fraternity. But I'm not a fan of how India plays. For years, we've been just hooking the ball up to Chhetri, hoping that he would score," he says.
"To get a true measure of how much we've improved, we have to start playing better opposition."
The excessive dependence on Chhetri has been an area of concern for a number of years now.
While the midfield trio of Eugeneson Lyngdoh, Rowlin Borges and Jackichand Singh is a hugely talented one, it seldom pops up with goals.
Jeje, Chhetri's strike partner, has turned provider, and Robin Singh, the only other number nine in the squad, is no longer an automatic starter.
"It is not as if we can't play a better brand of football. Young players are not fully allowed to express themselves. There is too much information that is passed on, which never helps," says Benny.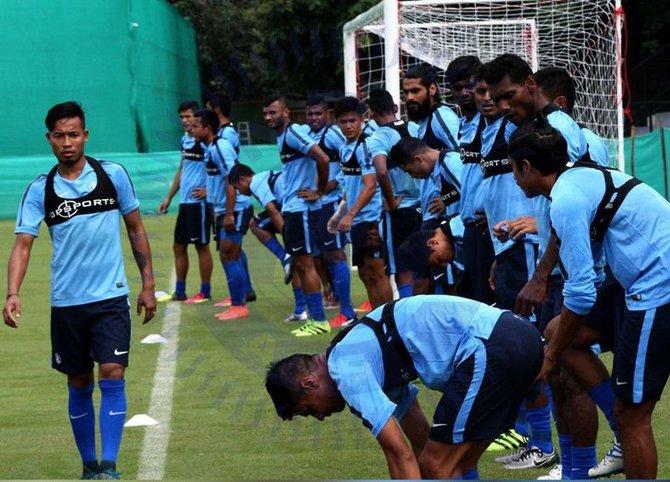 IMAGE: The Indian team trains. Photograph: AIFF Twitter
Not that India's style of play has ever led to any pyrotechnics, but this team is perhaps still reeling from the hangover of Bob Houghton's reign where 'hit it out' became increasingly in vogue, much to the torment of fans and pundits alike.
"We have to think out of the box; we can no longer be afraid of doing that. Moreover, youth development must be a priority," says Benny.
For now, Constantine's stewardship and AIFF's arithmetic aptitude seem certain to spur India to the 2019 Asian Cup in the United Arab Emirates.
All they need to do is finish among the top two in their group, a task that seems rather straightforward after their opening two wins.
As for Batth, India's difficult citizenship rules make any discussion over his eligibility to play for India a non-starter.
While him playing remains an enticing prospect, the fact that we still have to look elsewhere for quality perhaps aptly -- and tragically — demonstrates how far we've actually come.