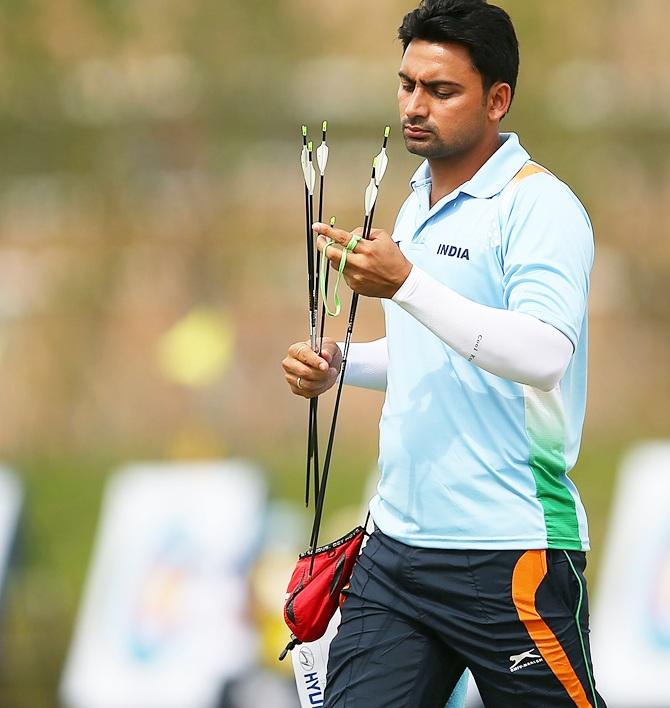 Sandeep Kumar of India inspects his arrows during the men's 50m compound qualification. Photograph: Brendon Thorne/Getty Images
India assured themselves of at least another silver medal in the 17th Asian Games after the trio of Abhishek Verma, Rajat Chauhan and Sandeep Kumar entered the final of the compound men's team archery event in Incheon on Thursday.
Complete coverage: 2014 Asian Games
The trio of Verma, Chauhan and Kumar defeated Iran, comprising Esmaeil Ebadi, Majid Gheidi and Amir Kazempour 231-227 in the seimfinal at the Gyeyang Asiad Archery Field.
The Indian men's team will now face formidable Korea in the gold medal match. The hosts defeated Philippines 228-227 in another semifinal encounter.
It was heartbreak for India in the women's compound women's team event as the trio of Trisha Deb, Purvasha Shinde and Jyothi Surekha Vennam lost to favourites Chinese Taipei in the semifinal.
The Indian trio gave the Chinese Taipei side a run for its money before going down 224-226.
Indian women shooters save blushes after flop show in pistol, rifle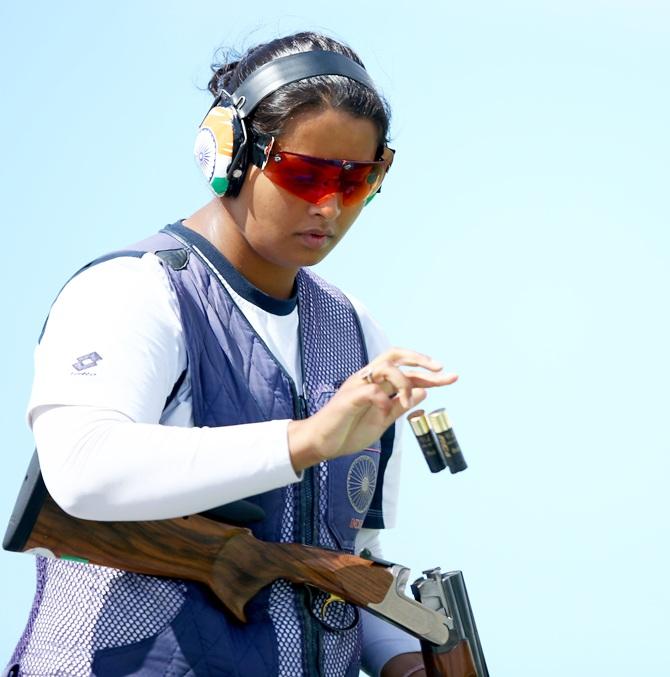 Shreyasi Singh of India in action during the Women's Double Trap final. Photograph: Richard Heathcote/Getty Images
India's unheralded women shooters nailed the bronze in team double trap at the faraway Gyeonggido range, the seventh medal in the discipline gained by the country so far.
However, for the second successive day India drew a blank at the nearby Ongnyeon pistol and rifle range where hot shot Gagan Narang made his appearance and flopped individually as well as collectively with his team-mates in 50m rifle prone event.
Pistol shooters Gurpreet Singh, Mahaveer Singh and seasoned Samaresh Jung too disappointed. Had it not been for the bronze won by the double trap women's trio of Shagun Chowdhary, Shreyasi Singh and Varsha Varman, the shooting events would have ended for the day without a medal.
India end rowing campaign with three bronze medals
Swaran Singh of India competes in Single Sculls. Photograph: Quinn Rooney/Getty Images
India picked up two bronze medals from the Asian Games rowing arena here today as army man Swaran Singh Virk rowed his way through exhaustion to the third spot in single sculls before the men's squad added the eights title.
As the rowing events ended at the ChungjuTangeum Lake International Rowing Centre, India's modest tally of medals stood at three bronze, the first one having been won on Wednesday by army man Dushyant Chauhan in men's lightweight single sculls.
Later the men picked up the eights team bronze by securing the third position behind gold medal winners China and Japan who crossed the finish line in 1:27.96 and 1:30.39 respectively.
The Indian team of Kapil Sharma, Ranjit Singh, 2010 single sculls gold medal winner Bajrang Lal Takhar, P U Robin, K Sawan Kumar, Mohammad Azad, Maninder Singh, Davinder Singh and Mohammed Ahmed started sluggishly to be trailing in fourth at the halfway stage before making the extra effort to clinch the bronze.
Badminton: Saina in quarters, disappointment for Sindhu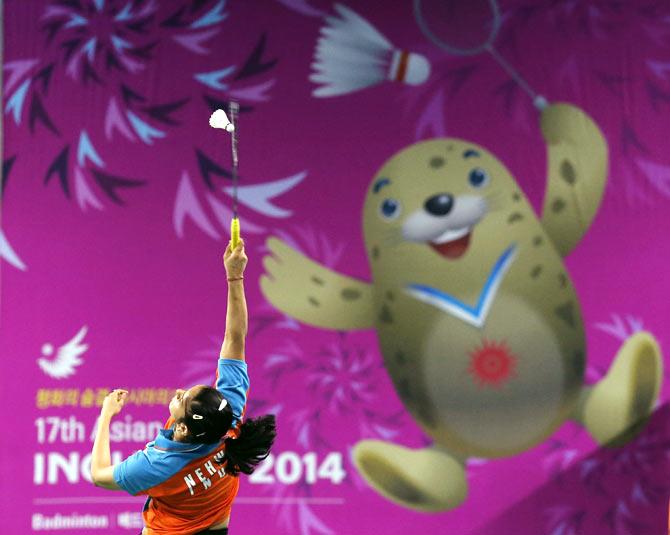 Saina Nehwal of India in action. Photograph: Kim Kyung-Hoon/Reuters
Indian badminton ace Saina Nehwal sailed into the quarterfinals with a comfortable straight-game win after P Kashyap advanced to the pre-quarters, but there was heartbreak for P V Sindhu.
World No 7 Saina thrashed Iran's Soraya Aghaeihajiagha (2-0) 21-7, 21-6 in a women's singles round of 16 match at the Gyeyang Gymnasium.
Seeded sixth, Saina would be would up against No 2 seed Wang Yihan of China.
However, World No 10 Sindhu suffered a shocking 1-2 reverse to Manuputty Bellaetrix, ranked 34th, despite taking the first game.
Sindhu won the first game 22-20 in 19 minutes but went down 16-21, 20-22 in the next two games, to bring an end to her campaign.
Glasgow Commonwealth Games gold medallist Kashyap, having received a bye in the opening round, defeated his Afghani opponent 21-6, 21-6 in just 17 minutes to book a place in the next round at the Gyeyang Gymnasium.
In a mixed doubles round of 32 match however, India suffered a reverse with Akshay Dewalkar and Pradnya Gadre losing 20-22, 21-17, 13-21 to Triyachart Chayut and Yao Lei of Singapore.
But Manu Attri and N Sikki Reddy won their mixed doubles round of 32 match against Rasheed Aishath Afnaan and Sharafuddeen Nasheeu 2-0 (21-8, 21-4).
India blank Japan 3-0 in squash
India hardly broke a sweat as they blanked Japan 3-0 in a men's team group B squash match with all the players registering straight-game wins.
Mahesh Mangaonkar gave India a winning start, thrashing Tsukue Shinnosuke 11-5, 11-4, 11-4, before Harinder Pal Singh Sandhu easily got the better of Takanori Shimizu 11-3, 11-8, 11-15 to take a 2-0 lead.
Fresh from his silver medal-winning effort in singles, World No 16 Saurav Ghosal was at ease as he posted a crushing 11-7, 11-6, 11-6 win over Yuta Fukui in the third game.
Yuki, Sanam, Ankita enter pre-quarters of Asiad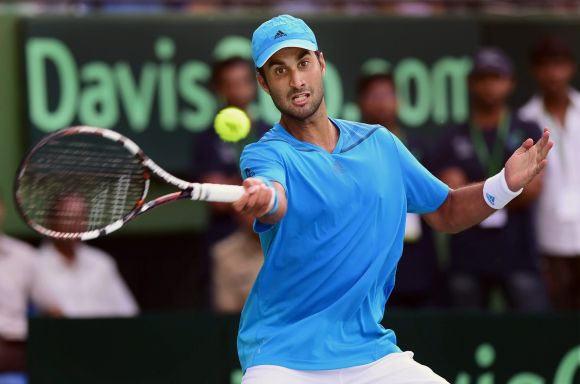 Yuki Bhambri of India. Photograph: PTI
Indian tennis players Yuki Bhambri, Sanam Singh and Ankita Raina registered comfortable wins in their respective singles matches to sail into the pre-quarterfinals.
All the three Indians were hardly tested by their opponents as they registered straight set wins without breaking any sweat at the Yeorumul Tennis Courts.
In the men's singles, Yuki made short work of Jabor Mohammed Al Mutawa 6-1, 6-0 in 54 minutes while Sanam took just 48 minutes to get the better of Kuwait's A H Alshatti Abdulhameed 6-1, 6-2 in 46 minutes in another second round encounter.
Ankita, on the other hand, was at her lethal best as the ace Indian women's singles player did not drop a single game en route to her 6-0, 6-0 win over Gotov Dulguunjargal of Mongolia.
Indian golfers fritter away good start, but stay in race

The Indian men's golf team, which has won a medal at each of the last three Asian Games, frittered away a good start to be placed fifth after the first round of the competition.

India began well only to be struck down as finishing blues haunted them towards the end at the Dream Park Country Club. Yet all four men managed under-par scores and were within striking distance of the leaders.

Udayan Mane and Feroz Garewal carded two-under 70 each to be tied ninth and four shots behind the leader, seasoned Cheng Tsung Pan (Taipei), a silver medallist in 2006, who shot a bogey-free six-under 66.

Manu Gandas and Samarth Dwivedi finished with 71 each in tied 20th place.

With a total of five-under 209 for the best three scores, the Indians were fifth in team placing, and the joint leaders were Taipei and Korea.

Meanwhile, the Indian women had a tougher time as Gurbani Singh (75) and Astha Madan (75) were tied 19th and Aditi Ashok (78) was tied 22nd among 36 starters. Indian women were eighth in the team standings.
Cyclists continue poor run at Asiad
It was another dismal outing for Indian cyclists at the ongoing 17th Asian Games with Amarjit Singh and Amrit Singh finishing fifth in their respective repechage heats to be knocked out of the Men's Keirin event.
The duo first competed in the first-round heats, from which the top two finishers would have advanced to the second round. While Amarjit ended sixth in the first round heats, Amrit was fifth.