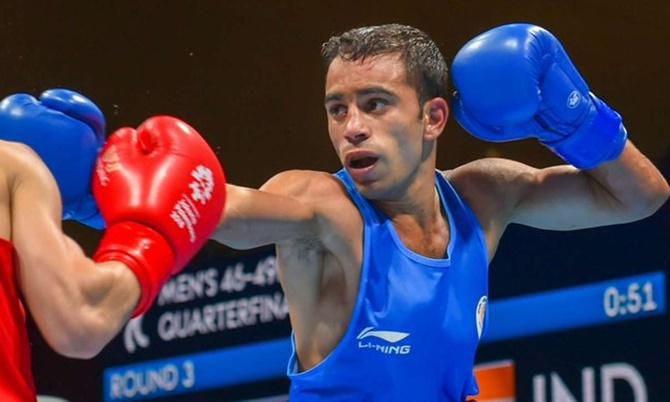 Amit Panghal (52kg) stormed into the final after three other Indian boxers were assured of medals at the World Cup in Cologne, Germany on Thursday even as a positive COVID-19 case among the support staff caused some anxiety in the contingent.
Asian Games champion Panghal defeated Frenchman Billal Bennama, a bronze-medallist from the world championship where the Indian won a silver, in his semifinal bout. The diminutive Haryana-lad prevailed 5-0 in the clash.
Earlier, three Indian women were also assured of medals after finding themselves in semi-finals when draws were unveiled.
Pooja Rani (75kg), Manisha (57kg) and Simranjeet Kaur (60kg) made the last four due to the small size of their respective draws.
The team was hit by a positive COVID-19 case in a support staff member. However, none of the travelling boxers returned positive in a fresh round of testing done after the case came to light.
"A physio, Rohit Kashyap, has tested positive for COVID-19 but the boxers are fine. They have been tested again and returned negative. The physio has been isolated and is doing alright," a source in the Sports Authority of India (SAI) told PTI.
The contingent was also hit by fitness issues with four-time Asian medallist Shiva Thapa (63kg) and Sanjeet (91kg) forced to pull out of the tournament due to minor niggles.
"Just unfortunate, what more one can say," said an official close to the team.
The rest of the team will compete as planned in the three-day event after which it will return to the country, completing an over a month-long training-cum-competition stint in Europe.
In all, four Indian men and five women are in action at the event, which will feature boxers from the host country, Belgium, Croatia, Denmark, France, Moldova, Netherlands, Poland and Ukraine.
India's Anshu Malik grabs silver at Wrestling World Cup
Young Anshu Malik was the lone Indian woman wrestler to win a medal at the individual World Cup, grabbing a silver in the 57kg category, in Belgrade.
Anshu, who is coming up from the junior ranks, clinched her third medal at the senior level from as many tournaments. She lost the gold medal bout 1-5 to Moldova's Anastasia Nichita on Wednesday night.
She had won a bronze at the Asian Championship early this year in New Delhi and a silver at Mattio Pellicone event in Rome in January.
She is gradually making the 57kg category her own despite presence of World championship medallist Pooja Dhanda and experienced Sarita Mor in the same weight class.
Anshu began with a 4-2 win over Azerbaijan's Alyona Kolesnik and followed it up with 3-1 victory over Germany's Laura Mertens in the quarterfinals.
In the semi-final, she outplayed Russia's Veronika Chumikova, recording a victory by fall.
Another Indian grappler Pinki also did well to reach the 55kg semi-finals, where she lost to Belarusian Iryna Kurachkina.
She later lost the bout for bronze to Russia's Olga Khoroshavtseva by technical superiority.
Sarita (59kg), Sonam Malik (62kg) and Sakshi Malik (65kg) could not go beyond quarterfinals in their respective categories.
Veteran Gursharanpreet got a repechage round in the 72kg but lost that by technical superiority to Evgeniia Zakharchenko.
Nirmala Devi (50kg) and Kiran (76kg) fizzed in the Qualification round, losing 6-9 to Poland's Anna Lukasiak and Canada's Erica Elizabeth Wiebe respectively.
From among the Greco Roman grapplers, only Arjun Halakurki could reach the quarterfinals in the 55kg while all other could not go beyond qualification rounds.
Arjun lost 5-10 to Kyrgyzstan's Balbai Dordokov.
Narsingh Pancham Yadav's much-anticipated return to the mat after a four-year doping ban ended with a Qualification round defeat while Tokyo Olympics-bound Ravi Dahiya suffered a surprise opening-round loss at the individual World Cup, here.
Competing in 74kg, a category where India is yet to achieve a quota for the Tokyo Olympics, Narsingh fought tooth and nail before losing his opening round bout 9-10 to Germany's Osman Kubilay Cakici.
Both Jitender Kinha and double Olympic medallist Sushil Kumar feature in the same weight category. The next few weeks will be interesting to see who among these three grapplers gets to compete in Olympic-qualification events.
This event, being organised in place of World Championships, was skipped by Jitender as he is in the US for training along with star wrestler Bajrang Punia (65kg).
Ravi Dahiya, who won a bronze at the 2019 World Championships and a ticket to Tokyo, lost by fall to Hungary's Gamzatgadzsi Halidov.
It was a surprise result as Ravi is someone who does not lose easily.
The chances of Narsingh and Ravi to get repechage round evaporated after their opponents lost their respective quarterfinals.
Naveen Kumar lost his 70kg quarterfinal by technical superiority to Islambek Orozbekov from Kyrguzstan while Sumit Kumar suffered defeat in his 125kg Qualification bout 2-4 to Moldova's Egor Olar.
In the 61kg, Rahul Aware, another 2019 World Championships bronze medallist, will open his campaign against Richard Vilhelm of Hungary while Gourav Baliyan is pitted against Italian Aron Caneva in the 79kg.
2019 Worlds bronze winner and Tokyo bound Deepak Punia will wrestle with Latvia's Ivars Samusonoks in the 86kg pre-quarters.
Satywart Kadiyan will compete against Germany's Ertugrul Agca in the 97kg Qualification bout.
Sports Ministry formally recognises yogasana as competitive sport
The Sports Ministry on Thursday formally recognised yogasana as a competitive sport, which will enable the ancient practice to avail government funding.
Sports Minister Kiren Rijiju and Minister of AYUSH (Ayurveda Yoga and Naturopathy Unani Sidda Homoeopathy) Shripad Yesso Naik formally promoted yogasana as a competitive sport during an event here.
The move was made to encourage yoga, spread awareness about its benefits and to help improve physical and mental wellbeing of the people.
"Yogasana has been a competitive sport for a long time. But it has to be recognised by the Government of India so that it becomes an official and recognised competitive sport," Rijiju said.
"Today is a big day, we are launching it formally as a competitive sport and I am sure it will go a long way," he added.
An International Yogasana Sports Federation was formed under the presidentship of yoga guru Baba Ramdev with DR HR Nagendra as secretary general in November last year.
A National Yogasana Sport Federation of India (NYSFI) was also established for preservation and development of yoga as a competitive sport. It was recognised by the sports ministry as a National Sports Federation (NSF) last month.
Rijiju said the sports ministry will start by providing financial support to the NYSFI so that the federation can chart out its plan for the coming year.
"Till now it wasn't recognised but now that it has come under us, the Sports Ministry will start by providing the NYSF with financial support to make their annual training and calender."
The Sports Minister also said yogasana will be inducted in future Khelo India Games programme.
"It's popularity will not doubt increase in India and we will include it in the Khelo India School and University Games," Rijiju said.
For competitions, 51 medals have been proposed in four events and seven categories in the sport.
Events proposed include traditional yogasana, artistic yogasana (single and pair) , rhythmic yogasana (pair, free flow/group yogasana), individual all round-championship and team championship.
A pilot championship -- National Individual Yogasana Sport Championship -- has also been proposed to be organised in February next year, followed by district, state, national and World Championships.
The two ministries have also developed an automated scoring system for competitions.
"The reason behind making yoga a competitive sport is to encourage its practice and to help improve the physical and mental wellbeing of the people," Naik said.
"Having yogasana as a part of international event like Olympics etc would provide an opportunity to spread the awareness of Indian yoga and its innumerable health benefits," he added.
Gaurav Gill wins Round 1 of Indian National Rally Championship
Ace Indian rallyist Gaurav Gill began his Champions Yacht Club-FMSCI Indian National Rally Championship 2020 with a bang by winning the Rally of Arunachal in style in Itanagar, (Arunachal Pradesh, on Thursday.
Gaurav driving on JK Tyre took a total of 56:55.200 minutes to complete eight special stages and recorded a victory by a margin of an impressive 4:25.700 minutes over Karna Kadur. Dean Mascarenhas finished third overall with a time of 1:02:30.500 hour.
The three-time APRC champion was in his ominous best and even a flat tyre on the final stage could not stop him from underlining his supremacy in the opening round. Gaurav along with co-driver Musa Sherif got off to a thrilling start and after opening up a considerable lead on the opening day which witnessed four thrilling night stages; it was all about driving safe and bringing his XUV300 home.
However, that did not stop him from going full throttle and he drove like a man possessed to win three on day four to increase his lead further. In the final stage, he had a flat tyre just two kilometres away from the flying start but he still managed to finish which was enough for him to draw the first blood.
"It was a great start to the season. The stages were really fast and I enjoyed driving here. The car has been fantastic and there is absolutely nothing I could complain about. We made some adjustments to the car from last year and it has worked wonders. And all I could say is, me behind the wheels of a car like this on tarmac is just the perfect combination," an ecstatic Gaurav said.
While it was business as usual for the big guns, it was the young Bengaluru women's team of Pragathi Gowda and co-driver Deeksha Balakrishna who impressed everyone with their performance on their debut outing. Representing Team Vasundhara, an all-woman's rally team, Pragathi posted a total time of 01:07:53.400 hour to not only win the women's category ahead of her teammate and veteran Bani Yadav (& Subhkiran Pal Kaur Brar), she also won the Junior INRC Category beating the likes of Arjun Rao and Rakshith Iyer. She finished fourth in the INRC 3 category and ended ninth on the overall standing.