'The gameplan for each fight is to finish each of them early'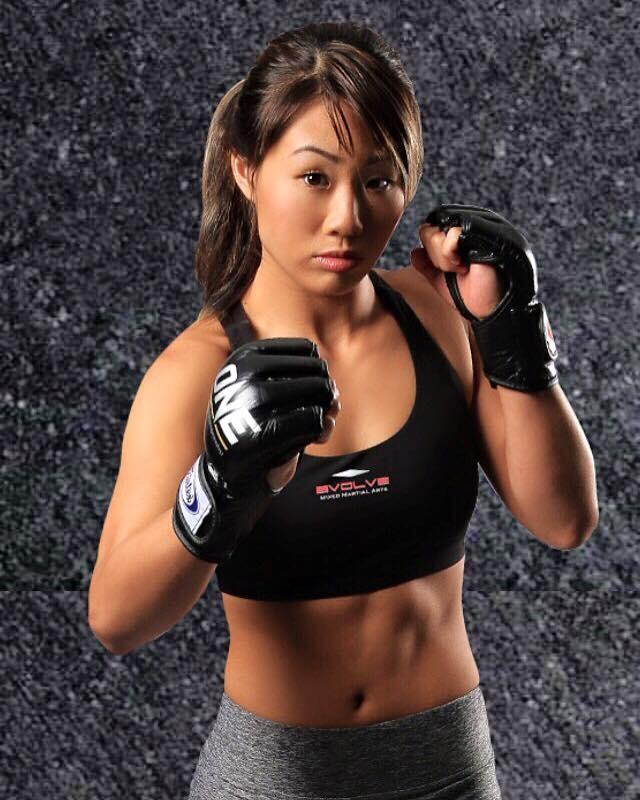 IMAGE: Singapore's Angela Lee. Photograph: Facebook
You'll be hard-pressed to find a fighter more dominant in ONE Championship today than Singapore's Angela Lee.
How Angela is twisting her way to the top
After another impressive submission victory on 20 February at the Istora Senayan in Jakarta, Indonesia, Lee strengthened her claim as the best female mixed martial artist in the promotion and a rising star on the cusp of a breakout performance.
Lee (5-0) lived up to her moniker of 'Unstoppable' by outlasting game opponent Rebecca Heintzman (2-2) of the United States, needing just under two rounds to secure another highlight reel submission – her fifth straight. The official time of the finish came at 1:08 of round two.
It's no secret that Lee's early success has stemmed from her remarkable ability to execute crafty grappling manoeuvres. Looking for a quick end to each fight is exactly what Lee sets out to do whenever she steps into the cage.
"The gameplan for each fight is to finish each of them early," said Lee. "I love submissions because there's no better feeling than making my opponents give up!"
Along with younger brother Christian Lee, Angela spends hours upon hours of time in the gym at United MMA in Hawaii and Evolve MMA in Singapore. The siblings have massive amounts of mat experience, which has manifested in professional competition time and again.
Opponent Heintzman boasted an extensive wrestling pedigree herself, competing primarily in the United States, but never had the opportunity to fully utilize her skills against Lee.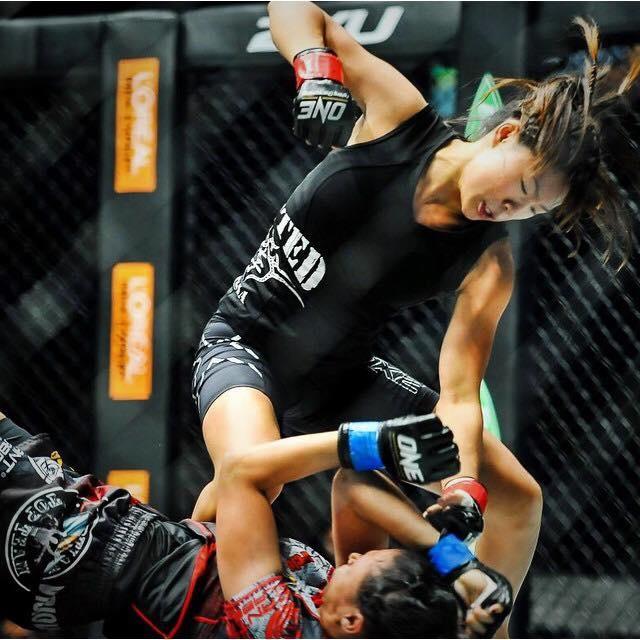 IMAGE: Singapore's Angela Lee thrashes her opponent. Photograph: Facebook
Heintzman however, found a bit of success in striking exchanges. If there's one area of improvement for Lee, it will surely be in her stand-up game.
"I go for whatever's there," said Lee, about how she finishes fights. "I don't feel the need to try and go for a knockout. My dad always says, 'Don't chase the knockout, it will be there to present itself to you'. I incorporate striking into my game as much as my grappling, clinches, and takedowns. In striking, everyone gets hit. I don't like it but it's part of the game."
Despite Lee's growth in striking, you get the sense that in each fight, it is only a matter of time before she is able to take matters to the ground, given her proven capabilities.
"I will continue to work all areas of my game. I train for an MMA fight, not just a Boxing or a Kickboxing match," she said.
On the canvas, Lee dominated the grappling impressively against a wrestler of Heintzman's caliber. After a war of attrition in round one, Lee eventually secured Heintzman's back and locked in a rear naked choke in round two, sealing the deal.
To say that the former two-time Pankration world champion Lee is a submissions ace is a massive understatement. Her last five bouts include three victories by rear naked choke, one by armbar, and one via an intensely satisfying and equally rare Twister move that brought fans to their feet.
Though rarely challenged in her first five bouts as a professional, Lee recalls her toughest opponent so far and her aspirations in the sport of mixed martial arts.
"I'd say that Lena [Tkhorevska] has been my toughest opponent so far because of her skill, athleticism, and toughness," said Lee. Lee and Tkhorevska battled intensely for two rounds at ONE: SPIRIT OF CHAMPIONS in Manila last December.
Lee ended up winning by a hard-earned rear naked choke, but Tkhorevska hung in there every step of the way and gave the fans a highly-technical matchup. It was perhaps Lee's best performance so far, given the lively challenger.
Yet despite the adversity that keeps escalating for Lee in each and every fight, the female mixed martial artist continues to prevail. And if she keeps winning, it's only a matter of time before Lee gets the call for a title opportunity.
"My end-goal is to become a world champion and to leave a legacy in ONE Championship and in the sport of women's MMA," she said.