''It is a wonderful feeling to win the Champions League as a player. But to win it as a trainer gives you huge amounts of satisfaction.'
'On the field a player should not respond to any provocation. A player should learn self-control. I am not proud about what happened in 2006.'
- One of the greatest footballers in history.
- One of the few players to win both the World Cup and Euro Championship.
- One of four players – along with Ronaldo, Lionel Messi and Cristiano Ronaldo – to win the FIFA World Player of the Year award on three occasions.
- One of the seven individuals to win the UEFA Champions League as both a player and a manager.
- The first French manager to win the Champions League.
That's Zinedine Zidane!
In Maximum City as the Wellness Ambassador of Kanakia Paris, a French-themed residential complex, the French football icon opened up about Real Madrid, Euro 2016 and the current France team among other topics. Bikash Mohapatra/Rediff.com was all ears.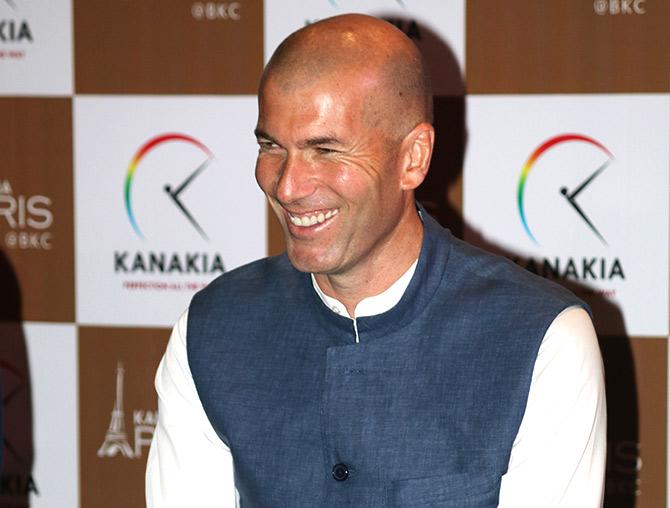 IMAGE: Zinedine Zidane is all smiles at the launch of Kanakia Paris, a French-themed residential complex, in Mumbai. Photograph: Hitesh Harisinghani/Rediff.com.
Considering recent times haven't been too good for France per se, how would you put the Euro 2016 in perspective?
These are tough times for France, but I believe this competition will come across as a huge positive.
It will be a wonderful moment, one that signifies unity, for not just France but also for the whole world. The players are focused on giving their best.
Which is the most complete team at the tournament? Who will win Euro?
I am not a soothsayer so I can't predict who will win the tournament.
It depends on the teams, how focused they stay during the course of the tournament.
Belgium, it seems, is probably the most complete of teams, but it all depends how well they play on the given day.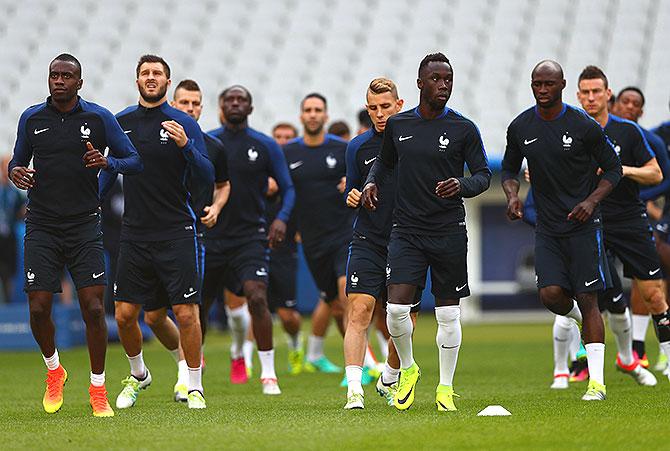 IMAGE: French players warm up during a training session ahead of their UEFA EURO 2016 Group A match against Romania at Stade de France. Photograph: Clive Rose/Getty Images.
France has usually done well when it has hosted a tournament, winning the Euro in 1984 and the World Cup in 1998. Do you think Les Bleus will benefit again from home advantage? Or is it additional pressure?
There is no tension. In fact, it is a bonus to play in one's own country. With so many supporters cheering for you, it is like having a team with 12 players in it.
Besides, we have an excellent team. So there is no additional pressure as such.
How do you rate this French side? There is no Franck Ribery. Karim Benzema hasn't been selected…
You have to respect the selection process. You need to go with the decisions made by the coach.
But isn't it a very young side? We saw, for example, Antoine Griezmann missing a penalty in the Champions League final...
May be this is a young team, but we should not forget the fact that these players play in very good teams all over Europe. In that sense, they are an experienced set of players.
During my times also we were a very young team. But then we played in big clubs, in the major leagues. And we went on to win the World Cup and the Euro back-to-back.
Having youth, I think, is a very positive sign.
Do you harbour any hopes of managing France?
They already have Didier (Deschamps). It would be a difficult team to manage.
As it is, I am happy to be with Real Madrid.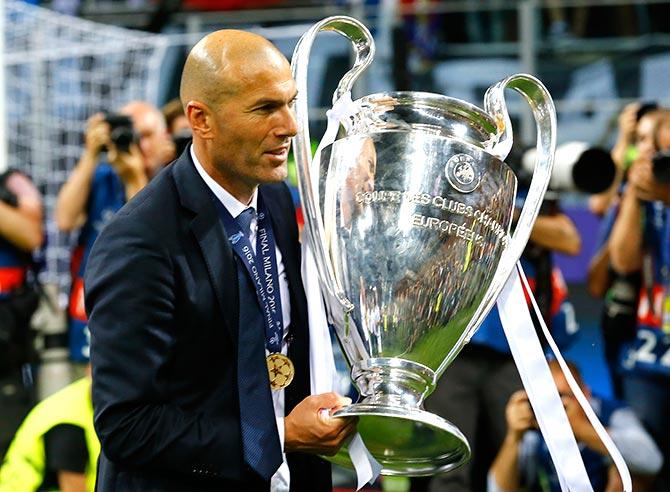 IMAGE: Real Madrid's Zinedine Zidane celebrates with the trophy after winning the UEFA Champions League. Photograph: Stefano Rellandini/Reuters.
Coming to Real Madrid, you led the club to the undecima (11th Champions League title)… in just five months in charge. Your thoughts?
I am really honoured to be a part of Real Madrid. I am putting all the effort and passion required to make this club successful.
Two years ago, when I was assisting Carlo (Ancelotti), we won the Champions League. At that time he told me 'I wish one day you will win this trophy as a coach'.
Even as I lifted the trophy this year, his words were ringing in my years. I could feel what Carlo meant.
It is a wonderful feeling to win the Champions League as a player. But to win it as a trainer gives you huge amounts of satisfaction. You lead a group of players to what can be termed a collective success.
When you took over at Real Madrid the club was struggling. But in your five months in charge, the team finished strong in the league and won the Champions League. What exactly did you do to put the team back on track?
I brought in my experience not as a trainer - I am a young trainer in any case - but as a player.
I made the team work together and ensured there's a good relationship among the players.
It is easy actually. As a manager you have to organize things a little... and the players will follow.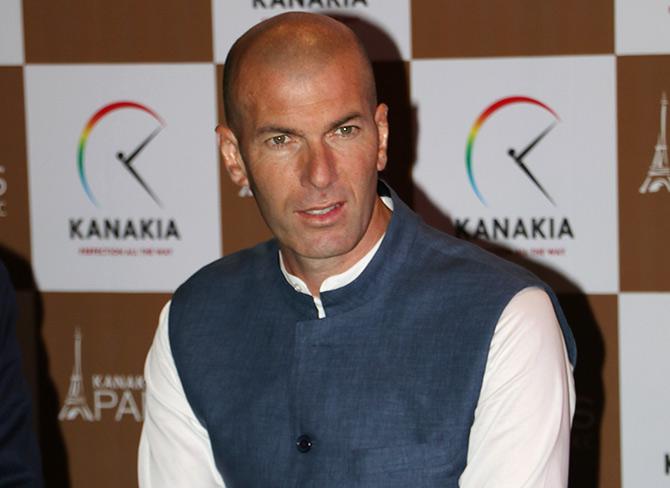 IMAGE: Zinedine Zidane during a media interaction in Mumbai. Photograph: Hitesh Harisinghani/Rediff.com.
In Madrid, the position of the coach is a precarious one, mired in uncertainty. Ancelotti won four trophies in a year, but could not escape the sack. Fabio Capello left, on two separate occasions, after having guided the club to La Liga titles. Considering the club has not won the Liga for quite some time now, how much pressure do you feel as regards your job?
I am conscious about the situation. I know it is tough being a manager at Real Madrid. There is always a lot of expectations. But I want to take things day by day, handle situations well and tackle things as and when they come.
My immediate target is to improve Real as a team.
Even though I have won the Champions League, after being in charge for only five months, I know there is a lot that needs to be done. I am not taking it easy at all.
My focus is completely on Real at the moment.
The fact that you are managing so many young players, how do you advice them to control their emotions? Is there any reference, even cited as an example, as regards that incident that involved you (and Marco Materazzi) in the 2006 World Cup final?
On the field a player should not respond to any provocation. A player should learn self-control. I am not proud about what happened in 2006. But it happened!
As a human being, you make mistakes in life, learn from it and grow as an individual.
I don't advise anyone to behave in the same manner.
Does racism exist in sport?
Racism does exist. Not just in sports but in every walk of life. I am of mixed origin. I cannot imagine my life without the same.
One thing I can say is that these racists are a minority. It is up to the rest to fight it out against them.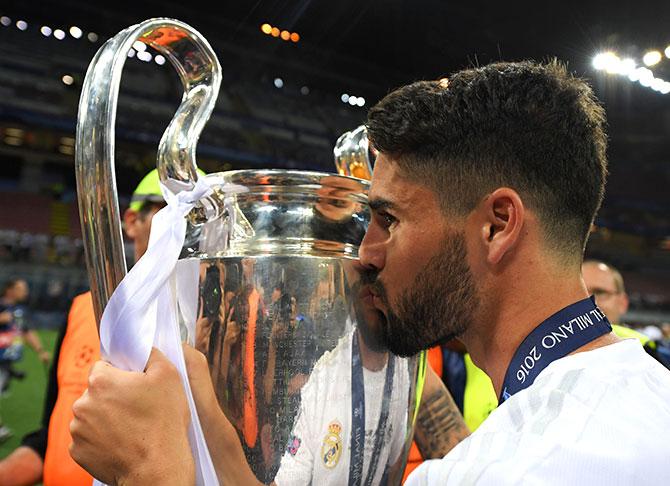 IMAGE: Isco of Real Madrid kisses the trophy after winning the UEFA Champions League. Photograph: Matthias Hangst/Getty Images.
You have been quoted by the European media as saying that Isco's (Real Madrid's promising Spanish player) style of play resembles yours. The Spanish and Italian press has regular reports of you being interested in signing Paul Pogba. What is your take on all these reports?
Isco is a young player. He has his own style. To say his style of play is similar to that of Zinedine Zidane won't be right. I believe he has a great future ahead of him.
As regards Paul Pogba, it is true everybody wants to have him. For the moment, though, Pogba belongs to Juventus.
Pep Guardiola has left Bayern Munich and is taking over as the new manager of Manchester City. How do you rate him?
He is one of the best managers in the world. He is still very young and still learning in every assignment that he is involved in. He will do an excellent job wherever he goes.
And how do you see Jose Mourinho doing at Manchester United? Is he a right fit to get United back to pre-eminence?
Of course! He is a great manager who has won everywhere he has been to.