Shorten men's matches, says former Player Council head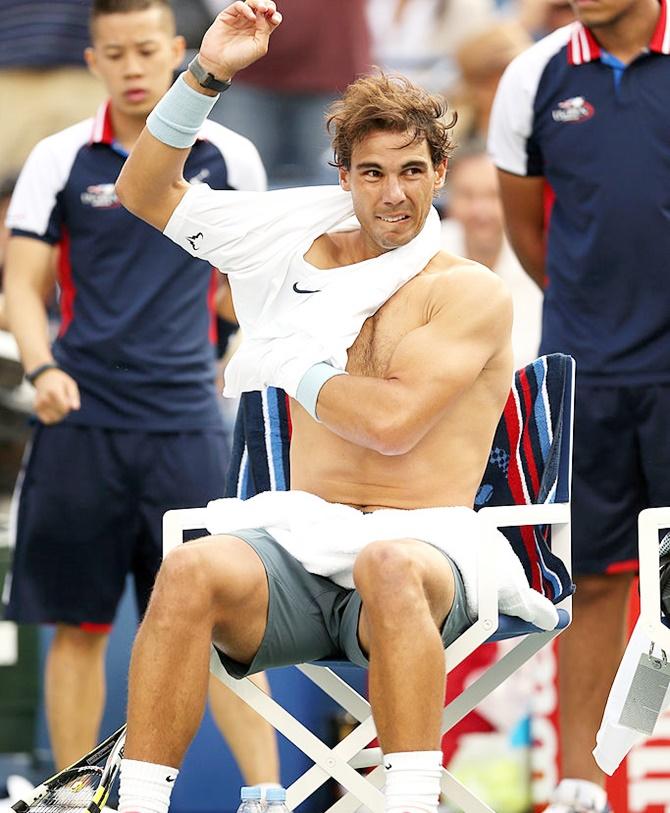 IMAGE: Rafael Nadal of Spain puts on his shirt during a break in play in his men's singles match. Photograph: Matthew Stockman/Getty Images .
Tennis must consider shortening matches in a bid to engage with a younger fanbase and avoid losing television viewers, according to former ATP Player Council president and doubles specialist Eric Butorac.
The 35-year-old American, who was succeeded by world number one Novak Djokovic as president, said speed of play is high on the agenda for the new board, which also includes two-time reigning Olympic champion Andy Murray of Britain.
"It's too slow," Butorac, who finished his two-year term as president last month, told Reuters at the US Open. "I said to Andy, I would rather you and Novak play for two hours rather than four.
"I'm too busy. I've got two kids, I've got stuff to do. I love watching you guys play but I don't need four hours of it."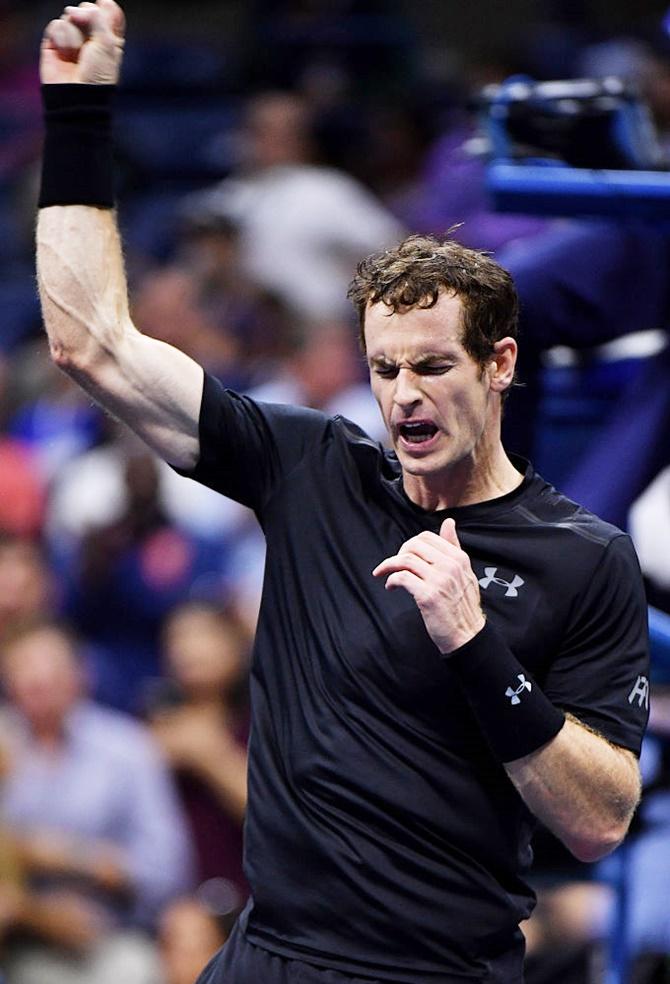 IMAGE: Andy Murray of Great Britain celebrates defeating Grigor Dimitrov of Bulgaria during his fourth round men's singles match on Day Eight of the 2016 US Open. Photograph: Mike Hewitt/Getty Images.
According to Butorac, who served on the Council for eight years, Murray is not averse to change.
"We need to do some serious research," he said. "We need to look at: what does our fan base want? What does our younger fan base want? Is it too long?
"I said to Andy, I think we could play two out of three sets here (instead of best of five, as played at the four Grand Slams).
"And Andy said: 'well, is it better to play two out of three or to play fewer games in a set?' That's not a terrible idea."
Murray said he had enjoyed his first meeting of the Council, held on the eve of the US Open.
"The first meeting was four and a half hours long," Murray told British reporters. "A lot of things got discussed. I'm looking forward to doing it.
"How much you can change things, I don't know."
It was the epic Australian Open final of 2012, when Djokovic beat Rafa Nadal after five hours, 53 minutes, that led many, especially television companies, to call for players to speed up between points.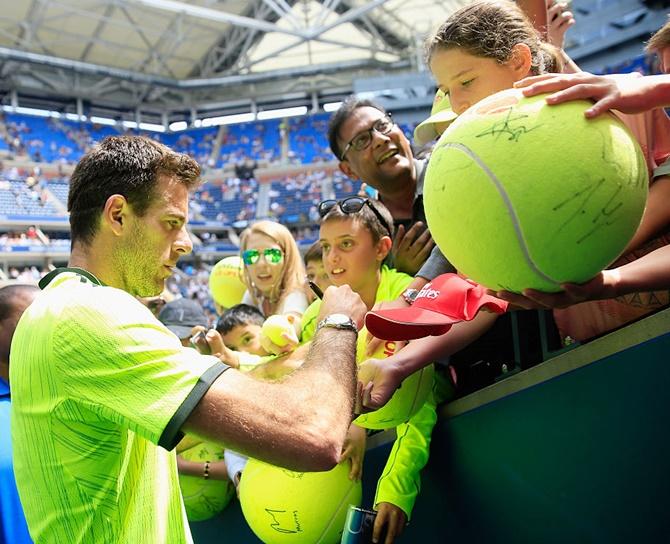 IMAGE:Juan Martín del Potro of Argentina signs his autograph for fans . Photograph: Chris Trotman/Getty Images for USTA.
The average length of men's matches through the first six days at Flushing Meadows this year was 2 hours and 31 minutes. That is eight minutes longer than the overall average from 2015.
But 25 matches so far in this year's U.S. Open have gone to five sets and organizers are experimenting with the use of a shot clock in the junior events and collegiate events.
The clock, allowing players 20 seconds between points as per the rules at grand slams, was first used on Sunday but American junior Brandon Holt said he barely noticed it.
"I only looked at it one time and it said 17 seconds," he said. "I don't think we even got close to it – at the end I don't think the guy even turned it on.
"Mostly (the juniors) play pretty fast. But the pros, especially in the fifth set, they've got to take a lot of time so I don't know how that's going to work."
Butorac, who played his last professional match at the U.S. Open last week before moving into a role with the USTA, said he knows some people will not want to change but that it might be the best thing to do.
"It's tough to mess with tradition but at some point we've got to make sure we're putting the best product on the court," he said. "And I don't always know that more is better.
"It (would be) a powerful movement but if you truly believe it's best for the sport, then sports have changed scoring before."