The Hero Hockey India League will conduct a mini players auction (closed bid) featuring over 150 players from around the world here on November 18, nearly two months ahead of the second season of the franchise-based event.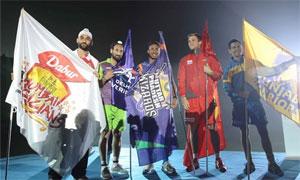 Hockey India Secretary General and Hockey India League Chairman Dr. Narinder Batra said the auction would give the franchisees a chance to buy new players to replace permanent withdrawals and complete their squads for the coming season.
"The base prices for the players vary from $2,600 to $25,000. With the inclusion of a new team in HIL 2014, we can expect more spectacular hockey this time," Batra said.
"The second season will be an exciting opportunity for the young and coming talent to leave its mark on this tournament. We are sure Hero HIL 2014 will build on the massive landmark that the inaugural edition was," he added.
Nearly 154 players from India and overseas have made themselves available for the auction.
In the inaugural season, 70 top domestic players including the Indian national side as well as 50 international players, played for the five teams.
The second edition of the league will be played from January 23, 2014 with the final scheduled for February 23, 2014.
Photograph: Hockey India League