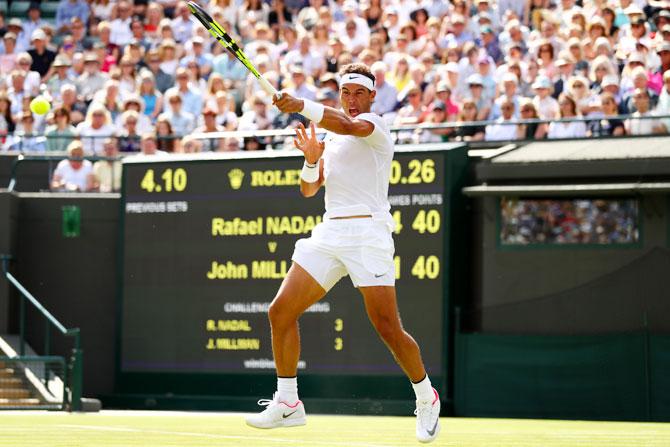 IMAGE: Spain'S Rafael Nadal plays a forehand during his Wimbledon first round singles match against Australia's John Millman at the All England Lawn Tennis and Croquet Club in London on Monday. Photograph: Michael Steele/Getty Images
Rafael Nadal moved seamlessly from months of clay court success to a satisfyingly smooth first-round victory on grass as he opened his Wimbledon campaign with a commanding 6-1, 6-3, 6-2 victory over Australian John Millman on Monday.
Nadal missed the warm-up grass tournament at Queen's Club to look after his battered body following victories at the French Open and in Madrid, Monte Carlo and Barcelona but he looked comfortable on the faster surface and displayed the full array of ground strokes that have earned him two Wimbledon titles.
Millman, who missed the first five months of the season with a groin injury, played his part in some entertaining rallies, particularly in the first two sets as Nadal, playing conservatively, worked on his rhythm.
However, the fourth-seeded Spaniard, who missed last year's Wimbledon through injury and was playing his first grass tournament match for two years, was always in control and seemed to be more concerned about his own shots than anything his opponent could dish up.
Nadal really hit his stride in the final set once he had mastered his timing, smashing a series of blistering forehands that left Millman as much a spectator as those crammed into Number One Court.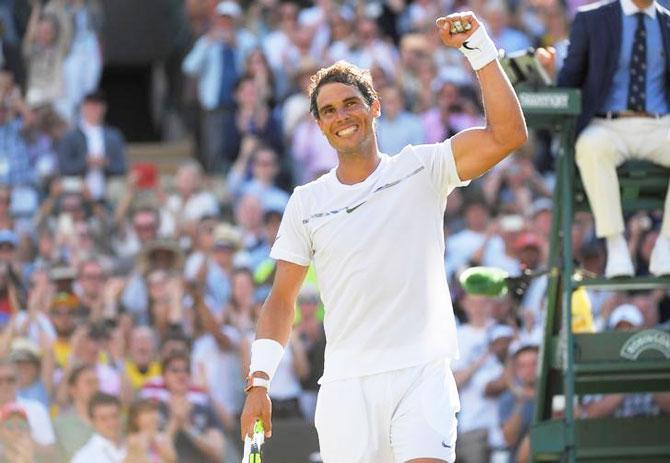 IMAGE: Spain's Rafael Nadal celebrates winning his first round match against Australia's John Millman. Photograph: Toby Melville/Reuters
He finished with a flourish -- a trademark crashing forehand on to the line -- to wrap up the ideal victory in well under two hours.
"It was a very positive match for me, a good start," Nadal told reporters.
"At the beginning I was trying to not have a lot of mistakes, playing more safe, but I finished the match hitting some great forehands.
"That's the way I need to play -- aggressive with my forehand -- if I'm to have a chance here."
After reaching the final in five out of six years from 2006-2011 Nadal has had something of a torrid time at Wimbledon since, losing twice in the second and once in the first and fourth.
"I'm happy because I didn't win a lot of matches in the last couple of years here," he said. "Today I did and I'm looking forward to play the second one.
"For all the players it is so special to play here and for me, after the history I have here, I am very happy to be back."