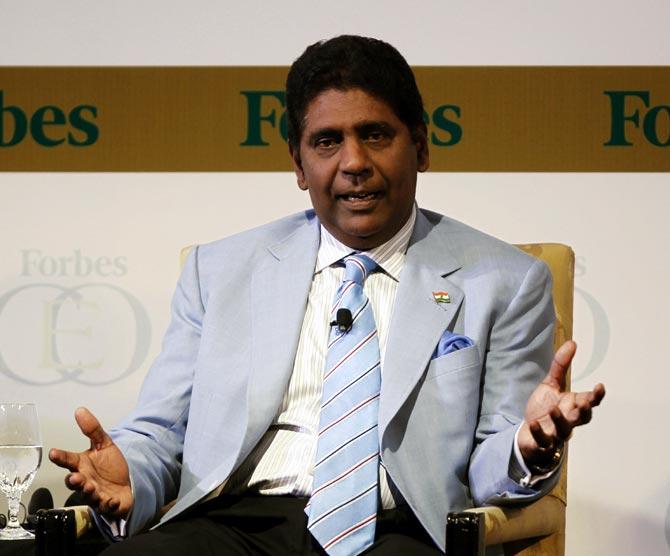 IMAGE: Former India tennis player Vijay Amritraj. Photograph: Bazuki Muhammad/Reuters
Shifting of India's only ATP event from Chennai to Pune after 21 years has disappointed the Amritraj brothers, Vijay and Anand, who played a key role in bringing the event to the city.
The former Davis Cuppers, who hailed from Chennai, had worked hard to bring the tournament here in 1997 as the Gold Flake Open ATP tournament, generating great fan following.
It also helped the emergence of the famed "Indian Express" comprising Leander Paes and Mahesh Bhupathi, who after winning here, went on to become a formidable force on ATP Tour.
"The tournament has been run for 21 years, which is a very long run. It is sad that the city (Chennai) has lost the event. However, it is good that it will remain in India," Vijay Amritraj said.
He recalled the efforts made to bring the ATP event to the country and said, "now that a decision has been made to shift the tournament out of Chennai, it has to be seen how it goes in Pune."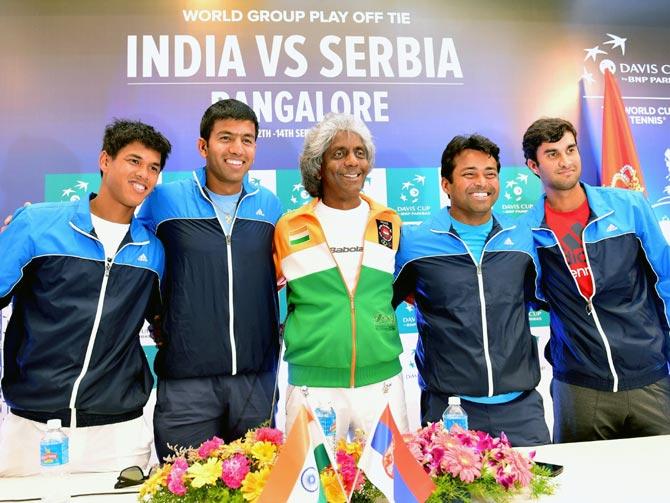 IMAGE: India's former Davis Cup captain Anand Amritraj, centre, with his players Leander Paes, Rohan Bopanna, Yuki Bhambri and Somdev Devvarman. Photograph: PTI
Meanwhile, Anand Amritraj said, "it is a shame that the Chennai Open is moving out of the city. I am very disappointed."
"It would have been more disappointing if the tourney had been taken out of India. Pune is a good choice. We played a Davis Cup tie there recently and the facilities are good," he said.
"There are issues like absence of direct connectivity to Pune and the location of the tennis stadium but players will get used to that," he added.
He, however, said that for the crowds to come in, Indian players need to do well in singles.
"Whether it is Chennai or Pune, the spectators want to see our players do well in singles. Doubles is one thing, but singles is the main event. Indian players need to do better. Yuki (Bhambri) and Ramkumar Ramanathan have made the quarter-finals in recent years but that isn't enough."
About the forthcoming Davis Cup World Group play-off tie against Canada in Edmonton, Anand Amritraj said, "from what I gather, their top singles player (Milos) Raonic may not play. The others aren't big names and it gives our team a chance."
"Our boys are playing well currently. Ramkumar and Yuki have had some good results. Rohan Bopanna has been doing well in doubles and won the mixed doubles at French Open. We have a better chance than we had in the ties against Spain, Serbia or Czech Republic," he said.