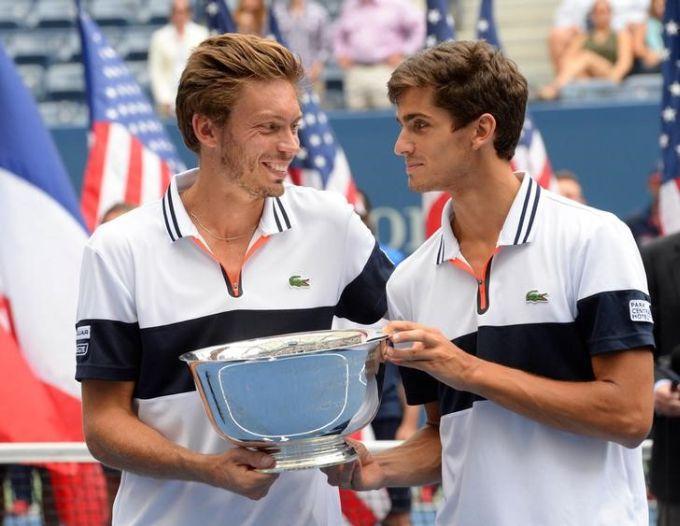 Pierre-Hugues Herbert (right) and Nicolas Mahut of France with the US Open Trophy after beating Jamie Murray of the United Kingdom and John Peers of Australia in the Men's doubles final of the 2015 U.S. Open tennis tournament. Photograph: Robert Deutsch-USA TODAY Sports
Pierre-Hugues Herbert and Nicolas Mahut became the first all-French duo to win the U.S. Open men's doubles title after easing past Britain's Jamie Murray and Australian John Peers 6-4, 6-4 on Saturday.
In the second Grand Slam doubles final of the year for both pairs, Australian Open runners-up Herbert and Mahut finally collected their first trophy after breaking Murray and Peers on a sensational rally of close-range volleys at the net.
For Murray and Peers it was more disappointment after losing in the Wimbledon men's doubles final in July.
It was a long overdue success for the 33-year-old Mahut who has suffered numerous near misses over the years having lost 11 times at Grand Slams to the eventual champions, including on five occasions at the U.S. Open.